Studies Show Why You May Want To Take A Brisk Walk Today
mbg Editorial Assistant
By Abby Moore
mbg Editorial Assistant
Abby Moore is an Editorial Assistant at mindbodygreen. She earned a B.A. in Journalism from The University of Texas at Austin and has previously written for Tribeza magazine.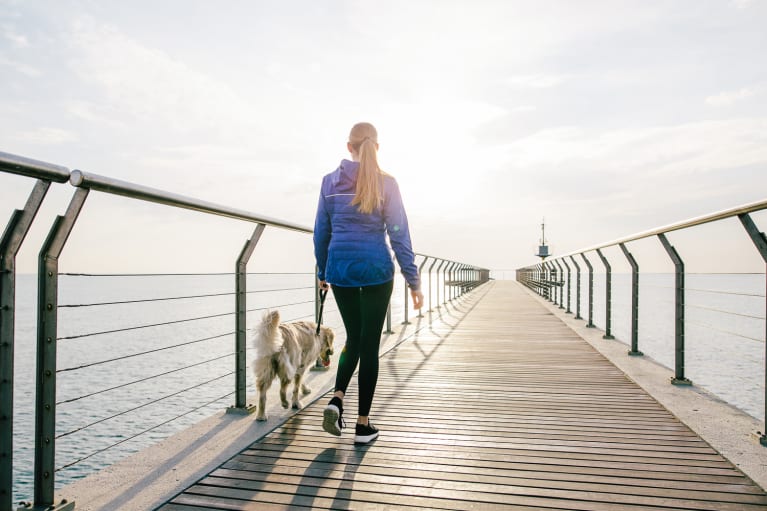 December 10, 2019 — 16:54 PM
Mustering up the motivation, let alone making the time to do long workouts, can feel daunting. Luckily, research has found swapping your bus ride for a brisk walk can be just as effective in supporting long-term health.
Two separate studies have proved that the simple act of walking can lower mortality rates in each sex but for different reasons.
A study published in Endocrine Connections found that men who engaged in 30 minutes of low-intensity exercise each day have a decreased risk of developing metabolic diseases that lead to death.
Researchers analyzed data from 703 overweight men and 623 overweight women. The participants' activity levels were on a spectrum of sedentary, moderate, and vigorous.
The aim of the study was to discover how different physical activity levels interacted with the secretion of GLP-1, a hormone that suppresses appetite and lowers blood sugar.
Results showed that men who participated in moderate exercise (like a brisk walk) for half an hour each day released greater amounts of the hormone, putting them at a lower risk of developing type 2 diabetes, obesity, and other metabolic diseases. Women were active for about 20 minutes per day and did not have the same results, which may be because of the 10-minute difference.
So what do we know about women and walking?
A study published in the JAMA Internal Medicine Journal earlier this year linked the number of steps—not the length of time or the speed of the walking—to lower mortality rates in women.
Participants were on average 72 years old, and their steps were tracked over the course of a week. When researchers followed up about four years later, they found that women who averaged 7,500 steps had a decreased death rate compared to those who only maxed 4,400.
While we most commonly recognize 10,000 steps as a healthy average and keep track of these movements on our watches or smartphones, there is little scientific rationale for that number. This study provides a little more insight into the adequate amount of steps needed to maintain health.
Since this study was conducted on older women, though, striving for more steps (if physically able) can only have positive benefits.
These different studies promote the same activities, which can be attainable for people of nearly all physical fitness levels, ages, and genders, without much effort. Incorporating walking into your routine can also benefit your mental health, so lace up those sneakers and get moving.