I'm A Former Football Player. Here's Why Yoga Is The Most Beneficial Exercise I've Ever Done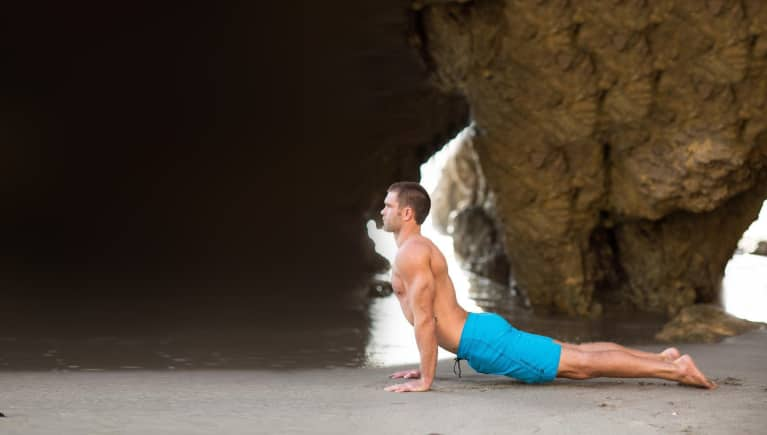 Never in a million years did I think I would be writing an article about the power of yoga. I always thought yoga was for "soft" people who didn't want to work hard. Looking back, I truly can't believe that's how I felt—but that really was my mindset years ago. Now, I practically live in my yoga clothes, and I'm never without my mat.
Let me back up. Nearly a decade ago, I was a starting linebacker for the University of Florida. I had a lot of potential and huge dreams for myself (as did my coaches), but I ended up blowing out my shoulder and missed two seasons. I held on to hope that I would recover, but I was pretty much done. By the time my career was over, I had undergone three knee surgeries and two shoulder surgeries, and I'm now dealing with arthritis in both spots. Long story short: My football career caused me a lot of pain.
Athletes thrive by moving their bodies, and I was desperately looking for a way to sweat and move without pain. As it turned out, that thing was yoga.
Here are three ways yoga has healed my body.
1. It fixed my flexibility and posture.
When you can move fluidly and your body is in proper alignment, you put less strain on the more vulnerable body parts. For example, my right shoulder has anchors that help hold it together, but they severely limit my range of motion.
As a result I was overcompensating with my left arm, causing a further imbalance and weakening the stabilizers in my right shoulder. So every time I take a half-bind in yoga, I'm opening up my shoulders and relieving tension.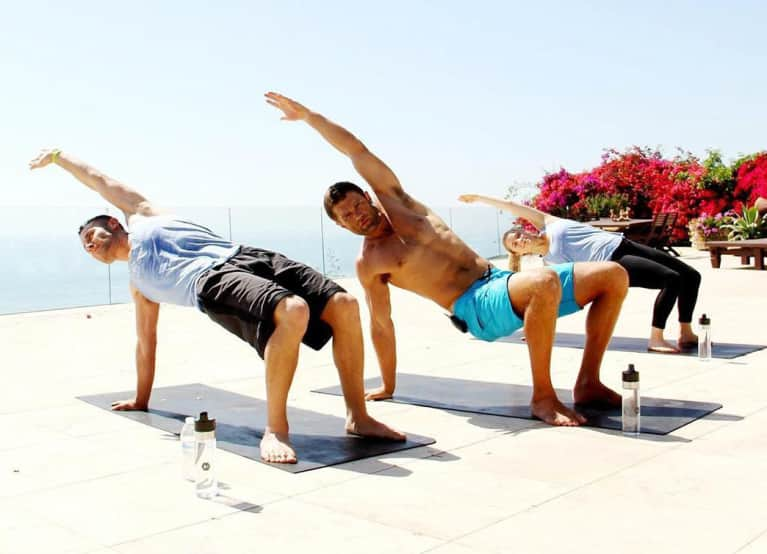 2. It strengthened and stabilized me.
Most athletes are great at training the major muscles (the movers), but we often neglect the smaller muscles that help with proper biomechanics—the stabilizers. For example, when we do squats, the primary muscles worked are the quadriceps, hamstrings, and gluteus maximus, but the muscle that helps hold the hip in place and assists with knee alignment is the gluteus medius. You can squat for hours and still have a weak gluteus medius.
Have you ever held half-moon pose for a long period of time and felt that muscle just behind the hip on fire? That's your gluteus medius. By strengthening this muscle, I am now able to allow the proper biomechanics of quadriceps, which helps lessen the load on my knee.
3. It changed my mindset.
As I mentioned, there is nothing athletes love more than moving their bodies. It allows us to calm the mind, release stress, and release endorphins, leading to calm, happy vibes. When this is taken away from an aggressive athlete like a football player or a hockey player, the results aren't pretty. Yoga allowed me to sweat, move, and connect in a way that truly satisfied my soul.
At this point in life, nothing gets me into a positive mindset faster than yoga. Am I 100% pain-free? Absolutely not, but yoga has allowed me to get back into the gym, move some plates around, and on occasion do some sprints.
Essentially yoga allows me to be me. And I could not be more grateful for this.
Inspired? Read another inspiring story about how this athlete's body completely changed once he started doing yoga.