We Decided To Nourish Ourselves This January — And We're Happy We Did
mbg Health Contributor
By Gretchen Lidicker, M.S.
mbg Health Contributor
Gretchen Lidicker earned her master's degree in physiology with a focus on alternative medicine from Georgetown University. She is the author of "CBD Oil Everyday Secrets" and "Magnesium Everyday Secrets."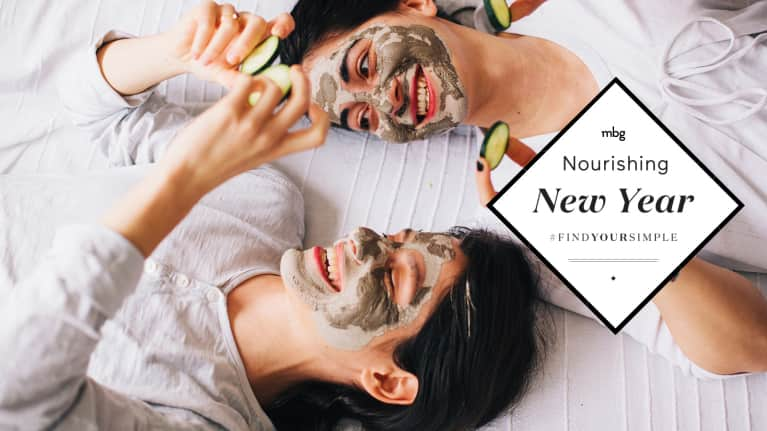 Our editors have independently chosen the products listed on this page. If you purchase something mentioned in this article, we may
earn a small commission
.
Don't you push yourself enough? This January, nurture yourself with Nourishing New Year. Instead of focusing on flaws to fix, this January we're nurturing ourselves back to balance with simple, grounding steps. For the next two weeks, mindbodygreen will share with you a story a day inspiring you with simple ways to nourish yourself, your community, and our world through eating, moving, giving, creating, and loving. Follow these common-sense principles along with us for the next two weeks and start the new year with a calm mind, connected spirit, and balanced body. Check out the full plan here!
It's a new year, and for many of us that came with the urge to completely transform our diet and fitness routine. And we get it. It can feel like everywhere we turn there's a new challenge, cleanse, or detox promising to completely restore us from the post-holiday slump.
But this year, we decided to do things a little bit differently. We said no to the upheaval and the judgment, guilt, and deprivation that often come with it. And we're so glad that we did.
Instead, we learned how to give ourselves a spa-quality facial from the comfort of our own homes, tried doodling instead of starting at our phones, and made these three crazy-simple breakfasts to nourish our bodies.
The more we learn about the negative effects of chronic stress, the importance of positive thinking, and the benefits of having a healthy relationship with yourself, the more we realize that there are a few downsides to the typical January wellness resolutions, which are oftentimes too strict and can end up making us feel like failures. Dr. Aviva Romm—a midwife, herbalist, ecologist, and author of the book The Adrenal Thyroid Revolution—also advocates for a gentler approach to starting the year, explaining "Self-criticism is not only a recipe for unhappiness, but a setup for the failure of New Year's resolutions."
But what about the effect on the body? According to Dr. Romm, failed resolutions or strict cleanses can wreak some havok: "Negative self-talk has been shown to activate the adrenal stress response and revs up our cravings for sugar and carbs, interferes with sleep and peace of mind, and sabotages willpower—all of the things we need to stay on track to get to, or stay, our healthiest selves."
And when you really think about it, it's a little crazy that we so often start January off with harsh words for ourselves and a lot of restriction, since the holidays can be a difficult time—both physically and emotionally. In fact, the stress of the holiday season can have consequences on our hormones, minds, and bodies. Dr. Romm wants us to remember that while some people love the holidays, "for most people, it's a time of heightened emotional stress, expectations, re-exposure to traumatic family situations, and a whole lot of sugar and alcohol, which only further reduce stress resilience."
This is likely why so many of us crave a reset as we move into January. But if we learned one thing from Nourishing New Year this year, it's that this reset doesn't have to be harsh. Instead, we can approach January from a place of love and radical self-acceptance.
Listen, we know this is easier said than done. But what better time to slow down, start embracing difficulty, and try a new visualization to change the world as we move into the unknown territory of 2018. Here at mbg—as we devoured our Cinnamon Maple Tahini Overnight Oatmeal—we couldn't help but think that THIS is how we'll be approaching our need for a January detox from here on out.
Want more Nourishing New Year content? Check it out here.