The Grounding Tea Ritual This Reiki Master Practices Every Afternoon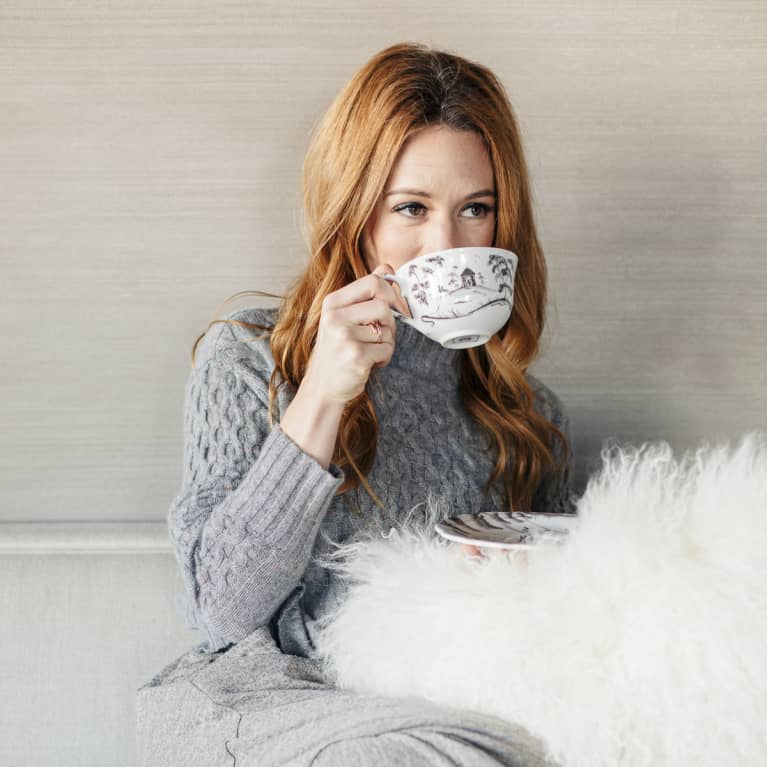 Our editors have independently chosen the products listed on this page. If you purchase something mentioned in this article, we may
earn a small commission
.
Reiki master and mbg class instructor Kelsey Patel and her husband both work from home normally, so they've gotten good at what a lot of us are just learning—sharing a home and workspace. Over the years they've developed a grounding ritual that they do daily, no matter what. "Every afternoon without fail my husband and I make a cup of tea," she says. "We drink either tulsi or Japanese matcha tea in these beautiful Mason jars. We time the matcha for exactly one minute and 35 seconds. Then I'll cut us up a snack—some apples, berries, or dark chocolate."
It's become an important time for them to meet each other in the middle of the day, especially when things get busy like with Kelsey launching her book, Burning Bright last month. "Sometimes, it's 5 p.m. by the time we get around to it, but it's so grounding and is our reset. It shifts the energy from the day to go into the energy of the evening and our family time."
Kelsey's top picks: tulsi and green tea.
Kelsey has known about tulsi for years because of her good friend and nutritionist Elissa Goodman. "She introduced it to me years ago when I was experiencing adrenal fatigue, on overdrive, and way too caffeinated. I started drinking it back then but sort of lost touch with it." When the pandemic hit, she spoke to a nurse practitioner friend who recommended tulsi for overall immunity, so she started drinking it every day again. "I like tulsi blends like those with green tea or rose, which I especially enjoy when I'm on my cycle, it feels very loving. My favorite brand is Organic India."
Japan has been very important to Kelsey and her husband—they've traveled there together with their family and connect with its simplicity and minimalism. "Things there feel thoughtfully and intentionally curated, so drinking very traditional Japanese matcha and the way you prepare it makes us feel so connected to that experience and way of being," she says. They mostly get their tea from a traditional Japanese market, but "I also love Pukka Supreme Matcha Green, it's organic and it's so pretty," she says. "I also like the Traditional Medicinals Green Tea Matcha with toasted rice because it reminds me of the tea you get at a traditional Japanese restaurant."
One other tea sometimes makes it into the rotation: The Palais Des Thes Rooibos tea. "If I'm craving something like a biscuit, treat, or apple tart, we'll have that tea instead, and it feels like a mini vacation."
For Kelsey, tea time is a very conscious break. "It's our way of disconnecting to reconnect," she explains.
She and her husband pick a time to meet, brew the tea together, then disconnect from their phones. "It's our time to relax and talk about our day; it's really a decompressing time," she explains. "We'll chat about what we want to do for dinner, news articles we've read, or an interesting conversation we've had—it's our time to come back to center."
It's less about the tea itself, when you do it, or who you do it with, but rather about the intention. "The tea ceremony is about creating a space in your day intentionally, grounding, and realigning." But the key is to treat it as sacred time: "We take it really seriously; we really show up to it," she says.
A grounding bath-time ritual.
A tea ceremony isn't the only midday ritual that Kelsey has been indulging in. "I'm a huge fan of daytime baths. I take a bath probably three times a week during the weekdays. If I have an hour break, like at 2 p.m., I'll go and take a bath and play music." While Epsom salts are usually her go-to, she's been choosing a lot of Dead Sea salts these days. "Epsom salts make me feel sucked out and drained these days, and the Dead Sea salts feel very restorative and replenishing," she says.
She also brings snacks: "I'll bring a little plate of food to nibble on with tea or water," says Kelsey. "It's such a joy to me. I wish that everyone did this."