How I Finally Quit My 9-5 & Started Traveling The World: One Instagrammer Tells All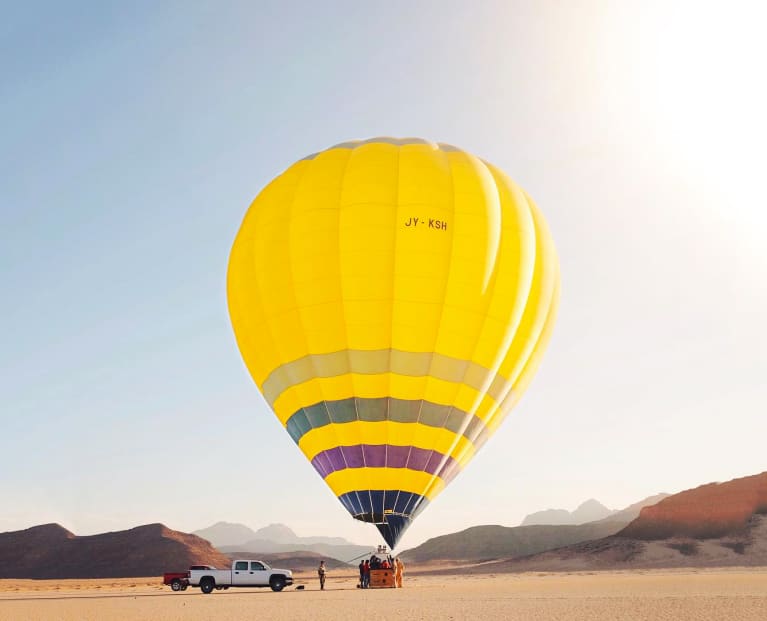 Ever wonder about the people who deliver one stunningly exotic Instagram photo after another? We reached out to one travel photographer, Allan Edward Hinton (@chaiwalla), to get the lowdown on what inspired him to become a jet-setting artist, the community that helped him to take the plunge, and what it's really like to live with just a camera and suitcase in tow.
After eight long years of working at a marketing agency in London, clocking 9-to-5 hours (you could call it a 9 to 7 actually, if you count the overtime put in), I knew it was time for a change. Even though I had a great life on paper, I was unhappy. I was taking jobs and making decisions for money rather than passion or purpose. I looked back fondly on the time when I was 19, putting in long hours in different factories doing really awful work. It was miserable, but I was doing it for an end goal: to save up enough to go to Thailand on my own.
Even after those seven amazing months in Asia, I wasn't quite finished and I knew that in my heart and soul I needed another big adventure one day. Once I realized that the "one day" had come and it was time to step away and gain a different perspective, I started making monthly contributions to a "South America fund" savings account. London is not the easiest place to save money, but I made sacrifices and eventually set off for an entire year away.
Tales from my first journey.
I learned a lot on that first trip to South America. In London, I had built up a social group and my calendar was constantly full and exciting: gigs one night, dinner out the next, work drinks on Friday, and so on. To suddenly stop all that and travel solo hit me in a way I couldn't have imagined. However, after a while, the opportunity to see great sites, meet so many different kinds of people, and hike in expansive landscapes helped me drop these worries and adjust to a new way of living.
When I came back from my first year away, I realized the importance of living a life where happiness took precedence over a paycheck. By that time, I had given up most of my possessions and lost any kind of desire to lead a life of consumerism. As long as I had a camera in hand, I was set.
As much as we like to lament about the negatives of social media, Instagram has always served as an inspiring medium for me. It was what encouraged me to really make traveling my life. Back when I was living in London, I found myself getting lost in the feeds of Instagram's adventurous creatives. The platform reconnected me with my love of photography, and as I worked hard in the city, it was so fun to have a daily escape to look forward to.
Back in the early days of my Instagram, Zach, @Zachpassport, was a big role model of mine. After working a corporate job in the finance industry, he quit to travel the world for a couple of years, eventually resettling in New York and setting up the travel community Passion Passport (which now has over 800k followers on Instagram). I have met Zach a few times, the first being in Stockholm just one month after I had gathered the courage—and funding—to quit my own job. We connected instantly, hanging out, drinking coffee, and taking photos around the city. I went on to meet more of the people behind the accounts that inspired me, like Daniel, @dansmoe, whose positive, easygoing outlook on life and photography was infectious, and Nathan, @nashker, who has traveled by land and sea to get the perfect shot.
These free spirits really inspired me to put everything on hold to focus on my travel photography. Their stories pushed me to want to get better and better and travel more and more.
Over the last 41 months, I've explored everywhere from Jordan, with its colorful sand and dramatic scenery that made me feel like I was on the moon, to India, with its diverse landscape and architecture from the dessert and castles of Rajasthan down to the backwaters and tea plantations of Kerala. The Jordanian sites all made for unique photographs. In fact, they're some of my best-performing ones to date! The vibrant clothing and food in India also added a beautiful dimension to my photographic scenes.
My advice to anyone looking to travel more.
These days, I can think ahead two months and not know where I'll be or what kind of work I'll be doing. And I actually find this really liberating. It helps me make the most of now. As long as I am breaking even but am happy and challenging myself, I try not to worry about what the future holds.
If you, too, are looking to break away from a more traditional job to travel, my advice to you is simple: Know that it is going to take a lot of courage to take that first step. You may have to fight fear and just go into it full-steam ahead with a "Let's deal with the consequences when they arrive" kind of attitude.
It's also important to keep some kind of routine (waking up at the same time each day, going for a run in the morning, etc.) on the road. I try to make daily lists of targets to keep me focused, but I don't beat myself up if I'm going through a slow patch. I meditate regularly. Each night, I like to make a mental note of all the positive things that happened that day. Being grateful and kind to yourself has such far-reaching benefits.
On a less exciting note, I'd also recommend keeping a plan B to ease the risk. For me, that's reminding myself I could always go back to marketing if I absolutely needed to. But for now, I'm enjoying the ride and taking advantage of the opportunities that come my way. I've been to so many places around the globe that I may not have had the chance to visit otherwise. I'm heading off to Oman next month following an invitation from their tourist board, setting out on a sponsored sailing trip to Croatia in a few weeks, and planning for a busy fall and winter. I want to finally make it to Morocco this year. I want to buy a one-way ticket to Southeast Asia and make it over to Australia for the first time. I want to spend Christmas and New Year's with my best friend in Melbourne. Let's see where I end up!
Ready to plan your next adventure? Check out the incredible destinations world travelers keep coming back to, and make sure you're getting there in a way that's easy on the planet!