This Scandi Airport Is A Wellness Lover's Dream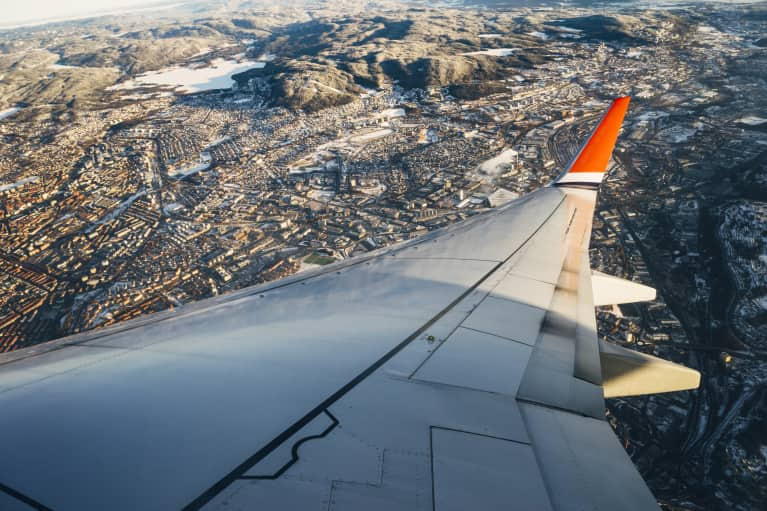 At first, I was annoyed when my flight from Bergen, Norway, was pushed up. An earlier flight meant an earlier alarm and more time to kill during my layover in Oslo. Airports usually stress me out, and how much could there be to do in one that serves a country with a population smaller than the New York metro area?
Little did I know I'd soon be running my fingers through a living green wall, weaving through a full-blown food truck festival, and willingly lingering in an airport bathroom. If every airport was like Oslo, I'd be a frequent flyer by now.
Oslo Airport's wellness accolades.
Oslo Airport's appeal was clear as soon as I walked off the plane. Like many airports in Scandinavia, it was clean, quiet, and lined in mod hardwood floors—basically a meditation studio compared to the airports we're used to in America. A stylish hair salon, packed bookstore, and clothing mecca all passed me by as I strolled through hallways framed in curved glass and metal.
With a few hours before my transatlantic flight, I set out to find a meal that wouldn't make me feel sick to my stomach on the plane, which can be a tall order for airport food. But then, like a beacon of hope shining through the neon arrival and departure flashes, appeared Haven—an aptly named juice bar that could have very well been transplanted from Malibu.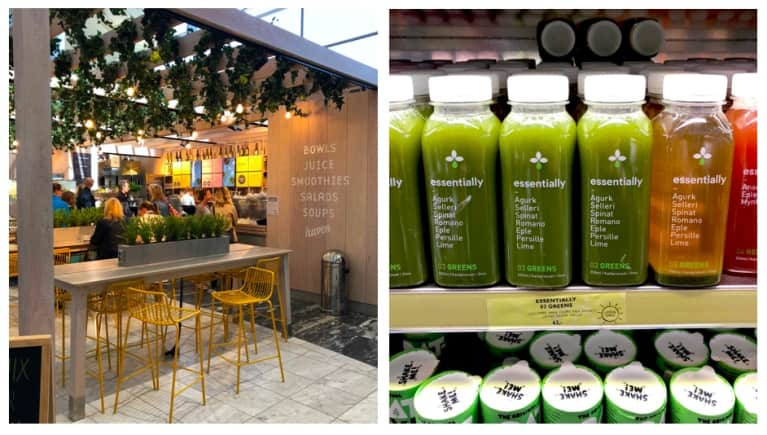 After ogling their smoothie bowls for a few minutes, I decided on an Asian-inspired salad. Surrounded by bright décor and pops of plants, I then ate probably one of the best "fast food" meals of my life, filled with veggies, fresh mint, sunflower seeds, and sesame dressing. It mimicked a lot of the food I had enjoyed over the course of my trip in Norway. While the farm-to-table movement is still relatively new in the country, where steep terrain makes farming tricky, Norwegians are increasingly known to serve up simple ingredients in an unfussy way that lets their flavors shine through (along with plenty of fish—more on that on mbg next week).
Wary of the dry air to come, I then loaded up on Haven's green juices and oat-milk-based recovery drinks packed with pineapple and spirulina by Oatly, a Swedish brand of alternative milks that has become a favorite in mbg's notoriously picky office.
But a jaunt closer to my gate made me wish I'd saved room for another course. There, nestled between B12 and B14, a colorful food truck festival was in full swing. Trucks offered healthy vegetarian pizzas, burrito bowls, and wraps, and the smells and spirit of the place immediately transported me to an international food fair.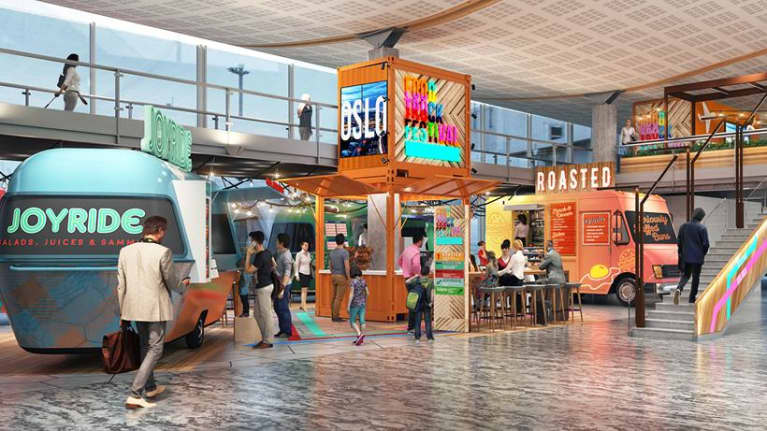 I arrived at my gate feeling surprisingly smiley. Maybe it was the mood-boosting plant displays that draped every wall I'd passed—even those in the bathroom. Or maybe it was knowing I was smack in the middle of what's been dubbed the "world's greenest terminal," a stunning example of energy-saving retrofits, water-saving features, and locally sourced décor. After a quick Google search, I found out that the surrounding green walls, curved roofs, and skylights also served a calming purpose for travelers, inspired by the principles of biophilic design that's meant to put people at ease by mimicking nature's patterns.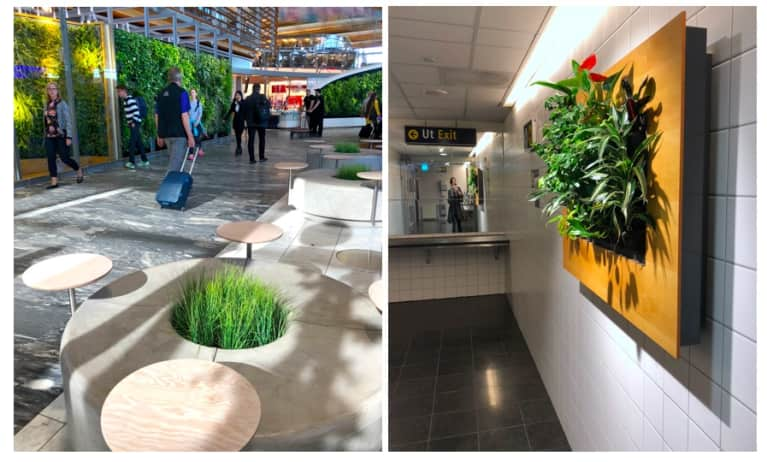 As my flight pulled up to the tarmac, I vowed to return someday soon, maybe when Oslo Airport City—a 4-million-square-meter behemoth powered entirely by renewable energy—is finished. Oslo is proof that airports don't have to be the stress-inducing, processed-food-laden places we know today, and if you're lucky enough to have a flight there, you should most definitely show up early.
Not traveling through Oslo anytime soon? Here's how to make any airport experience a healthier one.