How The London Marathon Swapped Single-Use Plastic For ... Seaweed?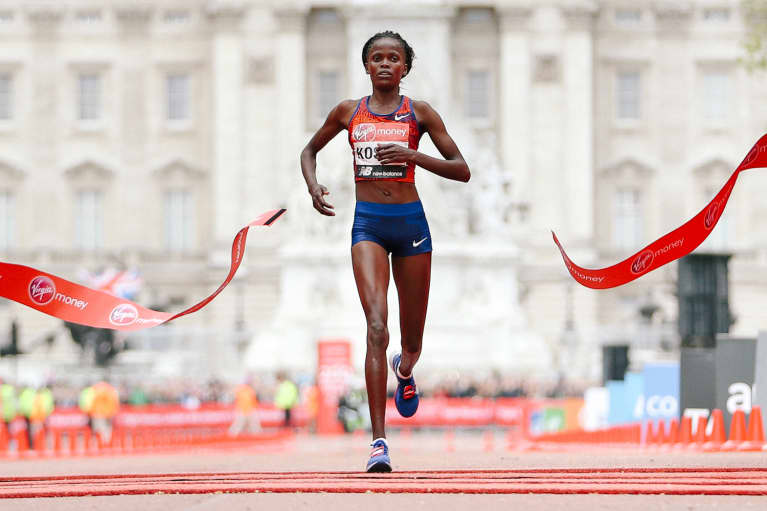 In a bid to cut down on half a million plastic bottles and become "the most sustainable marathon ever," the 2019 London Marathon called in lots and lots of seaweed.
When racers reached mile 23 of last Sunday's race, they weren't handed your typical water cup. Instead, they refueled with Ooho—an edible blob containing a sip of energy drink. Sporting the tagline "The Edible Water Bottle," Ooho capsules are made from seaweed and plant matter, making them safe to eat whole.
The pods have been around for a few years (mbg first covered them in 2015), but this was their biggest trial yet. (By the end of the race, runners had bitten into over 30,000 of them.)
Founders Rodrigo Garcia Gonzalez and Pierre Paslier created the product to serve as a more sustainable way to drink beverages on the go. Vendors have previously used the biodegradable pods to hold energy drinks at sporting events, alcohol at festivals, and even condiments at takeout restaurants. Though we haven't had a chance to sink our teeth into Ooho quite yet, rumor has it that the pods have a jelly-like texture and are largely tasteless.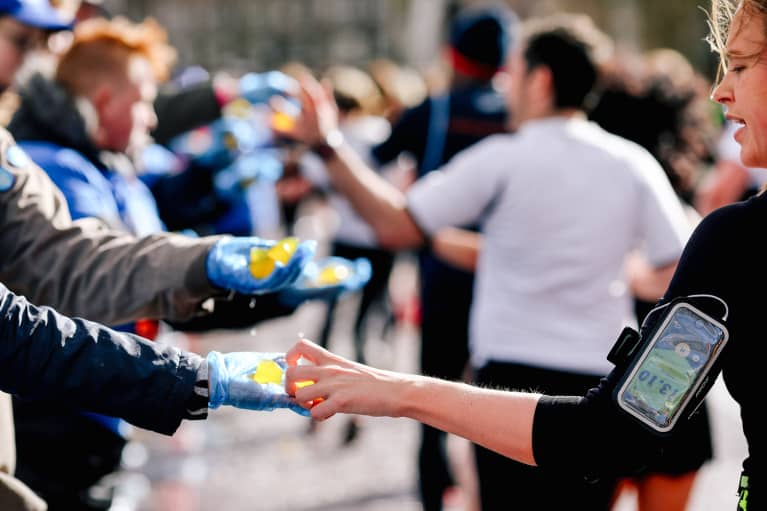 If you want to try out the more environmentally friendly bottle solution at your next event, be prepared for a wait. According to the Ooho website, they're in high demand: "We receive an overwhelming number of requests, and we are dealing with them as fast as we can. Please understand that we are a small team, and we hope to get back to you as soon as possible," its product page reads. Hopefully, the pod's marathon debut serves to speed up production so they can become more of a mainstay worldwide.
In addition to Ooho, the London Marathon featured other earth-friendly running accessories such as bottle belts made from 90 percent recycled material, reusable post-race thermal blankets, and digital instructions and registration materials.
"Just some of the areas we are currently working on include reducing CO2 emissions, transportation of runners, a reduction in the use of generators and plastics together with more local procurement of event infrastructure," Hugh Brasher, event director for London Marathon Events, said in a statement on the race. "We can't achieve everything in one event, in one year, but the changes and the trials we're introducing for this year have the potential to change how mass participation events are delivered in future."
Now there's a goal we should all be running toward.