Why Slow Fitness Was What Finally Worked For This Workout Fiend
mbg Contributor
By Leigh Weingus
mbg Contributor
Leigh Weingus is a New York City based freelance journalist writing about health, wellness, feminism, entertainment, personal finance, and more. She received her bachelor's in English and Communication from the University of California, Davis.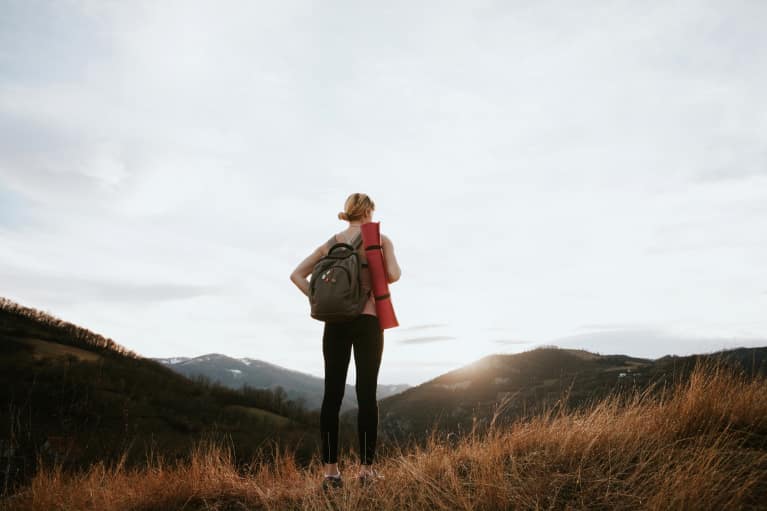 Our editors have independently chosen the products listed on this page. If you purchase something mentioned in this article, we may
earn a small commission
.
Only last year, working out with a friend could mean anything from tearing up the treadmill and lifting heavy weights at bootcamp to jumping on boxes at a CrossFit gym. But in recent months, the goals of fitness have seen a huge shift. Thanks to rising awareness around cortisol and heightened stress nationwide, the emphasis has quickly been placed on active recovery, getting enough sleep, breathwork, and hot baths.
Among the exercise-obsessed, "workout dates" now typically consist of a three-mile walk followed by an infrared sauna session, or perhaps a trip to the local stretching studio. Why? Because it works.
Taking a long, hard look at strenuous exercise.
Fitness has seen quite an evolution over the past few years. The ClassPass era spiked an interest in a diversity of classes, from CrossFit and boot camp to barre and trampoline workouts. Suddenly, it seemed like everyone was taking part in extreme workouts nearly every day, working hard to burn the most calories possible.
While some movement is always better than no movement, the uptick in strenuous exercise has led to cortisol levels shooting through the roof, lowered libido, gastrointestinal issues, and injury. "Four months ago, I was working out six to nine times per week, sometimes going for an hour both before and after work," mbg's own Rebecca Stump says. "When I got two herniated discs, which an MRI revealed were also degenerated from overuse and years of working through back pain, I was crushed. If anything, I was worried my fitness-fanatic identity and gym-driven social life would totally erode."
Luckily, Rebecca's story has a happy ending. Once she leaned in to a gentler form of exercise, the results were shockingly good. "I quickly discovered that slowing down opened up a whole new world. I lost weight (not that I needed to), and, when I came out of it all, I actually felt stronger," she explains. "I slept better at night, probably from a reduced level of cortisol, and I arrived at work more calm from walking an hour in the morning rather than engaging in the usual HIIT training."
Rebecca isn't the only one with a story like this. Sadie Lincoln, founder of Barre3 and mbg class instructor, has found that asking her clients to slow down has been extremely beneficial to them. "Moving in a slow, mindful way allows us to adapt each posture to exactly what our bodies need," she says. "And, when we align the body in a healthy way, we move in a more productive way that gives us sustainable results without placing the body at risk for injury. Athletes and super-active clients of mine love this benefit! There is nothing more frustrating than being injured if you identify with being physical."
Making exercise about mindfulness.
The art of moving more slowly is only just now taking off, and active people everywhere have been pleasantly surprised by the results of living more of a low-intensity lifestyle. And the outcome isn't just physical—it's mental and emotional as well. "When we slow down, we crowd out the stress hormone cortisol with the calming hormone serotonin," says Sadie. "We are able to check in and become aware of what our body really craves. And when we develop this kind of awareness, we make healthy choices all day long."
In addition to swapping boot camp classes for yin yoga and tai chi, people are now taking the time to simply walk again. "Walking is being rediscovered as the great pick-me-up that it is. Why? Because in complicated times we need something simple, something direct, something that lifts our spirits, juices our joints, makes us feel alive," says Marilynn Preston, author of the new book All Is Well: The Art And Science of Personal Well-Being. "The impact is immediate! Like plants to the light, we crave that which rejuvenates us and brings us joy."
It's all about balance. And if tons of cardio is what makes you feel balanced, great—but if not, take a closer look at the slow fitness movement. Most likely, you will pleasantly surprise yourself.
Want more ideas on how to slow down? Find out how slowing down can lead to a fitter, more productive life, and how embracing the low-intensity workout is a game-changer.