An Anxiety Tip From The Guy Who Had A Panic Attack On Live TV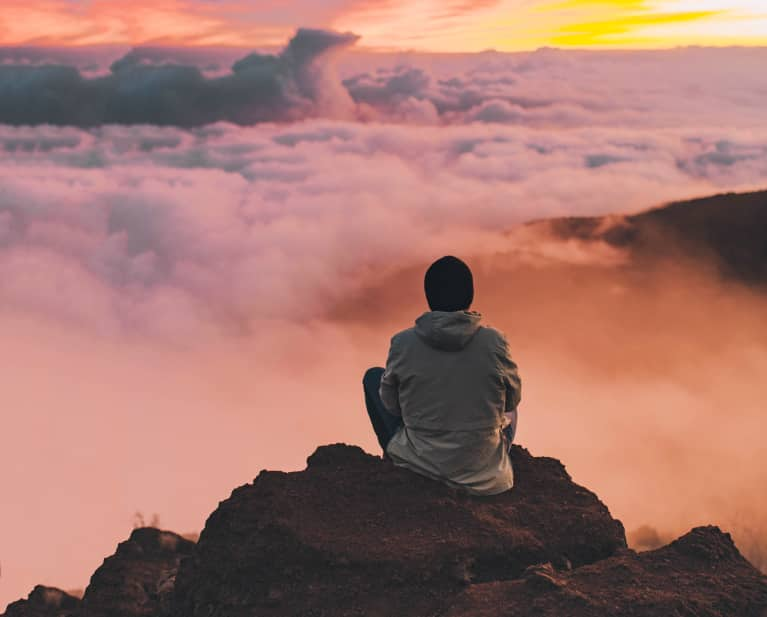 When ABC news anchor Dan Harris had a panic attack on live TV in 2004, he quickly realized something had to change—and so began a long, sometimes frustrating path to meditation that completely transformed his life. Thirteen years later, Harris has two books, an app, and a podcast to show for his meditation journey—and a much happier mindset.
In his new book, Meditation for Fidgety Skeptics, Harris' main goal is to get people meditating, no matter how out of reach it seems. In his extensive research, he's encountered one obstacle over and over again: a tendency for people to believe that their exercise method of choice—whether it's yoga, running, spin, the list goes on—counts as meditation.
Why exercise isn't meditation.
While there's no question that exercise is incredible for mental health, Harris finds that often people believe they don't have to meditate because they already exercise. "Anything can be meditative as long as you're paying attention. But when you're in a class with the music blaring and the people screaming, it's hard to pay attention. It's a wonderful thing for your head and your body, but I don't think of it as meditative."
You can, however, turn your workout into a meditation—you just have to create the right conditions. "Running or yoga can be mindfulness meditation if you do it in a specific way: as in you're fully paying attention, you're not listening to a podcast, you're not listening to music, you're not planning some invective you're going to hurl at your boss. If that's the case, it's fully a meditation. People mistake it because they find that running makes them feel better and calms them down, and all that is true. I run, and I'm hugely pro-exercise, but that doesn't mean it's mindfulness meditation. It's a formal distinction."
How Harris' meditation practice has changed.
What began as a 30-minute daily meditation practice has turned into a daily practice that's a whopping two hours long. And while that may seem intimidating, Harris doesn't think it's necessary for everyone—it's just something he personally feels excited about. "I've been doing that level for two-and-a-half years now. I wanted to see if I could do it, but it's also driven by the fact that I wanted to see what it's like," he explains. "I hesitate to talk about it because people will hear that and say well there's no way I can do that. But here's the thing: Some people start to exercise and do a few minutes a day, other try to be triathlete. I'm sort of trying to be a triathlete of meditation."
And if meditating for two hours a day is something you do want to try, you can always break it up. "I spread it out throughout the day. I took the cab ride here and it was 22 minutes—and by the end of the day it needs to be 120 minutes," he says. "And if I don't get there, I make it up the next day. Like yesterday I did three hours, because I was on a plane."
Has he gotten even happier?
While Harris isn't sure upping his meditation has made him significantly happier than when he was doing just 30 minutes a day, he has noticed some other improvements. "I'm better at meditation than I was," he says. "I sometimes sit for an hour-and-a-half per day, and my ability to stay focused has gone up," he says. "Once in a while I actually feel really good in meditation. It used to suck from start to finish. I think the 10 percent happiness boost I get from meditation in general compounds annually, and your baseline happiness goes up, and you get better at enduring blows."
And where he once dreaded sitting in meditation, he finds that now that sinking feeling is nothing more than a thought. "When you make that mental note, you can watch the thought end, and that's so empowering, because you see it in the rest of your life and you're not owned by it."
Want to kick-start your own meditation practice? Here's the one thing that helps quiet Danica Patrick's monkey mind.