These Are The Most Common Reasons Relationships End (And What You Can Do To Resolve Them)

mbg Contributor
By Peter Kowalke
mbg Contributor
Peter Kowalke is lead coach and founder of Kowalke Relationship Coaching.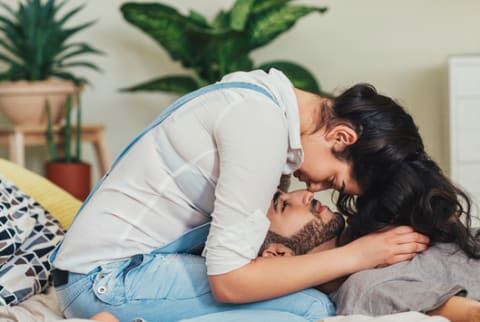 June 15, 2017
Relationships are not static because people are not static. We change all the time, which means our relationship changes all the time. How we handle this change, however, greatly influences the quality of the partnership—and eventually can mean the difference between one that lasts and one that doesn't.
If we're actively working on our relationship, this dynamism creates opportunities for personal growth, excitement, playfulness, and new layers of connection. But if we're passive about our most important relationship—if partnership is a box we check before moving on to the next goal—this constant change opens the door to numerous threats that can ultimately kill the partnership.
Advertisement
This ad is displayed using third party content and we do not control its accessibility features.
We want relationships filled with love, connection, security, and joy. So, here are five of the top relationship killers—and how to beat them:
1. Emotional triggers and recurring fights:
Nobody goes into a relationship with the intention of making the other person miserable. Yet many of us have recurring fights with our partner that can, over time, make the partnership unbearable.
Gal Szekely, psychotherapist and founder of the Couples Center in San Francisco, says not understanding emotional triggers is the problem.
"Relationships really evoke some of our deepest longings and needs, such as wanting to feel loved, wanting to feel safe, wanting to feel on the same team," he says. "So when our partner says something that for us feels like they're not doing those things—loving us, appreciating us, supporting us, sharing with us, making space for us—then we have a strong reaction."
These are our emotional triggers, says Szekely, and usually we only have a couple of these hot-button issues that set us off.
Handling this relationship killer starts with recognizing when we have stumbled across an emotional trigger in our partner and not responding to their emotions defensively. Once we've paused and identified the deeper need that our partner feels is under threat, we can address the real issue and defuse the situation relatively easily.
2. Giving up:
Relationships take two, but sometimes one of us gives up and stops working on the partnership. The root cause of emotionally checking out is not having our needs met. When we feel disconnected long enough and feel like our partner is not listening, when there are issues and tensions that never get resolved, we eventually disconnect from the relationship and handle our issues and our emotions ourselves. We work around the problems in our relationship because we struggle to resolve them.
Addressing our needs and the needs of our partner is the antidote to a zombie relationship, suggests Kim Bowen, relationship counselor and founder of Dallas-based the Marriage Place. It starts with turning our complaints into wishes.
"Learn how to communicate what you want and need without it sounding like a criticism," Bowen recommends. "Drop the complaint and focus on the wish."
Instead of complaining that our partner always comes home late, for instance, we might tell them that we love them and really wish they would come home and spend more time with us.
"You just need to tweak one little thing to turn the whole thing around," she says.
Advertisement
This ad is displayed using third party content and we do not control its accessibility features.
3. Different values and needs:
What do issues with money, sex, and kids all have in common? These challenges all stem from differences in values and needs.
"The big challenge that couples bump into is often their value systems from their childhood or growing up," notes psychotherapist Jeremi McManus.
With money, for instance, we might be a little bit more of a spender and like to enjoy the money we earn, while our partner is more of a saver and tends to be more conservative about money.
The trick for avoiding this relationship killer is getting on the same team, according to McManus. We start by listening to our partner for a couple minutes without responding, then verbalize what they said so we get their emotions and perspective right. When we've heard our partner, we can challenge ourselves to recall a similar situation in our own life until we can relate and see where they are coming from.
Once we and our partner have done that, we can more easily harmonize our differences or at least accept our partner's different take on the matter. Having trust in our partner's fundamental goodness also goes a long way.
"If we can look at what our partner is doing from an altruistic perspective—in other words, we believe what they are doing is coming from a place of good and not a place of harm—it really shifts how we perceive what's happening in the situation," McManus says.
4. Not understanding ourselves:
Communication is a huge issue, as all relationship experts tell us.
"But people are looking at communication in the wrong way," says Debi Maldonado, life coach and co-founder of the Academy of Jungian Spiritual Psychology. "They are thinking the problem is with the partner instead of the reflection of themselves."
That's because we give our partner the script to play out, and we interpret their response through the lens of our own issues. If we worry about abandonment, we find abandonment in our partner. If our partner isn't working with us, it might be because we're not working with our partner.
The best defense against this negative projection is understanding ourselves, according to Maldonado.
"Look at the theme in your relationship. What is your top complaint about your partner? Explore where that issue is showing up in other areas of your life," she says. "When you start to see the pattern, you'll be better equipped to take responsibility for the issue. Because other people aren't all putting the same idea into your mind: The common denominator is you."
Advertisement
This ad is displayed using third party content and we do not control its accessibility features.
5. Growing apart:
Finally, one of the most pernicious relationship killers is slowly growing apart as a couple. This comes back to the idea that our relationship is changing all the time; one morning we wake up and realize there is no spark, no connection, no shared journey. We have grown apart from our spouse, and now we're moving in different directions.
Drifting apart is a result of failing to allow the relationship to evolve the relationship as we do. Because we grow, our relationship also must grow, or the bonds that connect us will weaken over time.
What I've found in my relationship coaching practice is that protecting against gradual drift requires renewing the relationship periodically. This is done by reviewing expectations and shared plans as we evolve, and adjusting roles over time. This review and adjustment should be a conscious activity we do with our partner several times per year.
We also must maintain our journey together by centering our planning and decision-making on the couple as a whole, not just us as individuals. Are we making plans for ourselves alone or for the couple as a unit? Are we including our partner's current needs or are we ignoring them? The more we focus on the couple when we make decisions, the better we will make the journey together.
Relationships are anything but static. Strong couples understand this, and they stay strong through proactive maintenance. It is not a question of if but when we will encounter these relationship challenges. What we do next makes all the difference.
Want more insight into your relationship? Find out the things you should always be selfish about in your partnerships and the questions that could keep your marriage from ending.
Advertisement
This ad is displayed using third party content and we do not control its accessibility features.
Reset Your Gut
Sign up for our FREE doctor-approved gut health guide featuring shopping lists, recipes, and tips

Peter Kowalke
mbg Contributor
Peter Kowalke is lead coach and founder of Kowalke Relationship Coaching. In 2010, Peter recognized that sharing his capacity to love and build amazing relationships was not only his greatest strength, but also the most important thing he could do with his life. He spent the next several years restructuring his life for this calling and laying the foundation for his relationship coaching work while writing up to 1,200 stories a year as a freelance journalist to finance the transition. He received a Bachelors of Science in Journalism from Ohio University and also serves as CEO & Founder of EdChief.com.