Can You Play Pro Sports As A Vegan?
mbg Contributor
By Leigh Weingus
mbg Contributor
Leigh Weingus is a New York City based freelance journalist writing about health, wellness, feminism, entertainment, personal finance, and more. She received her bachelor's in English and Communication from the University of California, Davis.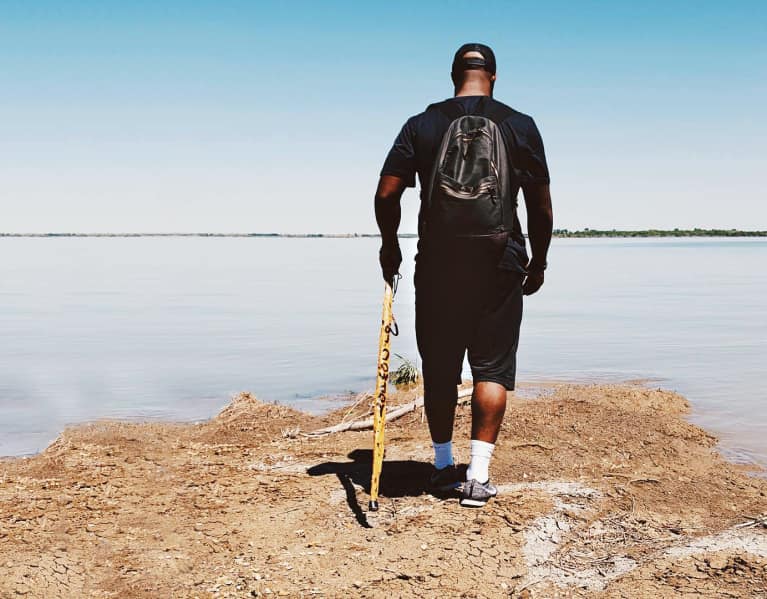 A professional football player who played college football at Stanford University, Stepfan Taylor, within the first few minutes of speaking with him, doesn't exactly come off as health- and wellness-obsessed. As someone who has played football his entire life, Taylor is all too familiar with a party-filled lifestyle. But dig a little deeper, and it quickly becomes clear that taking care of his body is Taylor's top priority.
"Don't get me wrong, partying definitely comes with being a football player," he admits. "I was just never that into it." Having struggled with his weight and low energy levels as a kid, nutrition became a top priority for Stepfan at a young age. Now, at age 26, Stepfan is considering veganism as a way to take his performance to the next level.
Using food to deal with nervous energy.
Taylor describes himself as a "shy, nervous kid." And to deal with all that nervous energy, he would turn to food—more specifically, white bread, which provided him with no nutritional value and left him craving more. "Food was comforting to me," he says. "I was just so nervous all the time. And I remember, late at night, I would just sit in the kitchen and eat bread. And of course that led me to gain weight, but there was just so much going on at that time. My family was going through a hard time, and I didn't know how else to deal with that nervous energy."
When he started getting into peewee football, Taylor knew he was good—but his poor diet was slowing him down. "Luckily I had older cousins, and they really helped me out. They let me know that what I was doing wasn't healthy, so I started focusing on how to eat healthier."
Veganism, performance, and sleep.
After playing for the Arizona Cardinals for a few years, Taylor found himself with a hip injury that he's still working to heal. As a result, Taylor is taking the year off and further focusing on his health. One of the biggest changes he's made is working to transition to a vegan diet as a way to clear up his skin and get more energy.
"My injury made me feel especially lethargic, and I knew my diet was a huge part of that," he says. "I wanted to try different things because the injury was really getting to me. It was slowing me down in the weight room, and I had to slow down more in life. It's not worth it."
Taylor also struggles with sleep, and he finds eating a vegan diet helps him get more restful, restorative sleep. "I find sleep is really important to my performance, and sleep is something I've really struggled with," he says. "When you change up your diet, you just feel better, and that helped me get more sleep."
Putting an end to childhood obesity.
Taylor has big goals for his year off, and one of them includes educating kids in the small Texas town he grew up in on childhood obesity and the importance of proper nutrition. "It just comes naturally, and there's such a lack of awareness surround nutrition. But it's not just kids—adults are obese! So the children are getting it from their parents. I'm really trying to find the best way to make parents more aware, because the parents need to lead by example by making healthy choices. Every time I'm in town now, I always try to go play with them, and we always do something active. It's really rewarding."
Want to learn more about athletes who are all about wellness? Tobias Harris has an amazing story.