Proof The Rise Of Plant-Based Meats Is Not Just A Fad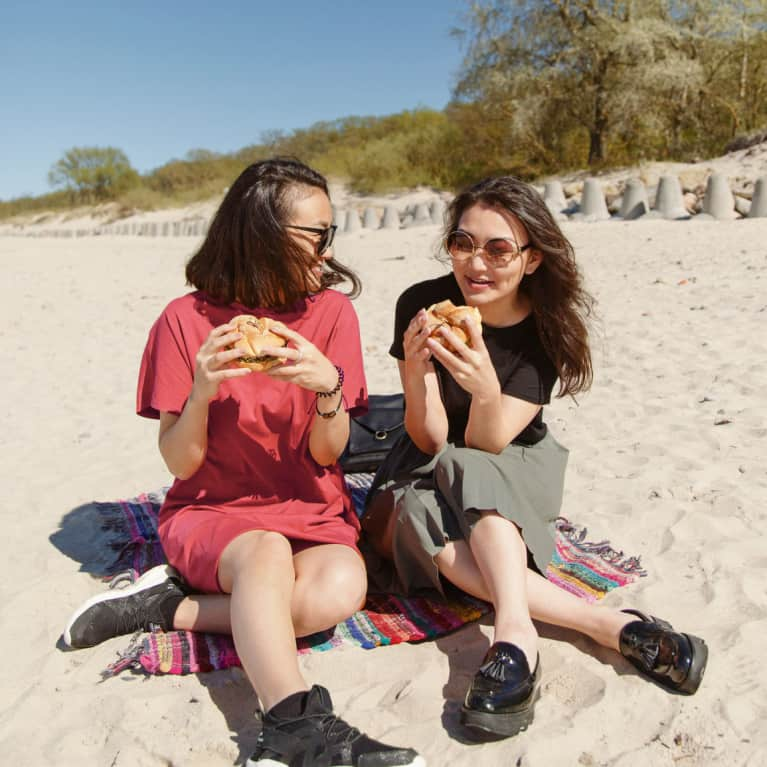 September 14, 2018 — 9:11 AM
The era of alternative meats has officially arrived.
As mbg predicted at the start of 2018, plant-based meats have soared in popularity. New market data shows plant-based meat sales jumped 23 percent in the past year—and they're expected to keep booming. If you look at the most popular alt-meat brands, the numbers are even more eye-poppingly positive: Beyond Meat sales are up a whopping 70 percent, with Field Roast trailing just behind at a 68 percent sales growth and Gardein at 51 percent.
This food category—which consists of foods derived from plant proteins and engineered to mimic the taste and texture of meat, as well as those grown in labs from animal protein cell cultures—has soared into the mainstream in conjunction with the rise of conscious consumerism. Raising livestock for meat is not only widely considered inhumane toward animal lives, but it also takes up some 30 percent of the earth's land and accounts for at least 18 percent of greenhouse gas emissions. Reducing one's meat intake by swapping it out for natural alternatives and other protein sources is therefore one of the easiest, most practical ways to directly contribute to protecting the environment for future generations—while also likely improving your own health.
It's also easier than ever to find plant-based meat products: You can find Beyond Meat products, for example, at grocery stores like Whole Foods, at your local T.G.I. Fridays, and even at Cinemark movie theaters. The Impossible Burger, known for its ability to bleed like animal meat prepared rare, is also beginning to be found on menus across the country.
The new report, published by The Good Food Institute, found 12 percent of all American households now purchase plant-based meats. The total sales for all plant-based foods—which includes plant-based meats, eggs, and dairy—now exceed $3.7 billion.
"The plant-based meat category today is reminiscent of the plant-based milk category about 10 years ago, when growth began to really take off," Caroline Bushnell, senior marketing manager at GFI, said in a news release. "As it follows that trajectory, reaching share of market parity with plant-based milk would make the retail plant-based meat category worth almost $10 billion."
Indeed, milk alternatives like soy and almond milk once started as a niche market. Now they dominate 13 percent of retail milk sales across the country.
Ready to embrace the world of alternative meats? Look no further than your neighborhood supermarket, and browse through this guide to getting started with plant-based eating. And if you're not ready to give up the beef just yet but value ethical eating, there's always the reducetarian diet.