5 Real Millennial Women On Why They're Not Sure They Want Kids
mbg Contributor
By Leigh Weingus
mbg Contributor
Leigh Weingus is a New York City based freelance journalist writing about health, wellness, feminism, entertainment, personal finance, and more. She received her bachelor's in English and Communication from the University of California, Davis.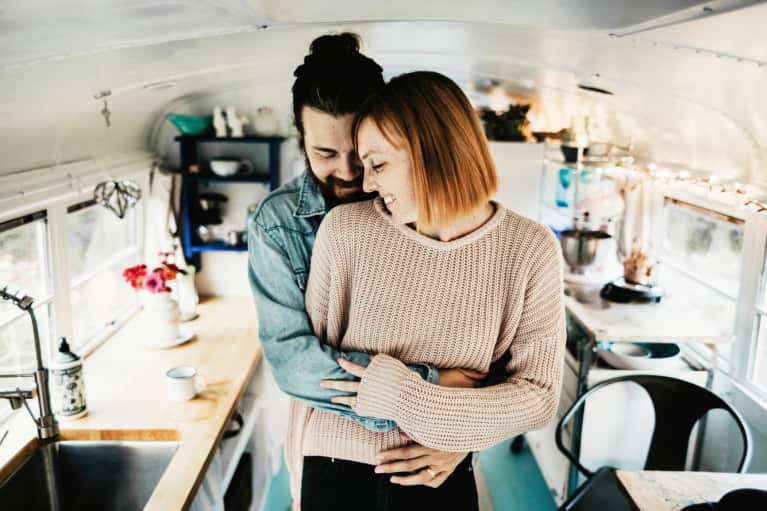 Getting married and having kids was once considered a necessity for every woman, but the last few years have shown shifting trends surrounding settling down and having children. Data out of Pew Research Center found that the number of women choosing to forgo having children has doubled since the 1970s. And if we're choosing marriage at all these days, we're getting married later than ever: Recent census data shows that the average age to get married is now 27 for women and 29 for men, and that age creeps up in urban areas.
One obvious reason for the decline in decisions to get married and have kids has to do with an economy that doesn't exactly make raising children look like a viable option for millennials. "I can't even imagine paying for a wedding right now," a 26-year-old woman with tens of thousands of dollars in student loan debt said in a Washington Post article.
But the decision to not have kids is more nuanced than just surviving a tough economy, so we decided to reach out to real millennial women to find out exactly why they don't want kids. Here's what they had to say.
There's no such thing as "having it all."
"A big factor is that I don't want gaps and missed opportunities in my career path. I'm 26 and about to get my Ph.D. in a STEM field. Prioritizing work and staying current in my field, especially as I start my career, will be crucial for my earning potential and career development, and I'm happy and fulfilled focusing on that. This may sound cynical of me, but I don't think you can have it all, and I would prefer to focus on work instead of family." —Ella, 26
I want to make environmentally responsible decisions.
"I don't see kids fitting into the life I am building for myself. I value my autonomy and freedom, and I want to be free to devote immense time and energy to my career and volunteer work. I want to be able to travel often and move as needed to follow my career and personal goals. And while I value loving, romantic relationships, I put my relationship with myself first. Raising a child would change all of these things for me dramatically.
Also, the idea of having kids does not match up with my personal ideals. There is plenty of beauty in the world we live in but also immense suffering. I worry about poverty, war, disease outbreaks, and ecological loss. I consider human overpopulation, and the resulting climate change, to be a massive factor in worsening all of these. Selfishly, it is hard for me to conceive (ha-ha) of bringing my own children into a world that is struggling this way. And on a broader scale, I feel it is my personal responsibility to take actions to reduce my own climate impact. Choosing not to have children is one of the most environmentally responsible decisions I can make." —Ally, 30
I'm cynical about marriage.
"Having a kid is a lifetime commitment that I don't know I'll ever be ready to make. The amount of money, energy, and time that goes into it is astronomical, and I don't know that I would be able to handle all of that stress while working full time. I want to have the freedom to travel and enjoy my life.
Also, my parents' divorce was really hard on me, and I have a somewhat pessimistic attitude toward marriages lasting. The chances of staying in a happy marriage throughout your kids' lives are 50/50 at best, and I wouldn't want to put my kids through that. Lastly, there are so many kids out there waiting to be adopted, so I would consider adoption before having my own kids." —Maya, 27
I don't want to hate my husband, and I'm in way too much student debt.
"I've known since I was a kid that I didn't want kids of my own. Honestly, life with them seems pretty awful. The new parents I know are struggling hard—I feel, at 30, that I'm really just starting to live my life. I love my husband; I don't want to hate him. I've had to work really hard to get where I am and still have a mountain of student debt to pay off. Adding kids to the equation seems financially irresponsible, and like it would put the kibosh on any forward momentum. I, however, love being the cool aunt. We'll see if it changes, but that's just where I'm at." —Zooey, 30
I have no idea how I would support children.
"There are days when I think, of course I want to be a mother—I'd feel so fulfilled. Then there are days when I look at how stressful having kids is, and I think, why would I want that? Also, I have no idea when I'd be in the position to support children. I'm a freelancer, and making money is a grind. I can't envision a time in the near future when I'd be making enough to support a child." —Sophie, 25
Do these women have you thinking? Here's what 11 real women love most about their bodies.