The Super-Effective Practice Every Man Needs To Incorporate Into His Daily Routine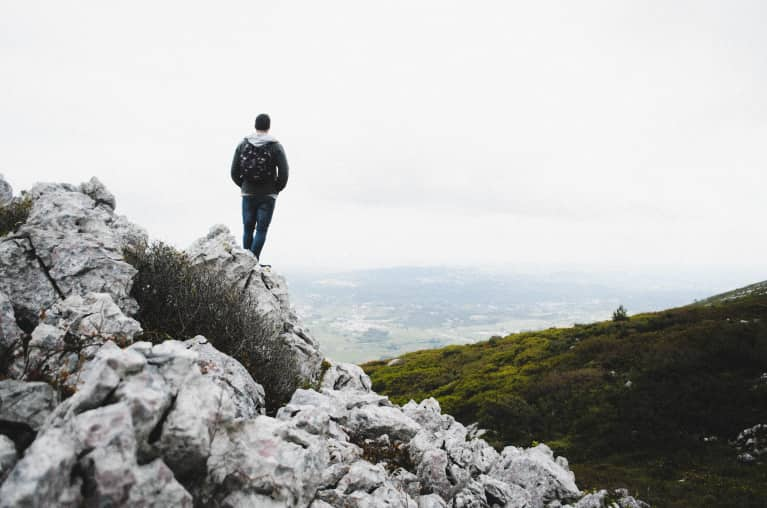 Our editors have independently chosen the products listed on this page. If you purchase something mentioned in this article, we may
earn a small commission
.
It's 2018, which means it's time for men to have an open, honest chat about what it means to "be a man." In the past hundred or so years, being a man has had an unspoken set of rules about how to act, talk, and behave. Be tough, don't cry, stand tall, and never back down.
To be clear, this isn't a blanket statement for all men. It's an acknowledgment of societal norms, past and present—but this doesn't need to be how we operate moving forward. The world has moved on, and culture and consciousness has evolved, so it's time for more men to step into the currency of life and redefine what it means to be a man.
Right now, we are in the zeitgeist of a culture that's all about living mindfully—so there is a need for everyone, men and women alike, to continue to step in, tune in, and embody true well-being in all aspects of life, inside and out. Growing up, many guys—myself included—had a constant air of ego and overzealousness that motivated and influenced my daily actions and choices.
This air gave me a sense of entitlement, a misguided attitude, and a definition of "being a man" that was ingrained in my life. While definitions and labels often add no value to conversations like this, I find that there is a benefit to helping redefine what it means to be a man, if only to set a new conversation in motion and provide a road map to a more mindful way of living in the real world. So I offer this: What if we redefined the word "man" to mean "mindful, aware, and nonjudgmental"? I'm not the only one who feels this way. Here's what experts in the field of mindfulness have to say about this topic.
It's time to stop fixing and start accepting.
"Men, at least in my generation, were trained to take care of, to fix, to do. One of the greatest gifts of a meditation practice is the joy of just being. I can only imagine how healing it would be for a man to shift his identity away from having to fix everything and toward accepting what is." —Annie Carpenter, world-famous yoga instructor and founder of SmartFlow
"Our world is in such chaos. We meet fire with fire, noise with noise, speed with speed. We find people in great need, from all backgrounds, in understandable states of anxiety, emotionally and physically. If we can encourage the men in our lives to tune in rather than act out, we'll find a more conscious level of functioning overall. And any practice that helps men enter that conversation—be it yoga or meditation—will help our world progress in a better direction." —Elena Brower, world-famous yoga teacher and author of Art of Attention: A Yoga Practice Workbook for Movement as Meditation
It's time for an upgrade.
"We are in a very interesting time. Men are being asked to step into a feminine part of themselves, to become more compassionate and be softer. And yet men are also still expected to be strong, decisive, and be able to provide stability for their partners and families. Just like the iPhone needs updates to function efficiently and to be able to keep up with the rest of technology, we are basically asking men to do an 'all-systems upgrade' to evolve with the changing needs of our society, of our planet.
"This upgrade is being requested of every male out there without any sort of direction or 'how-to' guide for them to follow. It's uncharted territory! And without an upgrade, they will most likely experience discomfort, confusion, and may even break down. Meditation is the key. It's the best way for men to learn how to tap into their very feminine-sourced intuition and to learn how to process stress while being able to function as their best selves. It's all possible. If men can learn to sit, be quiet, and listen, who knows how our world can change for the better. There's no limit, only self-imposed boundaries holding us back." —Caley Alyssa, world-famous yogi and mbg class instructor
"Meditation is the most accessible tool we have to cultivate a meaningful relationship with ourselves. When we men choose to turn our attention inward and cultivate self-awareness through feeling deeply with our hearts, we awaken the power of what it truly means to be a man. We discover the freedom in letting go of ideas of who we think we should be and become who we truly are." —Jonni Pollard, meditation teacher and co-founder of 1 Giant Mind
"The time is now for all men to step in and see the value of finding quiet. The resources are endless and abundant, and the only thing left is for men to start. If you're the type who is caught in the rat race of busyness, recognize that there will never be a 'perfect time' to stop what you're doing and to start a meditation practice. But ultimately the best way to start is to stop and know that you're just one breath away from calm if you give yourself the chance to breathe.
To find out more about Michael, his projects and passions, check out, Michaeljameswong.com, BOYSOFYOGA.com, and justbreatheproject.com. Intrigued by this story? Here's why every man needs to do yoga