PSA: This Superfood Is Officially Back On The Dirty Dozen List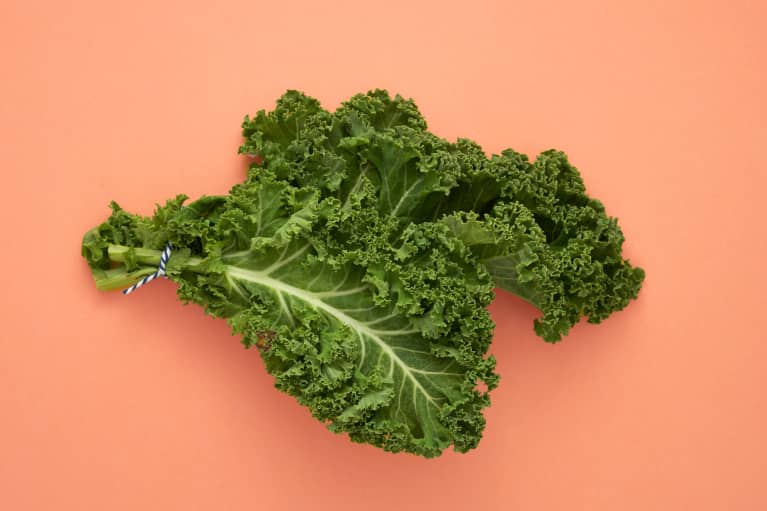 Did you hear? This year's EWG Dirty Dozen and Clean 15 lists are officially in. The pesticide power rankings are very similar to last years', with one notable exception.
"I would say the biggest difference between last year and this year's list is the addition of kale to the Dirty Dozen list at the No. 3 spot," Alexis Temkin, Ph.D., an EWG senior scientist, tells mbg.
Why does kale have more pesticides this year?
It's important to note that just because kale hasn't been on the list for the last few years doesn't mean it's been free of pesticides. The EWG put its rankings together using data the USDA releases on the pesticide count of different fruits and veggies—and it hasn't tested kale in 10 years.
"The last time kale was tested as part of the USDA program was between 2008 and 2009, so nearly a decade ago. At that point, it was eight on the list," explains Temkin. "So it's made its way back on the list and jumped up in the ranking of most contaminated fruits and vegetables." She adds that the number of different types of pesticides found on kale samples has doubled since it was last tested, and the average concentration of pesticides has increased more than three times.
It's hard to say why more farmers seem to be treating kale with pesticides, but it might have something to do with the leafy green's increasing star status. In an mbg investigation on the rise of kale, author and foodie Eve Turow writes that in the early aughts, "rumor has it that the largest buyer of kale was Pizza Hut, who used the curly leaves as décor along their salad bar." Between 2007 and 2012, U.S. kale production increased by nearly 60 percent. Flash-forward, and nowadays you can find kale in its many glorious forms in any major grocery store (Raw! In chips! As crackers!), and there is even a de-facto National Kale Day on October 3.
More demand from consumers means more pressure on farmers to get an ingredient to shelves safely, which can require chemical intervention. As EWG senior science adviser Olga Naidenko, Ph.D., tells mbg, "When growers decide when to use pesticides, it's really a business decision. Their goal is not to spray a lot of pesticides and poison people but to get their produce to market."
Now, the fact that kale, and its fellow green spinach, are often grown with pesticides doesn't mean you should stop eating them. In fact, the EWG list even declares that "the health benefits of a diet rich in fruits and vegetables outweigh the risks of pesticide exposure." So keep filling up on your greens, but maybe opt for organic next time you whip up that green smoothie.