Why I'm Giving Up Self-Help In 2018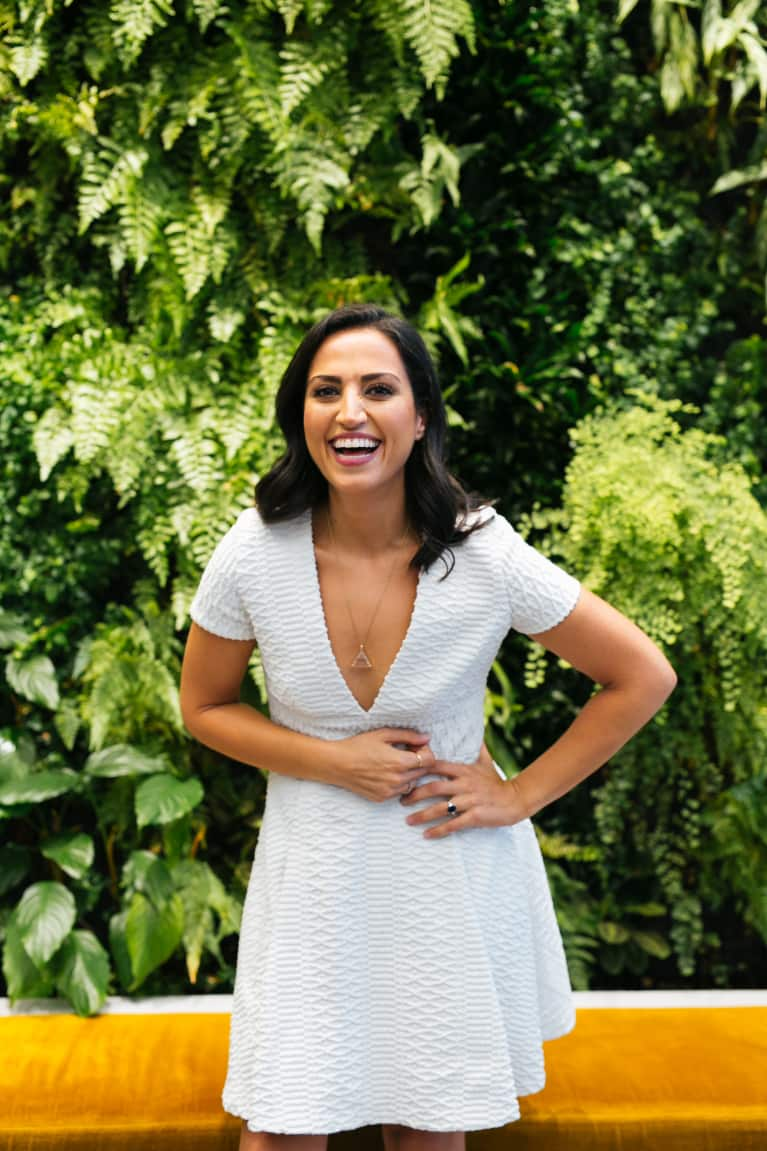 Over the last decade, I've spent over $20,000 "self-helping" myself to a better version of me. From books to coaches to retreats to support groups, I've left no stone unturned when it comes to #livingmybestlife. Maybe this journey sounds familiar; perhaps it's one you've been on too. I've stood shoulder to shoulder with my wellness brothers and sisters shouting mantras, downing the latest superfood concoctions, and journeying to past lives. We've screamed into pillows, eye gazed, and visualized our parents as their highest selves—(to forgive them, of course). And it's been an odyssey.
But at the end of 2016, I took inventory of my life and realized that I'd self-helped myself into a self-help addiction—one in which I felt more connected and dependent on the words of my teachers than my own. I believed so strongly in what my gurus were teaching and serving up, I'd totally abandoned my own compass. I'd sooner swipe my credit card to buy the latest digital course than I would get quiet and actually listen to what my own internal guidance system was telling me.
Self-help was my drug, and it was eating away at the real me.
Clearly, I value self-help. After all, I'm a nourishment coach whose life's work is to inspire people to be their best selves. I fully believe that when we relinquish what weighs us down and fill our lives up in the right ways, we are freed to do what we're meant to do in this world. Self-help equals world help in my opinion. So, you're probably thinking isn't it a bit hypocritical for someone in the self-help industry to be calling a moratorium on it? Allow me to explain.
If self-help is defined as "the use of one's own efforts and resources to achieve things without relying on others" or as a "self-guided improvement" I'd totally abandoned the "self" in this equation. I was self-help bingeing—pre-ordering every book before it even hit the market and feeling both pangs of guilt and shame should a friend or client reference a body of work I wasn't familiar with. Don't even get me started on the FOMO I would feel if there was a course or lecture I couldn't attend. Self-help was my drug, and it was eating away at the real me.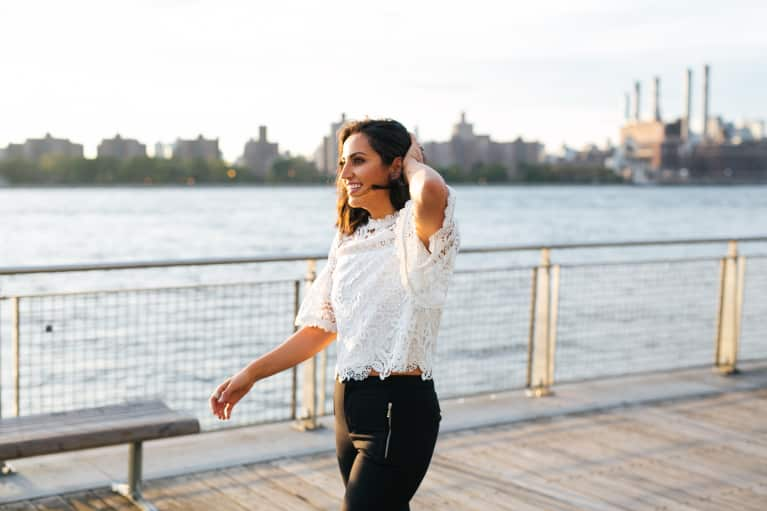 Then one day after a series of fumbled life experiences, feeling hopeless, disconnected, and utterly confused from the conflicting ideologies that had become my religion, I realized that the only person who could thrust me into greatness was me. That my story and my path could be inspired by, but not found on, the pages of just any book. And that if I really wanted to #livemybestlife, I'd need to journey to the truth of who I am, and no one is better equipped to guide me there than, well, me.
Moment to moment, we are all getting messages from our physical bodies. "Trust this person." "Take that opportunity." "Don't date that person." And if you're like I was, you'd stuff that message down, pretend it wasn't there, and pull one of your many books off the shelf or consult your guide du jour. More often than not, I'd go around and around in circles eventually landing on the answer that my gut had instinctively revealed to me—but of course I didn't trust it and needed countless other sources to confer. But what is the cost of that? Financially? Spiritually? In time? Well, I'll tell you. It's $20,000 and a whole lot of confusion, at least for me.
We are so disconnected from ourselves we'd sooner trust the ideas of a stranger than we would our own intuition.
Self-help can be incredible and valuable—there's no doubt about it. It's an industry built on hope, aspiration, and improvement. It can help us with everything from our relationships with others to ourselves to financial support and more. However, self-help, like a quick-fix diet plan, is chaos if you're not connected to the truth of who you are. Self-help by itself is not enough. If you want to thrive, you need to have self-awareness too. If you can't take a message and integrate it and layer it into your already truthful existence without living and dying by it, there might be something out of alignment. Over-reliance on anything outside of ourselves will manifest as a disordered relationship—in the same way over-reliance on a particular way of eating can be unhealthy. Just like we can abuse ourselves with junk food (or healthy food, for that matter—hello, orthorexia!), exercise, and alcohol, we can abuse ourselves with self-help. Hiding behind the ideals of others becomes a drug, perpetually demonstrating that our truth is not good enough.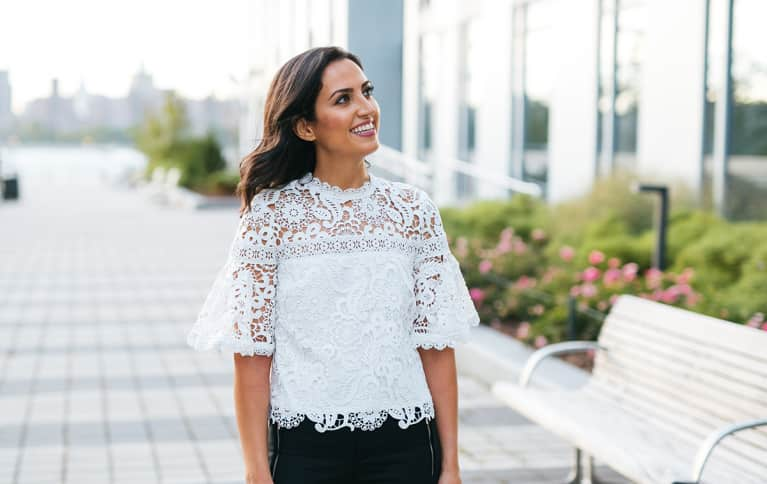 Why do we do it? Why do we believe we're not good enough as we are? Why do we deny our own truth? It's the same reason that when January 1 rolls around that we jump on the latest diet bandwagon versus connecting with our bodies and understanding intuitively what they need. We are so disconnected from ourselves, we'd sooner trust the ideas of a stranger than we would our own intuition. Overdependence on anything or anyone outside of ourselves is often protection—it takes us off the hook. If I hid in the words and concepts of others, I'd never have to step into my life as an empowered author, right? Nothing would be my fault or my success because "my guru told me to do it."
I started to look to the areas of my life where I didn't feel fearful, where trust was my default setting.
After landing in an astonishingly uninspired place in my life but knowing deep down that I was meant for something different, I came to terms with the fact that this "self-help determination" was actually "self-help infatuation." But what was I to do? With a diminished sense of self and an over-reliance on the teachings of others, where do you begin? Not by buying a new book, that's for sure.
I started to look to the areas of my life where I didn't feel fearful, where trust was my default setting. And I'll be real with you, those areas were few and far between, but they existed. I began to notice where and when I felt safe to be myself and to trust myself. I looked for evidence that when I listened to my own internal guidance, I could be successful, loved, and accepted. That evidence started to show up everywhere I looked for it. And little by little, I built my trust endurance, carrying it over into new areas of my life, testing and learning with each new day. And life began to shift.
I felt empowered, connected, and like I was co-creating my existence for the first time in quite a while. I felt this inherent trust that I was being guided, not by the pages of a new book, but by my own divine intuition. And so, 2018 for me is about a return to self after that long odyssey—about putting the "self" back in "self-guided improvement." My 2018 is about balance, not bingeing. I have tremendous gratitude for all the teachers and teachings that have come before me because they are immense and invaluable. But now is my time to put down the book, tune into my own wisdom, and I invite you to do the same.
If you're in the same boat, check out Elizabeth Dehn's 10 lessons from a self-help enthusiast—everything you need to know is there.