Our Vending Machines Are Getting A Healthy Makeover — And It Could Be Big For The Future Of Food Accessibility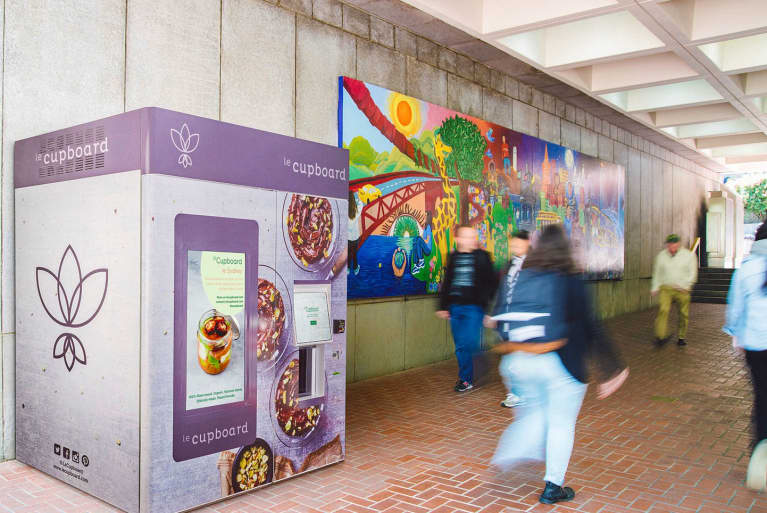 When's the last time you really enjoyed the food you got from a vending machine? The clunky drop of a candy bar or bag of chips has a certain ring of desperation to it—far from a welcome sound for health-conscious eaters.
But as our lives get busier and more and more people are working remotely than ever before, we find ourselves at a moment in history when vending machines make a lot of sense: They're convenient, they're fast, they're affordable—and now, they're finally getting a healthy makeover.
The rise of fresh, sustainable vending machine food.
In the lobby of a WeWork in downtown Manhattan, a futuristic box in the corner looks more like a robot than a vending machine. Two doors, each equipped with a monitor, entice passersby with photos of mason jar salads and yogurt bowls topped with fruit. After a few taps of the screen, my glass container of granola is dispensed, topped off with a purple smoothie from a spout hidden in the machine, and my breakfast açaí bowl is ready.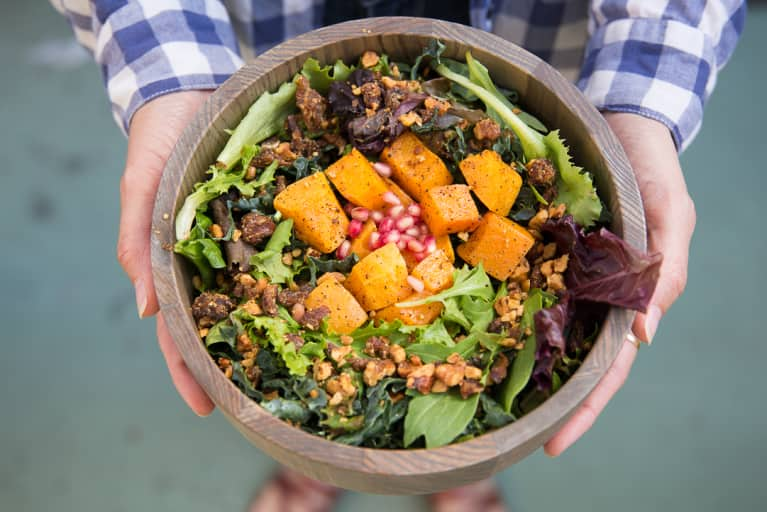 The machine, from company MyFreshBowl, is currently in test mode, pumping out superfood meals like a rainbow salad of red cabbage, turmeric=infused quinoa, shredded carrots, and romaine lettuce for $9.75 and a matcha coconut chia seed bowl for $4.50, to the building's workers.
Chloe Vichot, the founder of West Village eatery Ancolie and chef behind the machine's fare, hopes that it will soon expand to other places that people around the city frequent, starting with gyms, dorms, and residential buildings. In addition to giving more people access to healthy, delicious meals and snacks on-the-go, this would help the other goal of the business: cutting back on the waste usually associated with packaged food.
All of the machine's options come out in a glass jar—the same ones that Vichot uses at Ancolie to make it a nearly zero-waste restaurant—that customers can then return for a credit to put toward their next snack fix. In the two weeks that the machine has been in service in WeWork, there's been an 80 to 90 percent jar return rate, Vichot says. And by opening more machines around the city, she would give people even more opportunity to drop off their containers when they're on-the-go.
Healthy food should be accessible to everyone—and these machines might be able to help.
Fresh, healthy, and plastic-free vending machines are a new concept in NYC, but there's reason to believe that they'll take off. For encouragement, look to Farmer's Fridge: a Chicago-based startup that sells salads, bowls, and snacks in vending machines and just closed a $30 million financing round. Currently, the company has about 185 machines in Chicago and Milwaukee, and this money will help it open 225 more across the Midwest. Founder and CEO Luke Saunders recently told the Chicago Tribune that his company is now serving up 15,000 meals every single day.
Part of the appeal of vending machines is they are cheaper and more space-effective to open than traditional cafés, making them a promising vehicle to bring healthy food to the masses. "We have seen great interest from cities wanting to solve the issue of food deserts and we are working with them to close the gap in public health and sustainability challenges through food," says Lamiaa Bounahmidi, founder of plant-based "mobile cupboard" company, leCupboard, which currently has outposts in a handful of companies, universities, hospitals, and transit stations across San Francisco.
Like Ancolie, leCupboard packages its offerings—everything from gazpacho to zoodles—in glass containers for the sake of the environment. Bounahmidi is keen to explore how models like hers can help the food industry make health more accessible to everyone while curbing climate change.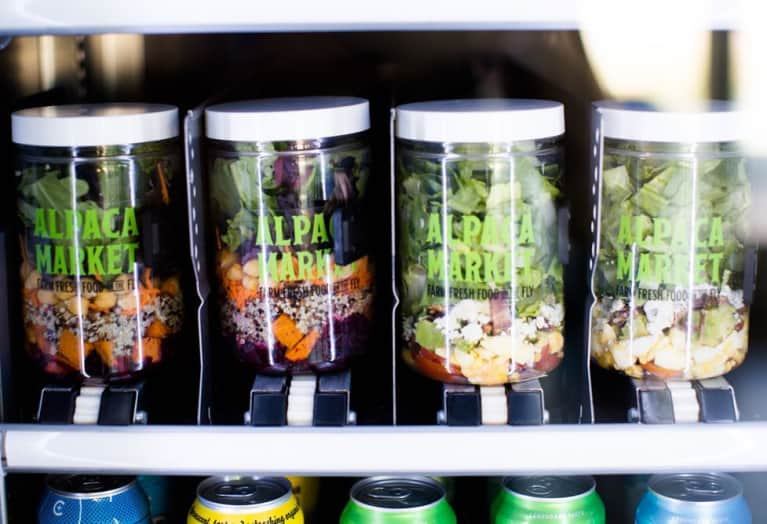 The people behind Alpaca Market, a fresh food vending machine in Austin, predicts that this sort of fast, accessible eating will be the future. "We're quickly moving toward an age where convenience and automation will be paramount. It's obvious in both tech innovation and consumer trends," say co-founders Joe and Brittaney Kerby. "We also believe we're on the brink of a food paradigm shift. People want healthy food, but they don't always have the time to make it themselves or sit down at a restaurant. Vending machines will help fill this gap by providing easy, fast, hassle-free food for consumers on-the-go."
While there are still questions around job creation (if vending machines are the new norm, where will those food service jobs go?) and price (accessibility is one part of the equation but affordability is the other), the 24-hour access to healthy food that vending machines can provide is enticing. A world where you can get a fresh food fix anytime, anywhere? We're here for it.
"We don't think you have to choose between convenience and your health," the Kerbys predict. "In our future, they're intertwined."