Healing Happens In Community — So Why Is So Much Of Medicine A Solo Endeavor?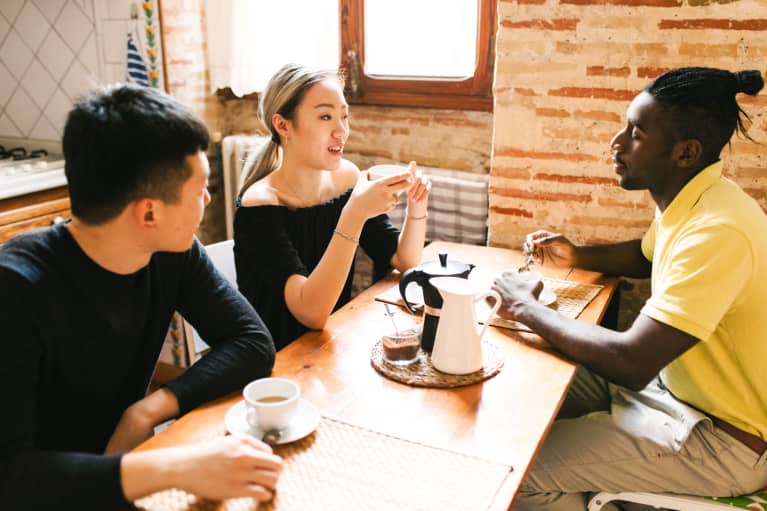 Compassion is a critical tool for individual and collective health. If you've been operating from a "survival of the fittest" mentality, your well-being is likely suffering. As Charles Darwin suggests, "survival of the kindest" is the attitude that will actually ensure a flourishing species.
We live in a culture that associates suffering with weakness, so there is a collective tendency to put on a smile, hold in our hardships, and selectively reveal them to professionals behind closed doors (often in fluorescent-lit, windowless, sterile environments). In my opinion as a naturopathic doctor and nurse practitioner, this system poses a significant obstacle to individual and collective well-being.
Our current health care system can be isolating—and that's a problem.
When I began practicing integrative medicine, I found it concerning that my patients felt so alone and isolated by their health issues. I saw thousands of adults complaining about their digestion yet felt ill-equipped to control their diets because they ate their meals in a corporate cafeteria. I saw numerous young people prepared to go on antidepressants because they were unhappy in their relationships but felt pressure to "settle down." Some days I saw over a dozen patients who were chronically fatigued from the stress and burnout of working 80-hour weeks doing work they weren't passionate about.
Every one of these patients was professionally and socially 'successful' but felt weak and inadequate because they were not able to achieve well-being under these conditions.
Each person was dealing with a significant conflict between the societal and cultural influences on their lifestyles and their health. Every one of these patients was professionally and socially "successful" but felt weak and inadequate because they were not able to achieve well-being under these conditions.
When I suggested that their struggles had as much to do with culture as it did their health, my patients would ask why nobody else was having these problems. This feeling of being the only one who can't handle the demands of modern living became an additional source of suffering. But from my perspective, EVERYONE was having these problems. They just weren't sharing them with anyone but me.
Health is not simply an individual issue. Yes, genetics and personal lifestyle choices matter a lot. But health is largely a cultural issue. Collectively, we have agreed to ways of eating, living, working, sleeping, expressing ourselves, and engaging with technology and the environment that do not support health.
Since health and culture are so intimately connected, it truly takes a village to heal. So why does the bulk of our health care take place in private?
What does this mean for health? 
Compassion is the emotional experience we have when we witness suffering and have a genuine desire to help. And it turns out, cultivating compassion has a lot of health benefits, from improved immune system function to greater longevity. There is always suffering in the world—sometimes it's you, and sometimes it's your neighbor, your friend, your family members, or strangers on the other side of the world.
Connecting with others who are vulnerable enough to reveal their struggles is the key to generating compassion. While it may seem insensitive to use another person's suffering to improve your own sense of well-being, we all play both roles at different times in life and we need one another to be well. Humans are not islands, and life is not meant to be lived alone.
The healing power of the group.
Among the many things I've learned as a holistic provider working with groups, one stands out: Human connection has profound healing potential. When we share our challenges and struggles in a group, everyone in the group can relate. We see pieces of ourselves in one another and become aware that we are not alone. We are all part of a shared human experience, and our suffering often contains great gifts. As members of the group share their stories, we feel moved with care and compassion for them.
These feelings come with great physiological benefits: Heart rate variability increases, suggesting greater resilience to cope with stress and balance in the autonomic nervous system. A safe group dynamic quiets the "fight or flight" state that often dominates times of struggle. When we are suffering, we're in survival mode and the body is not prepared for longevity.
Safe containers for self-discovery are becoming increasingly accessible. Group wellness retreats, online group programs, and in-person workshops that allow for sharing and vulnerability with the guidance of a skilled and experienced facilitator are a great place to start. If you are interested in addressing your health in a group setting, find a group that is facilitated by a health care professional with clinical experience to maximize the safety and efficacy of the experience.
Seeking out a safe container to share, be seen, receive love, and be reminded that we are not alone is profound medicine. This is the foundation that allows us to move out of survival mode in the direction of a thriving life.