How To Forgive, Even When It Feels Impossible
mbg Contributor
By Emma Mildon
mbg Contributor
Emma Mildon is a millennial activist, co-host of 11:11 podcast, and best-selling author of Evolution of Goddess and The Soul Searcher's Handbook.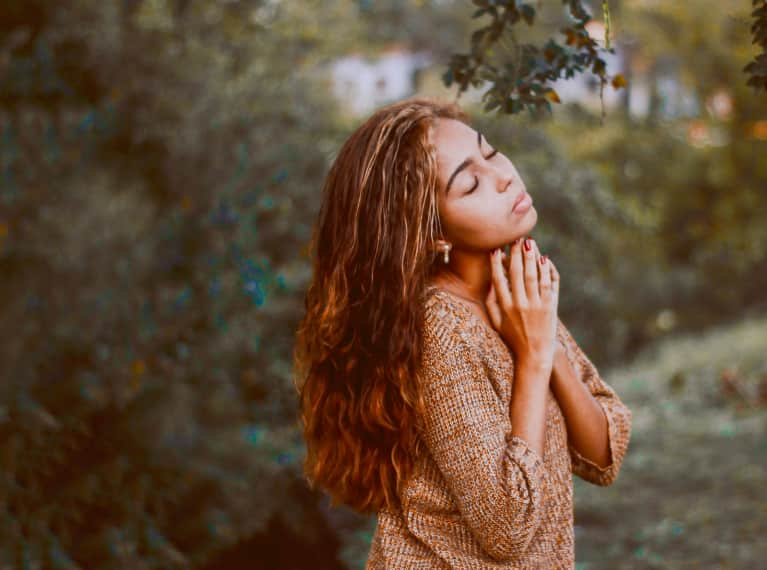 Gandhi believed that the weak can never forgive. Why? Because forgiveness takes strength. It takes effort. Forgiveness can be more painful and tiresome than the wound itself. And the ultimate test often comes when we not only forgive others but go one step further and forgive ourselves. It's no easy task, but here are a few tools that have helped me do so through the years, each one uncovered during a different test of life:
1. When you start to grow apart: Acknowledge where you're holding on to blame.
As a kid my parents were invincible. Perfect. Genius even. When I became a teen, though, the classic tug-of-war for respect became a daily tussle, and before long I was the council, the voice of reason, and the guiding light for my own parents. Learning that my parents were not invincible or perfect was alarming, as was feeling them start to love me from a distance. Certain members of my family started to poke fun at my achievements, almost belittling them. And no one from my family showed at my graduation, and I was resentful about it for years.
So, onto the forgiveness part... In cases like these, it's important to acknowledge that you've been blaming the other person for something. We need to become conscious of any anger, resentment, and blame, and ask ourselves where it's coming from. Really feel it out. Once you do that, forgiveness becomes an act of letting go. For me, this looked like standing my ground and telling those who had hurt me how they made me feel. It may look different for you, and that's totally OK. The other person doesn't even need to be there when you do it. You will be surprised what emotional baggage you can drop when you decide to go on a forgiveness spree.
2. When you are betrayed: Reunite with your happily-ever-after.
Many of us have experienced the pain of a lover who is unfaithful. In this case, the importance of forgiveness has less to do with the cheater and more to do with putting yourself at peace so you can move toward a comfortable, trusting relationship. I for one have had my heart broken many a time so can personally vouch for the need to release any hang-ups after a betrayal. It's really a fast track to regaining a faith in love, a sense of trust, and the ability to live in the present instead of being consumed by the past.
When it comes to betrayal, I've found that there's no need to throw the other person's belongings onto the front lawn and torch them. Moving on looks more like reuniting with your happily-ever-after. Instead of going to sleep angry, try to think about all the people you know who have loving relationships you admire. Immersing yourself in these positive thoughts before you drift off to sleep can create a subconscious shift. Think of them as forgiveness lullabies. Visualize yourself moving on. Feel yourself growing lighter and no longer carrying the burden.
3. When you experience death of a loved one: Forgive yourself for any regrets.
This could be more forgiveness for the universe or powers that be for taking said loved one away and forgiveness for yourself for any regret your holding on to. It is easy to get stuck in a pattern of grief and regret, but you can't stay there forever. Acknowledging said regret—and the role you played within it—is the first step of moving on. Usually, people who have experience huge grief or loss in their lives are far more empathetic and understanding because they are literally forced to forgive—usually forgive themselves.
And just so we're clear, forgiveness isn't just excusing any behavior or actions that hurt you. Instead, it's removing the power they hold over you. It's pushing through tight negative spaces and allowing yourself room to grow. You don't need to forget it, deny it, or let it be a burden. In fact, forgiveness isn't something you do for the person who wronged you; it's something you do for you. As with all things in life, we learn forgiveness from experience. So practice it!
Already tried to forgive someone and got nowhere? Check out these last-ditch tips for moving on.