A Football Camp In A Tiny Texas Town Now Offers Yoga. Here's Why Every Single Player Is Doing It
mbg Contributor
By Leigh Weingus
mbg Contributor
Leigh Weingus is a New York City based freelance journalist writing about health, wellness, feminism, entertainment, personal finance, and more. She received her bachelor's in English and Communication from the University of California, Davis.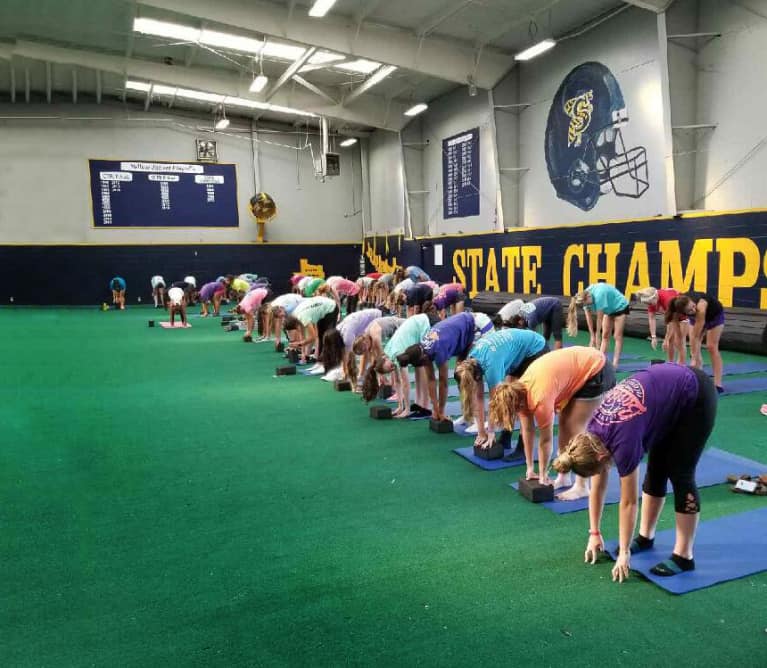 Stephenville, Texas—a tiny town that's about a two-hour drive from Dallas—isn't exactly known for its booming yoga scene. So when Greg Winder, head coach of Stephenville High School, decided to hold weekly yoga classes for his football players and other athletes, he wasn't expecting much of a turnout. Then 130 students signed up.
"We hadn't been expecting so many people to give yoga a shot," says Winder. "We had to move them to the big gym, and we ran out of mats, so we used towels."
While Winder himself hadn't had much experience with yoga, when two of his players found they were dealing with tightness in their hips, they decided to give yoga a shot. After reporting back about how helpful it had been, Winder started clicking around YouTube to see what all the hype was about.
He quickly decided that a weekly yoga class should be added to the summer camp curriculum. "I thought I would have a hard time selling it, but I think because a couple of my players had already done it, the rest of them were intrigued. Plus, people like new things, and yoga is new for them."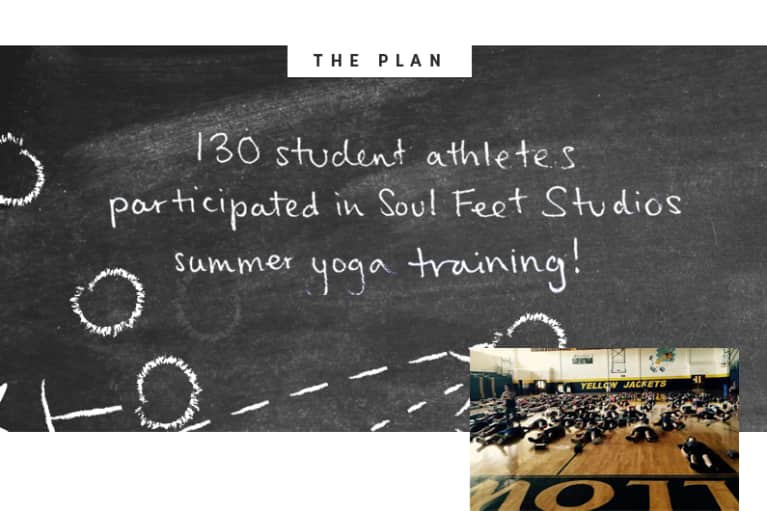 Teaching yoga to 130 teenagers.
Kerri Tomaski, founder of Soul Feet Studios in Stephenville, took on the task of teaching these classes along with Wendy Woodall, who founded Gypsy Foot Yoga. Although Tomaski was excited to spread the yoga gospel beyond her studio, the ages of the athletes she was teaching ranged between 11 and 18, and working with a variety of different body types at different stages of development was a unique challenge.
"Having such a wide range of age groups was definitely tough," she admitted. "In the first class we had kids who started at age 10 or 11 and went all the way up to 18-year-olds. So there were all these different body forms to work with. That was challenging, but it's been really rewarding. We're four weeks in now, and seeing the progression they've made has been incredible. We had three teachers, but it was still difficult to give all of them individual attention."
Tomaski says one of the biggest rewards was seeing how much these players have transformed and how well they're moving through sequencing after just one month of yoga. "We haven't changed it much since we've gone through each week, but we've been adding more hip openers; we can see how their bodies are opening more, and it's amazing to see how they naturally reach for blocks to open up their chests. It's been a huge transformation."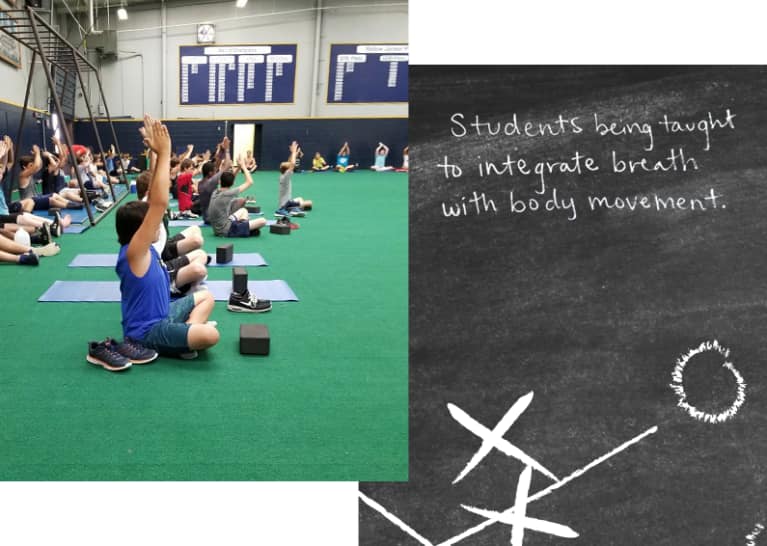 How the players responded.
While the Stephenville high school summer camp is known mostly for football, it also offers volleyball and basketball. Players from all of the sports have been participating in regular yoga for the past month, and in the early days it gave them the giggles.
"The first time we said 'om,' [Tomaski] asked if I wanted to do it. I said sure," explains Winder. "Keep in mind, you're dealing with middle schoolers and high schoolers, so they thought that was funny at first. Once they got over that, I would look over at them during savasana and it was incredible how relaxed they all looked. They had just finished a workout in the weight room before yoga, and now they were lying down breathing with the lights off and the music going. They all looked so peaceful."
On top of the relaxation benefits, the players saw rapid improvements in mobility from their weekly flows. "One of my players came up to me and said he feels a lot better flexibility-wise since doing yoga, and as a coach I've noticed that their hips are a lot more open."
Planting the "yoga seed."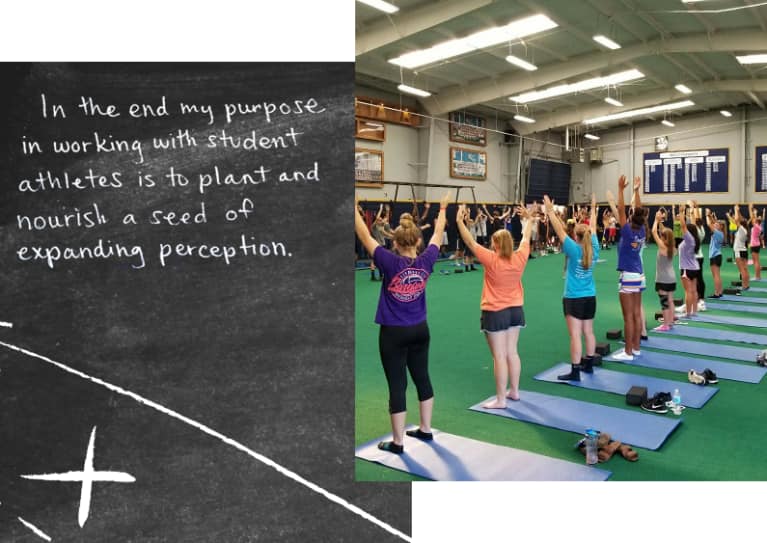 When asked whether the school would continue to host regular yoga when school's back in session, Winder said that would be tough given the school's curriculum—but Tomaski is confident that by the end of the summer she can plant a "well-nourished yoga seed." "Teenagers are very impressionable," she says. "We become more emotionally attached to things that happen to us when we're young. So I hope they walk away emotionally attached to the seed of yoga, and even if it doesn't become a practice for them now, when the time comes they'll know to call on it when they need it."
Inspired? Get deeper into your Zen with this relaxing yoga sequence.