Why The Health Benefits Of Community Parks Really Can't Be Overstated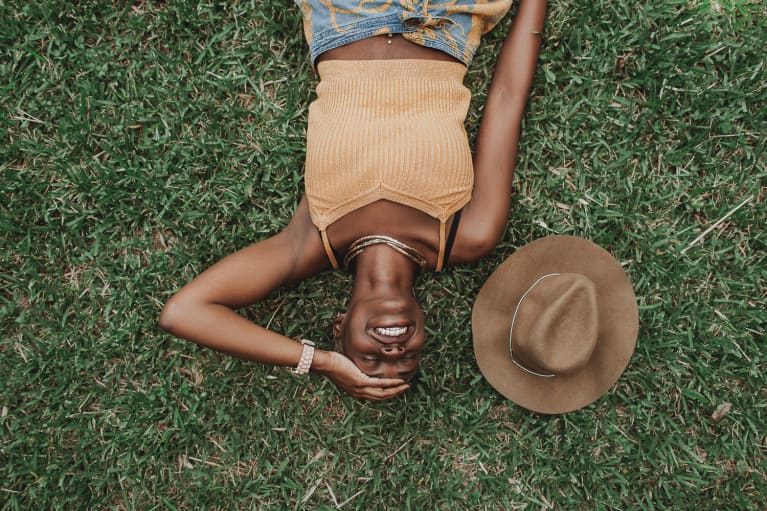 In a world overrun by expensive prescriptions, sometimes the best medicine is free. These days, a growing number of doctors, researchers, and community groups are banning together to bring the healing touch of nature to those who need it most.
The growing need for park prescriptions.
We can all agree that spending more time outside is often beneficial for our health. But that doesn't mean we're all doing it. The Nature of Americans Study, which pooled 12,000 people in the U.S., found that the majority of adults and children recognize that getting outdoors is enjoyable and beneficial. However, the average American still spends up to 93 percent of the day inside. Respondents commonly listed competing priorities, limited time, and a lack of access to "authentic nature" (aka National Parks or other unspoiled ecosystems) as factors keeping them behind closed doors.
Earlier this year, a study in the International Journal of Environmental Health Research debunked the idea that nature is only restorative if you're getting it in huge doses. The study set people loose in urban parks that were only partially covered with natural vegetation and found that as little as 20 minutes in these spaces was enough to help people feel less stressed and more satisfied.
It's the latest addition to an already robust field of research that doctors around the country look to when prescribing park prescriptions. Created by Robert Zarr, M.D., a pediatrician in Washington, D.C., in 2013, the Park Rx America program is a digital database of green spaces around the country that physicians can use to dole out an actual prescription that directs patients to a park in their neighborhood for a certain amount of time each day or week.
While doctors encouraging patients to get outside is nothing new, this more literal type of prescribing is thought to add some more weight to their suggestions. There are now over 70 clinics that offer nature prescriptions in the U.S. and 19 more expected to launch in 2019. According to this month's Outside Magazine cover story, docs are writing them up for patients of all ages and diagnoses—from overweight children to depressed adults.
While the program's results are still largely anecdotal, they're catching the attention of communities across the U.S. One of the most notable is Birmingham, Alabama, which has a unique approach to leverage green space to make inhabitants healthier
How communities are getting in on their own Park Rx.
Birmingham's Parks Rx initiative, which is separate from (but inspired by) Zarr's Park Rx America, began when the Center For Disease Control and Prevention tasked the University of Alabama Birmingham Minority Health and Health Disparity Research Center (MHRC) with making environmental changes that would address chronic diseases among the city's underserved populations.
From September 2014-2018, the University collaborated with other community organizations to bring the park prescription model to life on a city scale.
"Each partner brought something to the table," Theresa Wallace, PhD, a program director at the UAB Division of Preventive Medicine, said of the collaboration that included groups such as the YMCA, Freshwater Land Trust, and Jefferson County Department of Health. "We had doctors who were already dispensing information about the importance of being physically active, we had parks and recreation boards already maintaining green spaces, and we had the non-profit sector bringing more programing to green spaces."
They all banded together to come up with Parks Rx, a nature-based healthy living prescription designed to link patients to local parks for physical activity. Local physicians prescribe Parks Rx for pediatric and adult patients (On the front, it has suggestions on healthy diet, exercise, and lifestyle tips, and the back has a link people can visit for an interactive map of all of Birmingham's green spaces). On the front, it has your typical suggestions on healthy diet, exercise, and lifestyle tips, but the back has a link people can visit for an interactive map of all of Birmingham's newly updated green spaces complete with icons you can click through to see photos and details like hours of operations, pet policies, etc.
All in all, the program has distributed 9,580 prescriptions to adults and 7,368 to pediatric patients. Additionally, 95 Parks Rx signs have been permanently installed in local parks as a reminder to park users to eat healthy and be physically active.
By making this information readily accessible, the coalition hoped to see the community become more active in the outdoors. More research still needs to be done, but preliminary findings show that they were successful. "At baseline, a lot of people were sedentary in the parks. At follow-up, we noticed a marked increase in park users being physically active," Wallace says, adding that UAB's MHRC is hoping to begin a follow-up study this summer to dive deeper into how the program has affected the health of residents.
Outside of Birmingham, initiatives such as Fit NOLA in New Orleans and the Center For Health & Nature in Houston also exemplify how physicians, city planners, and researchers can work together to educate people on the parks in their area and make the most of them for the sake of their health.
"We see that it's catching on and the possibilities are endless," says Wallace. "We just have to keep telling our story."