Why Do We Enjoy Movies That Make Us Sad? A Psychologist Explains
mbg Editorial Assistant
By Abby Moore
mbg Editorial Assistant
Abby Moore is an Editorial Assistant at mindbodygreen. She earned a B.A. in Journalism from The University of Texas at Austin and has previously written for Tribeza magazine.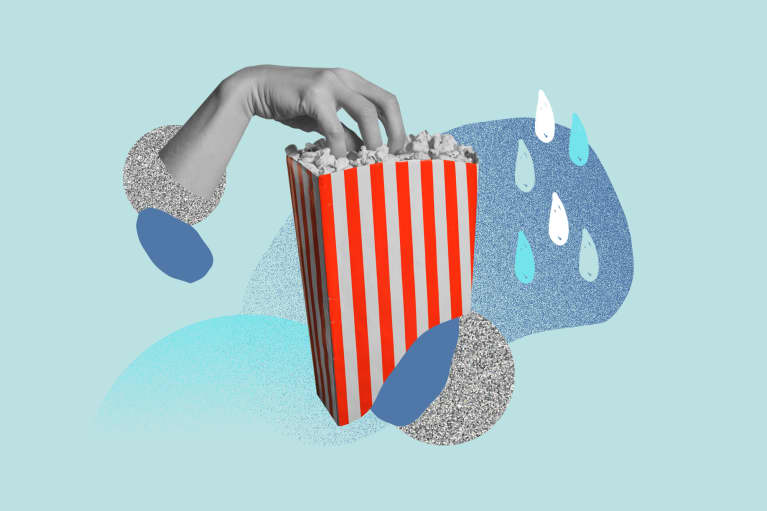 An impromptu dance party or a phone call home might feel like productive ways to bust a melancholy mood, but sometimes dwelling on that sadness just feels better. Turning on an emotional movie and surrendering to a heavy, full-bodied cry can be cathartic. But is it actually healthy?
We consulted psychologist Kristina Hallett, Ph.D., who assured us—yes, it can be healthy—and provided four reasons people might enjoy movies that make them cry.
Sad movies let people experience emotions.
Watching sad movies can be therapeutic, Hallett said. It can be a healthy habit when you're looking for a good cry. Hallett equated the experience to listening to sad music or choosing to reminisce over past events or losses.
While this method is healthy in moderation, it should not be a person's only strategy for feeling emotions, she said. "If someone is having a hard time accessing and expressing their emotions, they may want to explore additional methods of introspection and reflection, such as journaling, psychotherapy, or talking openly with a close friend."
They create a sense of empathy and bonding with the characters.
"Identifying with a character in a movie is a way of experiencing empathy," Hallett said. This can help people increase their understanding of roommates, siblings, partners, and friends that they don't always agree with.
On the other hand, "it may also increase feelings of connection and support" for the person watching. This can be especially beneficial for people who have trouble asking for help. Bonding with characters, even when fictionalized, can make people feel less isolated in their own struggles.
The story often results in people feeling better about their own lives.
"Experiencing sadness in a film may feel a little better than sadness in real life," Hallett said, "partly because of the ability to separate and maintain awareness that it's not your own life or experience."
Personal sadness can be overwhelming and sometimes debilitating, but seeing someone else face a similar—or worse—situation can help put things in perspective.
Crying can release oxytocin and other endorphins.
There are physical benefits of a good cry. Research has proved the self-soothing benefits of crying through the release of oxytocin, parasympathetic nervous system (PNS) activation, and endorphins. Releasing these hormones can increase our tolerance for physical and emotional pain, according to Hallett.
While watching sad movies, and even horror films, can be therapeutic for some, not everyone enjoys the experience. "The sense of emotional connectivity [can be] way too high," she said.
If sad movies aren't your thing, Hallett suggests tools like mindfulness, self-compassion, yoga, and self-care to help connect with underlying emotions.