The Novice Decluttering Mistake You're Probably Making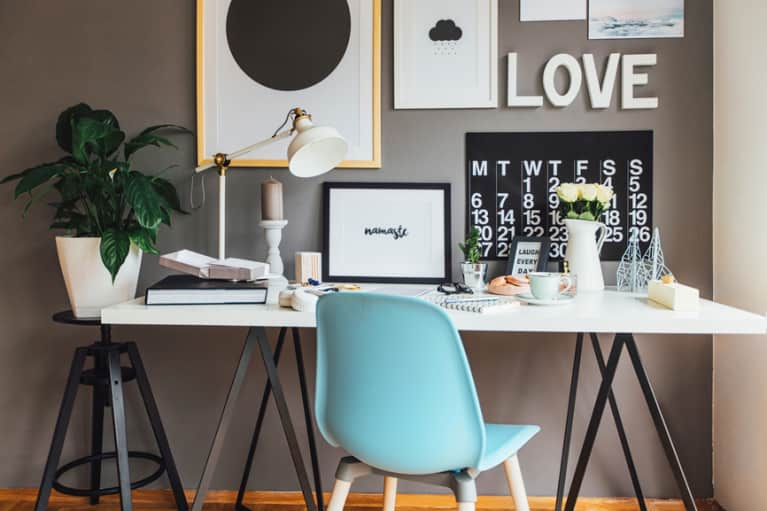 I'm not a sentimental guy. I don't gush over babies. I don't save my tests from high school. I don't get nostalgic for the scratchy wool, mustard-yellow plaid sofa (circa 1974) from my childhood living room.
Like most people, I'm not keen on preserving every single memory—a trait that usually works in my favor in my job as a professional organizer. Talking people down from the high ledges of sentimentality is what I do for a living.
And believe it or not, a lot of my clients are actually right on the edge of abandoning everything in their house by the time I get to them. They can't get rid of their stuff fast enough. All they need is a little enthusiastic encouragement, some good tunes, a method, and someone to keep it fun. Usually, I'm the man for the job. But every so often, I'm there for a discovery that makes people surprisingly emotional.
Last weekend in my garage, it happened to me—and it was devastating.
The emotional, intuitive side of decluttering.
My daughter Juno is 7 years old. She has my freckles and my smile. Fortunately, she has my wife's eyes, her button nose, and a contagious laugh that just slays me. This past Sunday, the three of us were dancing together right up front at a music festival, and the guy behind me saw how much fun she was having and over the blare of the music asked me, "Is she always this happy?" Yeah. In fact, her nickname is Happy. Seriously.
When she was about 18 months old, she acquired a small tiger-striped gray-and-white stuffed animal. Honestly, I don't even know where it came from. But Gray Kitty became Juno's velveteen rabbit.
In summer, we took it camping. It was in her carry-on for vacations to Mexico. It's been back and forth, across the country countless times. Almost as much as Rumi (our toothless cat) and Pi (our dog who only barks in his sleep), Gray Kitty became part of the family.
So, last weekend in the garage, when I saw it at the bottom of our giveaway box, I cried on the spot.
Me. The coldhearted professional clutter coach. Weepy over Gray Kitty.
In my house, my daughter cleans up her bedroom every night before bed. She knows if there's anything that's left on the floor before I come upstairs to read her books, I'll give it away. (Seriously.)
Very often, my daughter will intentionally leave something on the floor or bring something to me and say, "Dadda, you can give this away now. I'm finished playing with it."
At 4 years old, she started to understand philanthropic giving. At 7, she is articulate about having a clean, clutter-free, reasonably organized bedroom. She says it helps her sleep. She says it's nice to have so much room to play on her floor. And I've heard her friends comment a thousand times that they would rather have more room to play than so many toys. It takes Juno only two minutes to tidy up because she doesn't have a lot of stuff. (After all, that's the No. 1 secret to a clutter-free home: fewer possessions.)
So, we always have a giveaway box in our garage that's half-full. But before I take the final plunge to throw these items away, I ask a few final questions and recommend that all my clients do the same:
Is this the only thing (or favorite thing) I have to remember this person/time/place/event by?
Do I have room to conveniently/affordably/realistically store this thing in my space?
Am I truly honoring the memory of this person/time/place/event in the way that I am saving it?
If you answer yes to all three questions, it's a sign that this is a sentimental item that you don't need to part with. It's OK if it doesn't serve a clear, concrete purpose. Enjoy it. Gush over that stuff to your heart's delight. If the answer is no, it's time to re-evaluate. To be clear, there's no such thing as "clutter-free." Decluttering your home and organizing your life ought not to be just another way to measure some unrealistic idea of perfection.
As Peter Walsh says, "Clutter is not just the stuff on the floor—it's anything that stands between you and the life you want to be living." So, simply check in with your life from time to time to make sure you're being intentional about your stuff. Allow yourself to enjoy the things that truly make you feel alive.
As for Gray Kitty, now she's mine. And she's not going anywhere. If you're looking for her, from now on you can find her snuggled up quietly enjoying a snooze on my side of the bed.
Ready to go on a decluttering kick this weekend? Here's how to make it your most productive one ever.