Why Couples Need "Solomoons" Now More Than Ever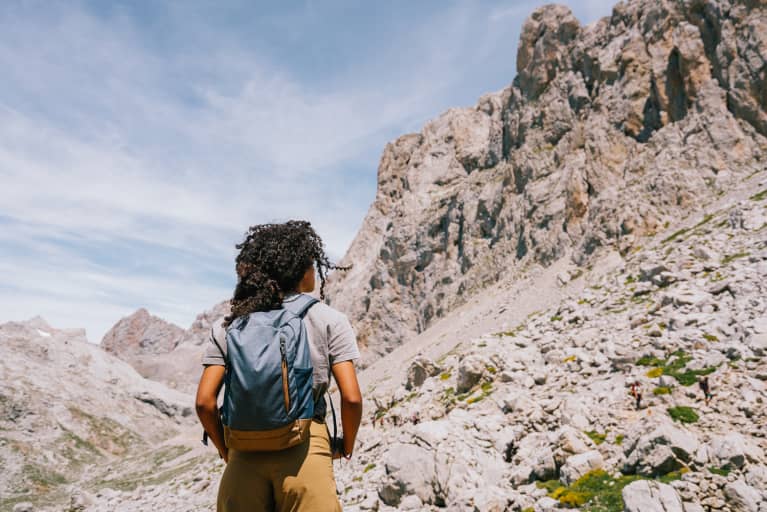 We're all familiar with the concept of the honeymoon, but in recent years, a different kind of trip has grown in popularity among couples: solomoons.
They're exactly what it sounds like. Rather than taking the standard honeymoon, couples opt to take solo trips by themselves. And in the age of COVID-19, solomoons may be exactly what couples who've been cooped up together need to get some space and enjoy all the benefits of enriching personal time.
The problem with too much togetherness.
While every couple has handled stay-at-home orders and quarantining differently, everyone needs alone time and room for personal development, along with a balance of time spent with their partner.
"Too much closeness and dependence is pathologized as enmeshment or codependency, and too much independence is considered 'parallel living,' or counter-dependence," couples' therapist Alicia Muñoz, LPC, tells mbg. "Couples are always looking for that sweet spot where they rely on each other and embrace intimacy while remaining 'differentiated.'"
This sweet spot is important in psychology, she explains, because in a healthy relationship, both people need to know where one person ends and the other begins. "In practical terms," she adds, "being interdependent but differentiated in a healthy way means when your partner has a bad day, your day isn't ruined, too. But at the same time, you care and can offer them support, if needed."
Why solomoons are important now.
Given the amount of time spent at home the past few months, a revival of the solomoon seems like a timely idea, as places open up around the country. (You don't even necessarily have to go far—a solo staycation can totally be a thing!)
The space the trip will give you and your partner will help cultivate the healthy differentiation, Muñoz says, adding: "[Solomoons] have the added benefit of allowing your partner to also reconnect with themselves in your absence and have some time with themselves. They're a way to remember who you are distinct from your relationship, beyond the roles you take on in your partnership."
If all the time spent with your partner has you feeling like you need to get back in touch with yourself, solomoons provide an excellent opportunity to do just that. Muñoz notes they're perfect for checking in and being present with yourself rather than checking out or avoiding problems and negative emotions.
"Just as a honeymoon is a time of expressing love and celebrating a union," she says, "a solomoon is an opportunity to celebrate your connection with yourself, to care for yourself, to nurture yourself, and to shower yourself with love without having to worry about your partner."
How to make the most of a solomoon.
Since this is your trip, it can be anything you want it to be. Whether that's a camping trip, a weekend at a bed-and-breakfast, or a couple of nights in a nearby city, you get to call the shots.
"Relationships need breathing room as much as they need closeness," Muñoz says. "Solomoons may provide couples with much-needed time apart to reconnect with who they are as individuals and ultimately return to their relationship refreshed."
So, what are you waiting for? Choose your destination, pack your bags, and (safely) enjoy the much needed "me time."