Why Busy Philipps Wasn't Afraid To Pose For Unretouched Images
mbg Editorial Assistant
By Abby Moore
mbg Editorial Assistant
Abby Moore is an Editorial Assistant at mindbodygreen. She earned a B.A. in Journalism from The University of Texas at Austin and has previously written for Tribeza magazine.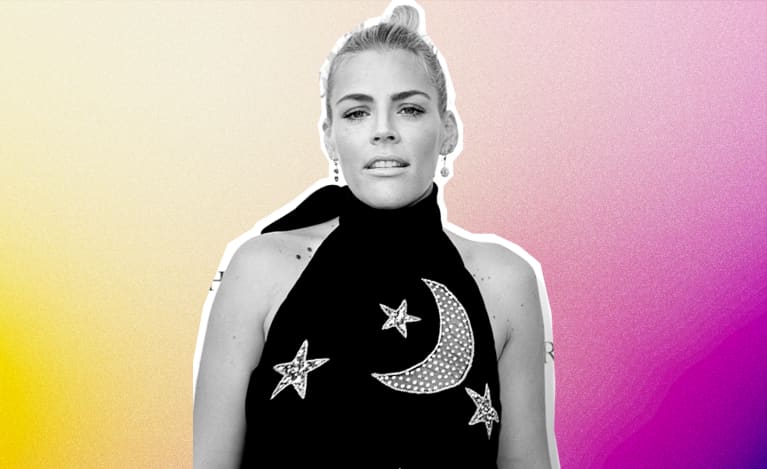 Our editors have independently chosen the products listed on this page. If you purchase something mentioned in this article, we may
earn a small commission
.
February 21, 2020 — 0:10 AM
In a world of FaceTune and social media filters, the idea of displaying an unretouched photo of oneself to millions of people might be riddled with fear and insecurity. But actress and writer Busy Philipps told mbg, "It was not a panic-inducing proposition but rather a really exciting idea!" Along with comedian Lilly Singh and model Denise Bidot, Philipps has teamed up with Olay to shift the paradigm about beauty.
Under the cosmetic company's new "Olay Skin Promise," they've committed to stop retouching all advertising materials by 2021 (and have even contractually asked their spokesmodels to avoid botox and fillers, per Philipps during a panel discussion). Olay's mission to redefine beauty in the media reassured Philipps that she had partnered with the right people and inspired her to flaunt her natural skin.
How can this change the way people view beauty?
"Insecurities are born out of being inundated with unrealistic imagery," Philipps told us. "Once we shift that more and more, people will stop having that immediate reaction of 'Oh my god, that is terrifying.'"
One of the reasons she was eager to embark on this campaign—aside from believing it's the right thing to do—is because of the positive support she receives on social media.
"I go on my Instagram every day with clean skin, sweaty skin, skin that I've picked, skin with pimples, circles under my eyes, whatever," she said. "I've put that into the world and...everyone has been extremely supportive of the unfiltered version of my true self."
With this new partnership, Olay hopes to spread the message of authentic beauty beyond social media and into the broader world of advertising.
"It has always been our mission...to encourage the next generation of women to be unapologetically bold and true to themselves," vice president and general manager of Olay Christopher D. Heiert said in a news release.
To help lead that charge, it's important for Philipps to feel confident in her own skin and prioritize her overall health. She shared a few of the ways she practices this, from exercising to eating a balanced diet and, ultimately, cutting herself some slack.
"I start with fairly good habits in terms of getting my body moving and sweating a lot," she said. She's currently obsessed with the LA-based studio LEKfit, which incorporates cardio and sculpting into a one-hour class. When traveling, she'll stream LEKfit classes online, work with trainer Megan Roup of Sculpt Society, or seek out cardio dance classes.
Exercising for Philipps is first and foremost about maintaining her mental health and well-being, but it hasn't always been that way.
When she began working as an actor at 19 years old, Philipps said, "I was given a lot of messages about my body. I was even asked to lose weight by networks and studios, so working out was always a chore—something I had to do as opposed to something I really wanted to do."
Once she reached her late 20s—and even more in the past four years—she began to realize that working out improved her mood and made her feel better. "Now I don't even think about doing it," she said. "It's just something that I have to do for my own mental well-being, and I actually look forward to it."
2.
Practicing balance in her diet.
For Philipps, a healthy relationship with food is all about balance. "I used to go through periods of time when I would be really regimented about eating quote, unquote 'clean,'" she said. "But it would just end up with me wanting to binge on sugar or carbohydrates at some point, which isn't healthy either and would make me feel terrible."
Now, she said when she's craving a cupcake or some nachos, "I eat the stupid nachos and the world doesn't end. Understanding that and putting it into practice has really changed my life in the past two years."
3.
Sticking to a routine—but understanding it doesn't need to be perfect.
To cleanse her skin, Philipps uses her Olay products. "I'm obsessed with my Olay, especially the makeup primer," she told us. "I'll use that daily."
And at night, she unwinds with an Epsom salt bath. Combining either lavender-scented salts or dropping lavender essential oils into the water helps the ever-so-busy Philipps relax and sleep well.
And while it might seem like Philipps has the whole balance and well-being thing down to a science, she reminded us that "It's OK to dip in and out of the things that work for you." Giving yourself grace, and realizing that you don't have to be 100% perfect 100% of the time can be freeing.
"At this point I know who I am, and I'm happy to put into the world an accurate projection of what I see when I look in the mirror," Philipps said. "And of course, when I saw the [unretouched] images, I felt totally validated."
Of course, Olay isn't necessarily known as a leader in the clean-ingredient market (yet!), but we always applaud when a beauty brand of their size makes a change in the right direction—be that sustainability, ingredient choices, or as in the case of this, edited images.