How To Harness Your Astrology Birth Chart To Become A Boss Lady At Work
mbg Contributor
By Jennifer Racioppi
mbg Contributor
Jennifer Racioppi is an astrologer, Duke Certified Integrative Health Coach, a Board Certified Holistic Health Counselor, a Registered Yoga Teacher, and a Women's Hormonal Health Coach.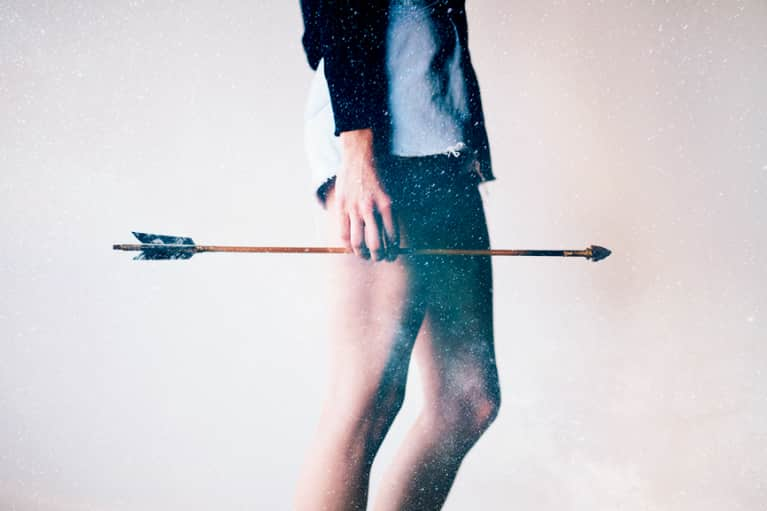 These days, the ancient wisdom of astrology is making a massive comeback and many people are fervently checking their horoscopes. But if you're looking to your birth chart to simply see whether or not you'll have a good week, you're missing out on a huge opportunity.
Astrology is about more than just predicting lofty romantic dreams. It can provide a much-needed road map to help steer you toward purpose-driven success. More than day-to-day entertainment, the rhythms of the stars contain practical guidance on how to manage time, navigate relationships, and live and lead from your strengths.
If you're ready to up your game in life and career, it's time to get personal with your natal chart and astrological influences. Here are five reasons astrology could be the missing piece to your career success:
1. Astrology can help you pinpoint what you are meant to be doing in this world.
I'm a firm believer that knowing who you are and being who you are is the secret to your success. Modern women all over are redefining what success means to them—whether it's climbing to the top of the corporate ladder, managing a business created from the ground up, starting a community charity organization, being a No. 1 soccer mom, or everything in between.
We as women are finally able to step up and into our unique powers, and this is why we need astrology now more than ever. Understanding your natal chart, the configuration of where the planets were the moment you took your first breath, helps you define your key character strengths and, more specifically, the careers that suit your unique talents. Knowing this can help shape your personal definition of success so that you can aim toward a profession that not only suits you but is one you excel at. After all, the most important task in life is to discover who you are, what makes you tick, and what makes you come alive.
2. Astrology can guide you on how to launch and lead without frying yourself to a crisp.
Concrete productivity hacks are embedded in the understanding of astrology. The sequence and cycles of the planets put a narrative in place to help navigate and make sense of the chaos of life. When you know the cycles of the planets, you can work with them instead of against them and ultimately leverage them to your advantage.
For example, the moon cycles through four distinct phases per month, and each phase represents a very different energetic influence. Entrenched in the rhythm of the moon is a road map guiding you about when to start new projects, when to cultivate rewards from projects you kicked off long ago, when to retreat for inner reflection, and more. The same applies to the other planets, too. When you know the cosmic weather forecast, you can intentionally elect when to perform specific tasks and strategize your success, so you work with cycles productively rather than against them.
3. Astrology might be the key to designing your dream team.
The concept of chart synastry helps astrologers understand the possibility of compatibility between two people, and learning to leverage this in business becomes a secret weapon when building teams.
Think of astrology as an alternative, or supplement, to the Myers-Briggs type indicator—it helps you understand the nuances of someone's disposition, inclinations, talents, and potential contributions at work. When you know how two people may potentially work together from an astrological perspective, it becomes easier to curate the nature of the partnership and ensure successful and productive teams.
4. Astrology may help you maintain a high-performance lifestyle fueled by the stars.
With a plethora of spiritual self-care practices to choose from, it can feel overwhelming to decide which practice will bring you the most benefits. In fact, one person's miracle cure is another person's poison. This is where astrology steps in: Your astrological chart teaches you your elemental makeup, offering a shortcut to knowing precisely where to focus your wellness practices to help you charge forward full of energy, passion, momentum, and power.
When you develop a deeper understanding of how the elements—earth, air, fire, and water—animate your chart, you'll better understand which specific self-care and health routines will take you from blah to bang. You'll be able to develop a high-performance self-care lifestyle that catapults your energy and helps you rest deeply, so you have the capacity to go the distance on behalf of your goals.
5. Astrology can help make peace with discontentment and setbacks associated with chasing your dream.
No matter how educated or prepared you are in following your ambitions, learning how to cope with loss and uncertainty healthfully remains nonnegotiable for career success. Resiliency—your capacity to handle stress, trauma, or loss and simultaneously continue to move in the direction of flourishing—enables you to stay centered even in the midst of extreme ups and downs.
To develop our resiliency, it's important to face life exactly as it is and simultaneously choose to respond to it with healthy choices that bolster your ability to stay centered, wise, and clear-hearted. Understanding astrology helps to digest times of turbulence so you can not only meet the demands of the world but also take care of your body's needs. When you understand the planetary cycles, you can derive meaning from your experiences and respond skillfully in challenging times.
Want more insights into what your astrology says about you? Check out the 2017 astrological forecast and read up about what your sign says about your finances.