Why Are People So Grossed Out When Older Children Breastfeed?
Contributing Wellness & Beauty Editor
By Lindsay Kellner
Contributing Wellness & Beauty Editor
Lindsay is a freelance writer and certified yoga instructor based in Brooklyn, NY. She holds a journalism and psychology degree from New York University. Kellner is the co-author of "The Spirit Almanac: A Modern Guide to Ancient Self Care," with mbg Sustainability Editor Emma Loewe.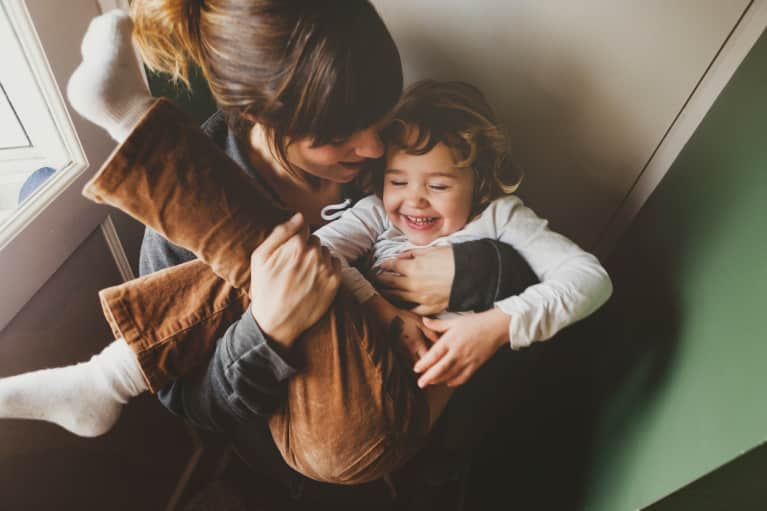 It's unclear exactly why, but a woman's choice to breastfeed children older than 6 months to a year drives people crazy. There's something about the idea of a child being needy, a woman unable to live independently, or the kicker—a natural bond between mother and child that's been sexually charged by society's idea of what breasts are for. Pleasure.
The truth is that "late breastfeeding" or "extended breastfeeding," used to describe breastfeeding a child longer than a year, is more common and less stigmatized around the world. The World Health Organization recommends that mothers breastfeed their babies exclusively—no other food or drink—for at least six months for "optimal growth, development, and health" and maintains that breastfeeding is an important part of a nutritious diet for infants "up to the age of two years or beyond."
While new reports show that U.S. breastfeeding rates are finally significantly higher than they used to be, and mothers are breastfeeding longer on average, there is a gaping racial disparity between black and white mothers, which speaks to a need for more education and resources for new families. According to current global literature, the United Kingdom has the worst record for breastfeeding until at least age 1 at 0.5 percent. The U.S. clocks in at 27 percent, while Norway steps it up to 44 percent. Interestingly, mothers in developing countries Senegal, Gambia, and Malawi breastfeed their children until age 1 almost 100 percent of the time.
Aviva Romm, M.D., who is also a practicing midwife, agrees that extended breastfeeding is the global norm. "It's great for the mom and baby relationship," she said. "The best stuff—immunologically and neurologically—happens in the first year. After that it's all about the comfort."
Not all heroes wear capes.
Writer Bonnie Rochman said that she breastfed her kids until they were at least 3, for a total of more than six collective years of breastfeeding. In her article for Time, she recalls being pestered by her father, who wanted her to stop. "In truth, I was never ready. I weaned my first two midway into subsequent pregnancies, bowing to pressure from my husband and doctors that it was probably a good idea to put my developing baby's needs first," she wrote.
A few other mothers have publicly shared their experiences, too. In an article on NPR, Barbara J. King shines a light on two mothers who have spoken openly about their decision, slowly removing the stigma. One mother she interviewed, Katherine Dettwyler, encourages mothers to speak about their positive experiences as soon as they are comfortable. Many prolonged breastfeeders are fearful of ridicule or worse, punishment by the state, so extended breastfeeding can be a largely secretive experience.
Another mother referenced in her article, Denise Sumpter, breastfed her older child until age 6 and her younger one is still feeding, though she never planned to. Her daughter Belle is taller than everyone in her class, is a talented violinist, acts mature for her age, and doesn't get sick, Sumpter told Mirror. She believes that giving her daughter breast milk for as long as she has is part of the reason she's developed into the confident, competent young girl she is today.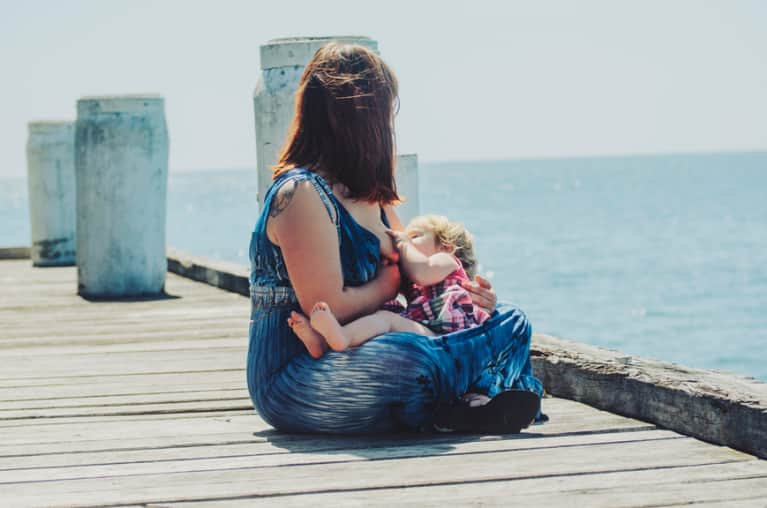 The real reason Americans are uncomfortable with late breastfeeding.
If extended breastfeeding gives kids superpowers, why is it still so shamed? Dr. Romm, who has subscribed to prolonged breastfeeding herself, is straightforward: It's about our cultural concept of sexuality, particularly as it relates to boobs. "The perception that a mother and child engaged in what onlookers perceive as a sexual act, rather than an act of normal mother-child connection and nourishment, is solely a western culture perception based on the sexual objectification of women (and breasts); in the developing world and other countries where breastfeeding, even old children, is considered normal, no such horror exists in witnessing this practice which has been the norm for humans globally since the beginning of our time on this planet," she said.
Ultimately, to breastfeed or not to breastfeed, or to breastfeed for years is a mother's right to choose. Ain't no shame in that!
While we're on the topic, this young CEO's ode to boobs is a must-read for anyone who has boobs or likes them.