Breaking: Whole Foods Market Is Banning Plastic Straws In All Stores
mbg Associate Movement & Wellness Editor
By Ray Bass, NASM-CPT
mbg Associate Movement & Wellness Editor
Ray Bass is the associate movement and wellness editor at mindbodygreen and a NASM-Certified Personal Trainer. She holds a degree in creative writing from the University of Pennsylvania, with honors in nonfiction.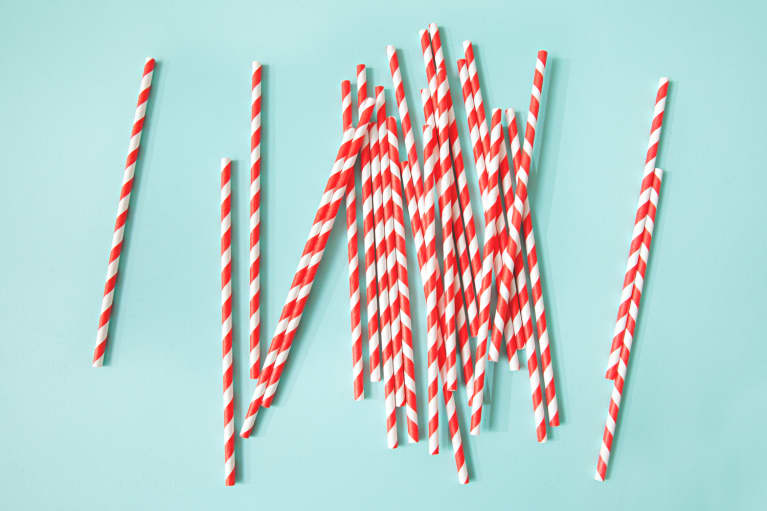 Whole Foods Market has pledged to eliminate plastic straws in all U.S., U.K., and Canada stores by July 2019 (aka less than two months from now). They are the first national grocer to make this change.
Included in this ban are all Whole Foods Market–operated venues, which includes Allegro coffee bars, juice bars, and cafes. In lieu of plastic, Whole Foods Markets will offer paper straws (that are Forest Stewardship Council–certified recyclable and compostable) with frozen drinks or upon customer request. Plastic straws will still be available for customers with disabilities.
This decision comes on the heels of several planet-forward decisions that the company has made this year, including switching to smaller produce bags and replacing hard plastic rotisserie chicken containers with bags that use 70 percent less plastic. According to a company news release, these packaging changes will reduce an estimated 800,000 pounds of plastic per year.
"For almost 40 years, caring for the environment has been central to our mission and how we operate," said A.C. Gallo, president and chief merchandising officer at Whole Foods Market. "We recognize that single-use plastics are a concern for many of our customers, team members, and suppliers. We will continue to look for additional opportunities to further reduce plastic across our stores."
Whole Foods Market was also the first grocer to ditch disposable plastic grocery bags at checkout, in addition to eliminating all Styrofoam meat trays and switching to 100 percent commercially compostable salad boxes.
Eliminating plastic is a cause we've long been championing at mindbodygreen, and we've seen the impact this kind of change can have, for our own health and for the planet. That's why we're happy to hear that Whole Foods Market's plans to do away with plastic aren't stopping here.
The company is committed to reducing their plastic use however they can—which, according to Greenpeace Oceans campaigner David Pinksy, is absolutely imperative if we're ever going to end this plastic epidemic: "Now more than ever, we need retailers like Whole Foods to embrace real innovation—moving toward systems of reuse and thinking beyond throwaway materials. Our oceans, waterways, and communities depend on it."