Whole Foods Market Says These Are Going To Be 2019's Biggest Healthy Food Trends
Contributing Food Editor
By Liz Moody
Contributing Food Editor
Liz Moody is a food editor, recipe developer and green smoothie enthusiast. She received her creative writing and psychology degree from The University of California, Berkeley. Moody is the author of two cookbooks: Healthier Together and Glow Pops and the host of the Healthier Together podcast.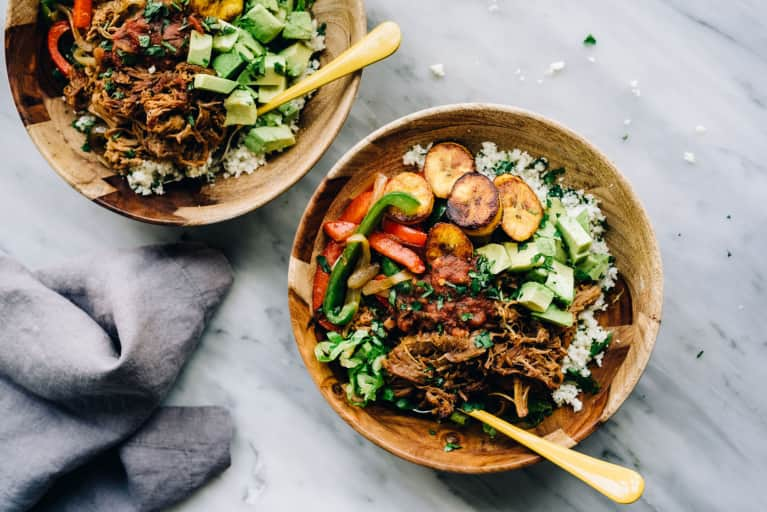 Our editors have independently chosen the products listed on this page. If you purchase something mentioned in this article, we may
earn a small commission
.
November 15, 2018 — 22:45 PM
Whole Foods Market just released their annual trend report, and this year's looks as if it was conceptualized in mbg's offices. "Being part of Amazon, we will not just be reacting to the future, we will be creating it," said Whole Foods Market founder John Mackey on mbg's podcast. With a forecast filled with gut-healthy favorites like edible probiotics, mitochondrial-nourishing fats, and purchases that empower women and save the environment, it's a solid nod toward a future we're excited to be a part of. Here's a summary of the trends they chose, plus mbg's top product picks so you can sample the best goods in each category.
Keeping your probiotics in the fridge is always a good way to ensure your gut is working its best. Chowing down on naturally occurring probiotics like kimchi and pickled anything is good, too. But now, you can expect to find shelf-stable probiotics packed into popular pantry goods, like granola, oatmeal, nut butters, and more, making it even easier to get your friendly bacteria and the like. Another unexpected place to find your probiotics? The cleaning aisle in products like Counter Culture Probiotic Cleaning Tonic, and the beauty counter, where brands are integrating pre- and probiotic-based ingredients into sunscreen and body care formulas.
mbg picks: Garden of Life's Men's and Women's Once Daily probiotics are staples in the mbg office (and were recently one of my top picks to alleviate travel anxiety). Purely Elizabeth's delicious gluten-free granolas are a great way to eat your probiotics as a snack (the Chocolate Sea Salt flavor is utterly addictive). If you're more in a savory mood, try Farmhouse Culture's Doritos-dupe Kraut Krisps.
We obviously love healthy, mitochondrial-nourishing fat here at mbg, and now the product world is catching up. Bars packed with MCT oil powder, coconut-butter-filled chocolates, popcorn made with grass-fed ghee, and spins on classic meat snacks like chicken chips and crispy beef jerky are hitting the shelves. You'll be able to find all of the protein-packed, good-fat-laden snacks and bites at your local Whole Foods Market, and more products are predicted to appear throughout the coming months and years.
mbg picks: We love the Fourth & Heart Madagascar Vanilla Bean Ghee, made with grass-fed ghee, and the influencer-favorite Eating Evolved Keto Cups are a chocolate lover's dream. Vital Farms makes creamy, rich grass-fed butter that's perfect for adding healthy fat into any dish or drink, and Lorissa's Kitchen makes some of the best-tasting grass-fed, clean-ingredient jerky around. EPIC is continuing their no-waste animal journey with the release of their new nose-to-tail animal fats, including duck fat (perfect for homemade French fries) and pastured bison tallow.
Marine Munchies, Beyond Seaweed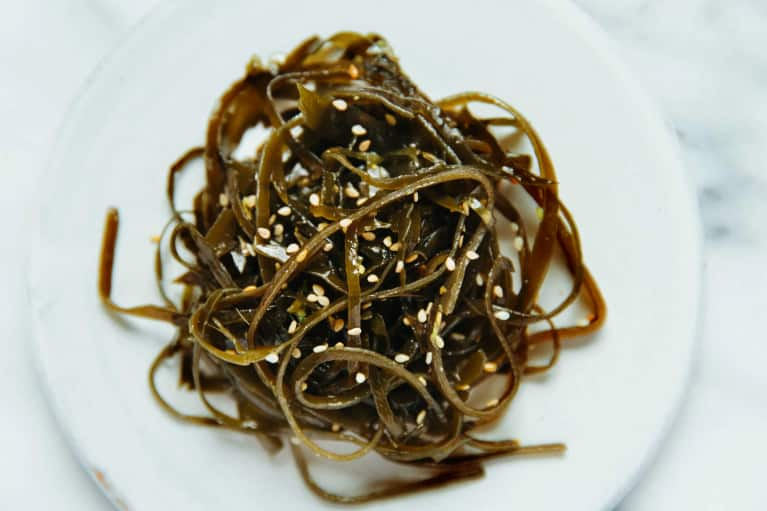 If you've been munching on seaweed snacks since they became a mainstream (see what we did there?) snack a few years ago, get excited about new marine munchies with superfood properties, like algae and kelp. Keep the crunch going with lily-seed-spiked puffed snacks and omega-3-packed salmon skins, not to mention savory kelp jerky and a whole variety of miso and ramen broths that feature kelp to satisfy and soothe (which will be especially handy in the cold winter months). One thing is definitely for sure, all that rich and delicious brine of the sea is coming to your pantry in 2019.
mbg picks: The meat-free trend makes the leap to seafood with Good Catch Fish-Free Tuna, which is made with algae, and the Nature's Way Algae Oil capsules are a great vegan omega-3 alternative. Pescatarians looking for a protein-rich on-the-go bar will love the EPIC Salmon Fillet Smoked Maple Strips.
We called the CBD trend over a year ago, and since then, whole-hemp extract and hemp seeds and oils have grown in market share. Take Andalou Naturals, for example, which just introduced hemp plant stem cells in their CannaCell body care collection. With plenty of new ways to take advantage of this endocannabinoid-balancing plant, it's a trend that will continue to pick up steam.
mbg picks: Health editor (and author of CBD Oil: Everyday Secrets) Gretchen Lidicker is mbg's resident hemp expert—and she loves sprinkling Manitoba Harvest Hemp Hearts on her yogurt in the morning with some fresh berries. She also packs Thunderbird's Cherry Hemp Turmeric bars when traveling, and uses Auracacia Organic Hemp Seed Oil to moisturize and cut down on skin inflammation in the winter. "It's a great carrier oil for essential oils," she says, "and this one has vitamin E for extra benefits."
Plant-based foods are at it again, this time making vegetarian snacks taste just as meaty and delicious as their non-vegetarian counterparts. Now, meat-based snacks like jerkies and pork rinds aren't just relegated to the meat eaters out there. Vegan and vegetarians (and meat eaters alike) can get in on the trend with Pig Øut Pigless Bacon Chips and Snacklins Cracklins Without the Pork, which use mushrooms to deliver on that savory, umami flavor.
mbg picks: Pan's Mushroom Jerky and Louisville Vegan Jerky Co. are making delightfully umami versions of our favorite meat treats.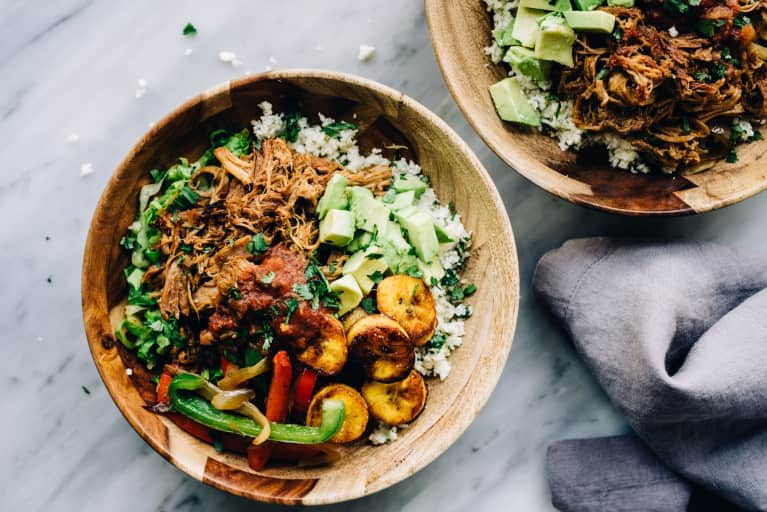 Get ready to add vibrant color and tropical flair to your smoothie bowls with guava, dragon fruit, and passion fruit—feel free to also add them to your cocktails—because Whole Foods Market reports that Pacific Rim–inspired flavors are in. For more savory applications, the jackfruit is the perfect meat alternative. Slow- or pressure-cook it until it falls apart like pulled pork (with a fraction of the fat and calories). And add umami to any dish with dried shrimp and shrimp paste, cuttlefish, and longganisa, a Filipino pork sausage, which are no longer relegated to specialty international grocery stores.
mbg picks: We love experimenting with new fresh produce offerings like dragon fruit (don't eat it for the Insta, but it is eye-catching!). The Jackfruit Company is also using this Pacific Rim fruit staple to make vegan meat replacements with whole food ingredients—the Teriyaki flavor will make any dinner delicious in an instant. Lakanto Monkfruit Sweetener is a great option for anyone looking for sugar alternatives that will still satisfy their sweet tooth.
Brands are starting to make an impact by creating reusable, recyclable, or otherwise good-for-the environment packaging. There are multiuse and compostable food wraps made with bee's wax to keep your cheese fresh, along with silicone baggies for your fruit (to replace all that plastic). Expect even more shoppers to come to grocery stores with their own vegetable bags. Whole Foods Market is calling it BYOVB, and we're very on board.
mbg picks: Here at mbg, we're always thrilled to see brands upping their eco ante and taking an environmental stance, and this year, a number of major players have pledged their allegiance to the earth. Seed Phytonutrients' beautiful, eye-catching shampoo and conditioners leave your hair silky smooth. Sustainability editor Emma Loewe loves Method cleaning products, which she says, "was one of the first companies to create bottles made out of ocean plastic (over five years ago!). The brand continues to push for better packaging across its long product line. For instance, its soap bottles are made of 100 percent recycled plastic."
Whole Foods Market reports that snacking will get a lot more refined this year—according to the brand, "Snacking has become an occasion of its very own," a philosophy we can wholly get on board with. You'll also notice snacks of the past upgraded with more high-quality ingredients and better packaging. Healthy nostalgia will also be trending, according to the grocery brand.
mbg picks: We've long been a fan of healthy snacks at mbg—staples around the office include Smashmallow (the mint chocolate chip is to die for, and the serving size is a satisfying three full mallows), and Prana's sweet meets savory salt and pepper coconut chips. The Gluten-free Quinn Peanut-Butter-Filled Pretzels are also addictive.
Trailblazing Frozen Treats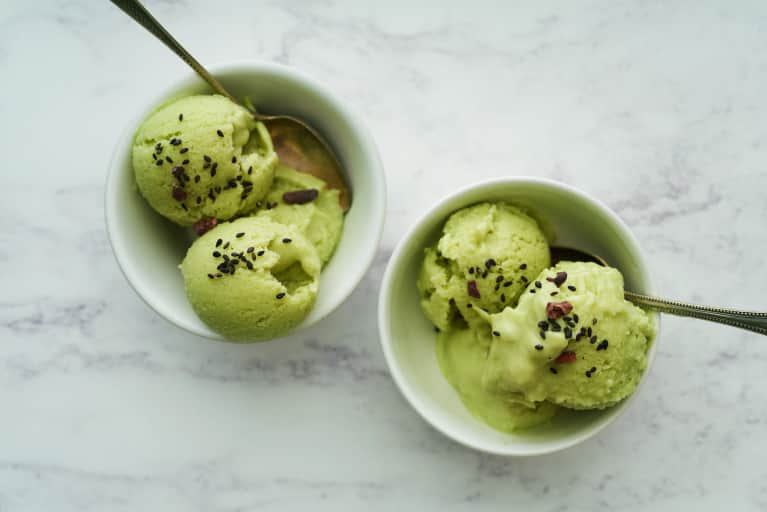 Finally, products are catching up with what we've long preached—desserts can be healthy and delicious. Expect to find ice cream reinvented with healthful ingredients like avocado, hummus, tahini, and coconut water. Global-inspiration is also hitting the frozen foods aisle with sweets like airy Taiwanese snow ice and Mexican nieves de garrafa. And for traditionalists out there who prefer their ice cream and gelato to have, well, cream, get ready for boozy spikes and caffeine buzz to make their way into the classics.
mbg picks: If you're into new takes on frozen treats, you'll be obsessed with the new So Delicious Dairy-Free Frozen Mousse, which is light and airy yet full of flavor (the Salted Caramel Swirl is our favorite). We also love the innovative flavors and environmental consciousness of freezer aisle stalwart Ben & Jerry's.
One thing's for sure about 2019: People care more than ever about where their ingredients are coming from and how they're sourced. Environmental stewardship and animal welfare are always a consideration, but now we're looking to support the people behind our favorite foods as well. Whole Foods Market notes that Greyston Bakery, for example, practices "radical inclusion" that allows the company to hire anyone who has faced barriers to employment. There's also Kuli Kuli, a producer of moringa powder (typically sourced by women) that has provided over $1.5 million to women-led farming initiatives and nonprofits around the world. While eating well has always the goal of today's consumer, doing good is now at the forefront, too.
mbg picks: We've long been fans of Portland-based Ground Up PDX butters, which helps train and hire homeless community members—and makes some of the most delicious nut butter around (their seasonal Eggnog flavor is to die for, and the Honey Lavender is an office favorite). Nontoxic beauty favorite Cocokind is encouraging women to embrace their natural beauty by sharing real skin stories and using clean ingredients at an accessible-for-all price point. Halo Sport, which makes clean-ingredient energy drinks with craveable flavors, gives back to the planet by giving 1 percent of their annual profits to nonprofit organizations focused on the environment.