Whole Foods Market & Amazon's Thanksgiving Day Deals Are Here
mindbodygreen Editorial Assistant
By Sarah Regan
mindbodygreen Editorial Assistant
Sarah Regan is a writer, registered yoga instructor, and Editorial Assistant at mindbodygreen. She received her bachelor's in broadcasting and mass communication from SUNY Oswego, and lives in Brooklyn, New York.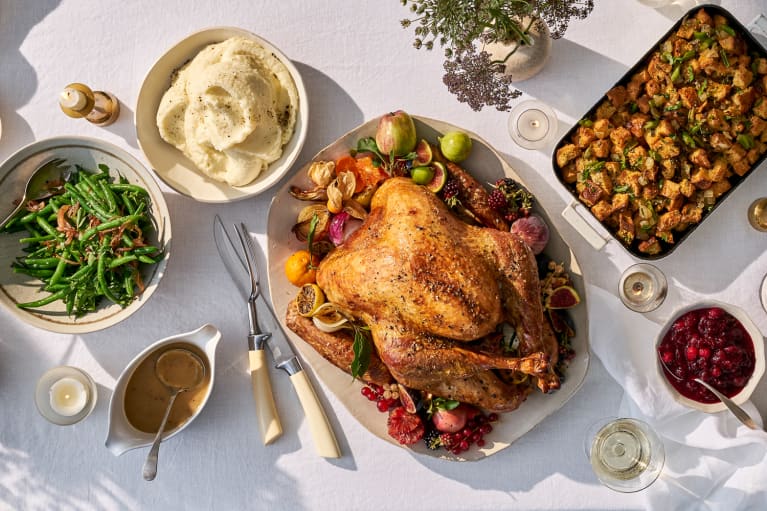 Our editors have independently chosen the products listed on this page. If you purchase something mentioned in this article, we may
earn a small commission
.
November 13, 2019 — 20:17 PM
With Thanksgiving just two weeks away, turkey prep is in full swing. And, as of today, so are the Thanksgiving deals at Amazon and Whole Foods Market.
Whether you're a make-it-from-scratch type or prefer to go the catering route, you can find everything you need under one roof (or website). Let's take a look at what the two retailers are offering.
But first, do you have a turkey?
Fun fact: 49% of Americans prefer their turkey to be organic, and 59% look for turkeys 18 pounds or less. This data, which came from a Whole Foods Market survey, also found half of Americans prefer turkey breast on their Thanksgiving plate as opposed to the thigh or leg, with the majority opting for roasted, versus fried or smoked.
But however you prepare your bird, Whole Foods Market and Amazon have you covered with both organic and regular turkeys to choose from (listed at $3.49 per pound and $2.49 per pound, respectively). Of course, if you're an Amazon Prime member, you're looking at 50 cents less per pound on both varieties.
All turkeys at Whole Foods have met their quality standards, meaning no antibiotics or animal byproducts. Look for a seal of approval from the Global Animal Partnership, an animal welfare food-labeling group that certifies ethically raised meat.
And what's a Thanksgiving feast without the sides?
The survey found most of us go for carbs to accompany our bird, with stuffing, mashed potatoes, and sweet potatoes ranking as the top three sides. And as such, Whole Foods Market has plenty of discounted sides available, with Prime members getting additional savings on favorites like potatoes, cranberries, and frozen broths and soups.
Amazon has no shortage of options either, with everything you need to prepare a gram-worthy charcuterie board, some standout sides, or a game-changing pie recipe.
Getting full yet?
Vegans have something to celebrate this year too, with Whole Foods Market offering an entire vegan Thanksgiving meal for two.
Created especially for Whole Foods Market by Chef Jenné Claiborne, her menu features a mushroom étouffée, black-eyed pea fritters, collard greens, cornbread stuffing, and pumpkin pie. You can also add dishes à la carte, including vegan mushroom gravy and vegan pumpkin curry soup.
While it's hard to believe it's already time to start mapping Turkey Day logistics, with Whole Foods Market and Amazon offering so many easy options for all our favorite dishes, we're thankful to say the least. Now here's hoping we don't burn anything.