Turns Out, People Still Have Pretty Traditional Views About First Dates
Registered Yoga Teacher
By Georgina Berbari
Registered Yoga Teacher
Georgina Berbari is a Brooklyn-based health and wellness writer who reports for mindbodygreen, Elite Daily, Bustle, and elsewhere. She's also a certified yoga teacher through the Yoga Alliance and teaches both yoga and meditation.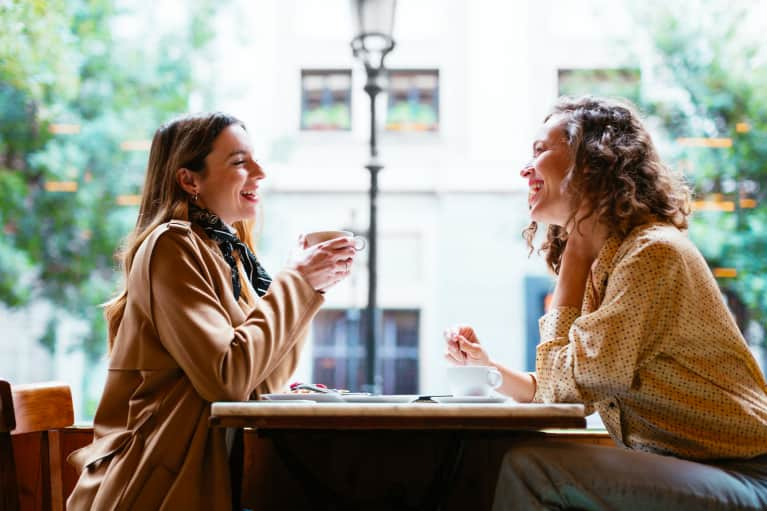 February 9, 2019 — 12:18 PM
Recently, I was talking to this guy on a dating app, and for our first date, I ended up asking him to come with me to a live feminist panel on abortion. Pretty untraditional, huh? (Spoiler alert: We went, and he loved every minute. I'm smitten.) With it being 2019 and all, you'd think that untraditional dates like that would be on the rise. Turns out, that's not the case.
The dating app Coffee Meets Bagel recently conducted a poll of over 6,000 straight, single people about their attitudes and habits around first dates, and as it turns out, people still have some pretty traditional views about how dating is supposed to work. Here were a few of the study's main findings.
52 percent of people think men should pay for first dates.
It's certainly a controversial opinion, one that's been debated by feminists and their naysayers for a while now. And with good reason: Housing that gendernormative expectation is a bit outdated and, especially when you consider nonheterosexual relationships, basically obsolete. Fortunately, 17 percent of people polled by CMB said that whoever asked the other person out should pay (though less than 1 percent said women should pay). Or how about this: If you pick up the tab this time and hit it off, perhaps your date will offer to pay the next time you go out, in the name of equality and mutual respect of each other.
37 percent think men should ask out women.
While that's a pretty significant chunk of people hanging on to a pretty antiquated norm, take solace in the fact that 58 percent of people replied with a more laid-back and nonconforming "either." However, only 5 percent of pollers indicated that women should be the first to ask. Placing the burden on men to make the first move all the time is a great example of the way sexist norms can really hurt guys just as much as they hurt anyone else.
"The reality is that our culture's heterosexual dating scripts overtly invalidate men's emotions, and we all play along," Kristina Hallett, Ph.D., ABPP, a board-certified clinical psychologist, told mbg. "Risk is a two-way street. Reaching out can be just as hard as waiting or accepting. This isn't gender-specific: There's a huge risk in asking someone to get together. It's hard to be vulnerable and put your ego on the line, and the fact that we struggle to acknowledge this hardship placed on men's shoulders says a lot about our view of male emotions."
Some food for thought when it comes to double standards. All the more reason to change what's "normal," right?
43 percent of people actually talk on the phone before a first date.
Bet you didn't see that one coming in the age of iMessage. Despite the modern-day trope of millennials sending all their calls to voicemail, awkward texters and introverts alike might be satisfied with the enduring popularity of this delightfully old-timey courtship ritual. There's no denying that miscommunication can often happen over text, and phone calls have the ability to provide much-needed clarity, communication, and directness.
Perhaps with all this dating talk, you're inclined to put yourself out there and take advantage of the myriad of apps at our fingertips these days. Opportunely, 54 percent of CMB pollers said they'd do a first date on Valentine's Day. So if you don't have a special someone right now and are in the mood for some romance this week, don't be afraid to reach for your phone.