Decluttering My Life Was My Best Wellness Decision
Designer & Feng Shui Master
By Dana Claudat
Designer & Feng Shui Master
Dana Claudat is a modern Feng Shui Master and founder of The School Of Intention Feng Shui Certification Program. She holds a B.A. from Stanford University.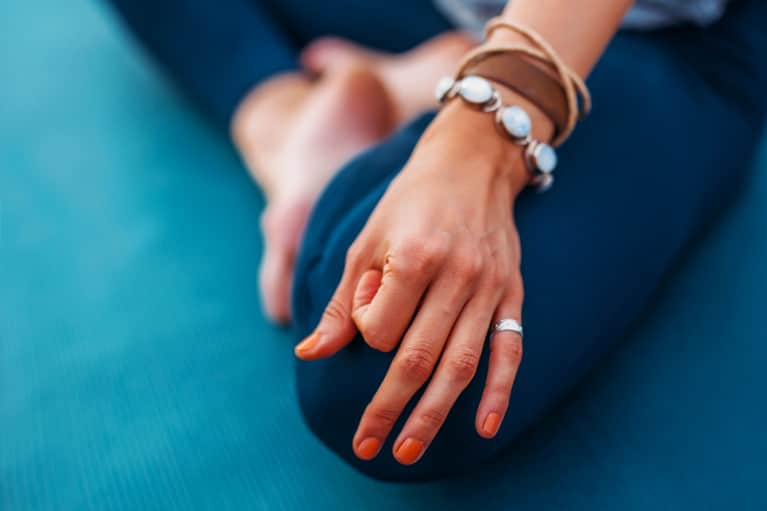 A year ago, I was working loads, spending quality time with friends, making time for love and spiritual practices, and managing to sleep seven hours or so. It was all happening at once, and it felt amazing. I somehow found ways to sneak wellness into my jam-packed days: listening to health podcasts while walking my dog, bringing my books into the bath with me, eating superfood-packed meals from my car... You name it, I found time for everything.
I felt robotic and dull, like I was dragging myself through my dream life.
It was like this high-vibe dream come true, and I saw absolutely nothing wrong with it at first. But over time, I started needed extra cups of tea to stay awake, I had to work really hard to get my day started, and it was difficult to get excited about anything. I felt robotic and dull, like I was dragging myself through my dream life. I started to wonder, "If I'm living 'my best life,' why am I feeling this way?"
For weeks I thought I had a cold or adrenal fatigue. I thought I could just double-down on elixirs, take extra vitamins, switch up my exercises, or find a new healer. In the end, though, I didn't have the energy for any of it. I started realizing my problem ran deeper.
When I could no longer pretend that things were OK, I called a friend. Without missing a beat or sparing my feelings—which I'm so grateful for—she pointed out something very obvious to her: I wasn't being myself in my life, and I wasn't leaving space to do nothing.
At first, that answer scared me. I didn't have time to do nothing! But the more I heard her out, the more I saw that I had been filling my time with "stuff" that wasn't really fulfilling me.
What to do when wellness and ambition go too far.
By being so busy, so packed, so everything, I was ignoring me. I wasn't really feeling into my rituals and routines—I was just going through the motions. I didn't even realize how tired I was slowly becoming, how weird stress started popping up, until it was too obvious to ignore.
Your wellness practices shouldn't feel like another 'grind.' If they do, it's time for a change.
In order to regain control, I started to shut my computer and phone off at 8:30 p.m., not just an hour or two before bed. I told myself I didn't need to be online 24/7 because there were people out there looking for a response from me. We all have messages to answer, but I've found that taking a break actually helps me do so in less time.
After clearing my nightly routine, I cleared my mind using meditations, walks, and short digital detoxes. I stopped reading to fill time and let things be quiet. I started leaving my phone in the car more. I started sleeping more than I ever have: nine hours and sometimes more. The biggest thing I did is clear my schedule, leaving a few empty spaces in my days to do nothing.
By making all this space, I realized that I had let my thoughts, my voice, and my whole life force—creatively, socially, even spiritually—get diluted in a mess of random data and to-do lists. Now, ideas are like lightning. Everything has seismically shifted for the better. Really, everything. All because I started doing less. Resting more. Finishing one thing at a time.
Your wellness practices shouldn't feel like another "grind." If they do, it's time for a change. Don't forget that the space between all the "doing" is a wellness practice in itself.
If you're tired, dull, jaded, or moody, ask yourself if you have enough space in your life to be you. Not you active, but you resting. Not you doing and achieving, but you just being. That space—as much as you can find—can be the start of a whole lot of wildly positive change.
Uncomfortable with downtime? A lot of us are. This relaxation and recharging guide can help.