How To Find The Healthiest Olive Oil, From Top Chef Ryan Hardy
mindbodygreen Editorial Assistant
By Sarah Regan
mindbodygreen Editorial Assistant
Sarah Regan is a writer, registered yoga instructor, and Editorial Assistant at mindbodygreen. She received her bachelor's in broadcasting and mass communication from SUNY Oswego, and lives in Brooklyn, New York.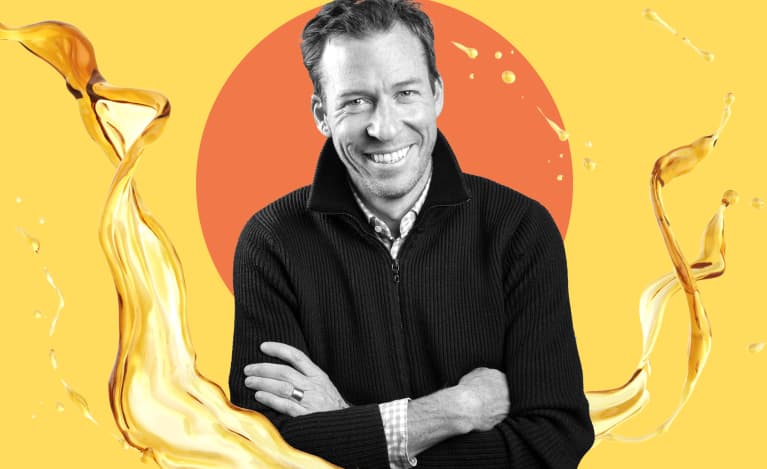 Olive oil has earned its spot as a tried-and-true pantry staple in all kinds of diets.
It's moisturizing from the inside out, can help boost memory and fight dementia, and helps with healthy weight management. And as much as we love it, there's still more to learn!
Chef Ryan Hardy recently joined us on the mbg podcast, where he talked about his favorite wines, how to eat gluten in a healthy way, and, of course, olive oil (the full episode with mbg co-CEO Jason Wachob is worth a listen).
Hardy says he's obsessed and unbelievably fascinated by olive oil, and we are too! So, here are his pro tips for when it comes to choosing yours.
Hardy points to De Carlo as his favorite brand, saying, "I use that word 'obsessed' a little too much, I think, but I really am when it comes to olive oil. And I think I use more olive oil from the De Carlo family in Puglia than I do just about any other olive oil," he says.
The family-owned business has been pumping out high-quality olive oil for restaurant chefs and home cooks alike since its inception over 400 years ago.
"You can buy it online. There's only a couple of importers," Hardy says. "We import some directly for ourselves, and there's another friend of mine, Steve Lewis, who runs an importing company called Giuliana Imports [...] They do a really great job of importing some olive oils and bringing them in."
When should you buy your olive oil?
Hardy was sure to mention, as far as olive oils go, the fresher, the better.
"[It's] full of something called polyphenols," he says. "And the level of those polyphenols is at its highest when it's harvested, and then it quickly drops down. You know, in 30 days it's going to be different. In 90 days, it's going to be very different. And in 180 days, it's almost a shadow of what it was when it was fully harvested. And so, although olive oils put a two-year stamp on the back [...] the closer you are to harvest, the better your flavor."
The next time you're shopping for olive oil, Hardy says to check out the date. "If it says use by 2020, well, that was harvested in 2018." So, look for the expiration date 23 months out. That means it was recently bottled!
"And this is the time of year to buy it," he adds. "All the new oils are just starting to show up right now."
And lastly, when we think of seasonal foods, we typically think of fruits and vegetables. But as Hardy points out, "People forget that there's actual seasons, not just to vegetables, but to a lot of things like coffee and nuts and olive oils."
Olives are technically a fruit, after all.
With that in mind, he made a great point about bringing seasonal ingredients together to make one exquisite, seasonal meal. "What grows together goes together," Hardy says. "I'm curating some of those [ingredients] together to say: This is at its peak of harvest."
And according to him, olive oil is the only oil that is made just by pressing. "We don't have to extract it from the seed. We don't have to do anything to it. It's just pressed. That's it. It's pressed, take it out, run it through a centrifuge, take out some of the moisture, and what you're left with is this incredibly healthy product."
Who knew we had so much to learn about this amazing oil? But of all olive oil knowledge Hardy shared, this was the standout: "The olive oil in and of itself is not great unless you have great bread to have it with."