When It Comes To Bullying, How Involved Should Parents Get?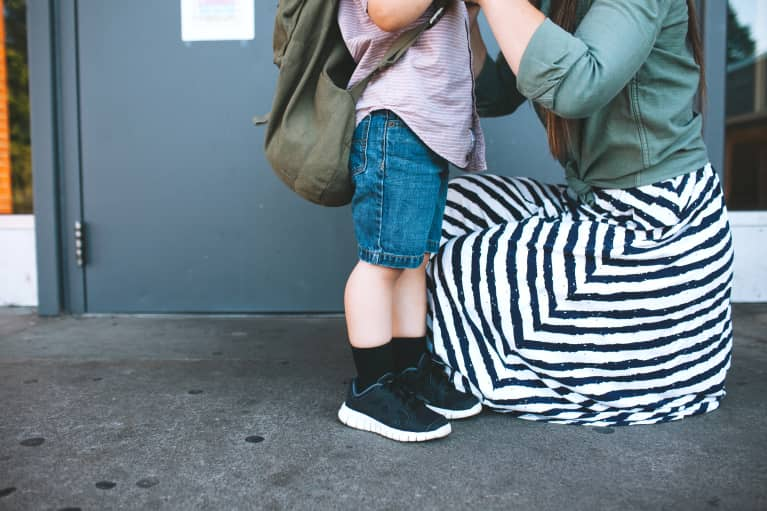 With the school year winding down, many parents finally have time to reflect on the year behind them and summer activities in front of them. Between the schoolwork and fun, there's an inevitable not-so-great part of growing up: Bullying. Although bullying prevention efforts tend to focus on middle schools and high schools, bullying behavior begins at much younger ages. According to researchers and developers of the Eyes on Bullying Program, Ronald G. Slaby and Dr. Kim Storey, Ph.D., it starts as early as age 4.
"When groups of young children, who often differ significantly in physical size, skill level, and family experience, get together regularly, patterns of hurtful behavior often emerge," they explain. "Children make mean faces, say threatening things, grab objects, push others aside, falsely accuse, or refuse to play with others."
That's when the messy issue of bullying starts resembling a tangled ball. There is a never-ending list of factors that make peer-to-peer mistreatment complicated and unique for each child, household, and school, which makes clear-cut solutions seem elusive. To make matters worse, a child can act like a bully one day and be the target of mean behavior the next day or witness it without knowing how to react on any other given day.
But as with any tangled ball, there's hope. As parents, it's within our reach to untangle a few key strings before bullying behavior has a lasting negative impact. The short-term goal, of course, is to try to improve hurtful situations, but perhaps the most important end goal is that a child feels loved, safe, and valued. Every parent wants their child to grow to become their best selves even if they experience mean behavior—or are exhibiting bullying behavior—along the way. Although there is an endless list of "strings," the following three are key as we raise confident and kind children.
String 1: Encourage communication.
Here's the issue: 64 percent of children who are bullied do not report it. If kids don't know how to tell us what's going on, we can't help, and not having reliable support can have bad consequences. No child should feel alone, especially if they are receiving messages from peers that make them feel demeaned and diminished.
There are multiple reasons kids hold back: embarrassment, fear of retaliation, nothing will be done about it, they won't be believed, and the list goes on. Perhaps we can look back at our own growing up years and remember feeling some of the same emotions.
Once they open up, react so they will come back. As the saying goes, "little kids, little problems. Big kids, bigger problems." But when they learn that situations will be handled with care, they are developing a positive foundation that will help them as they mature and face larger challenges. It all comes down to trust, and the first step for being a go-to trusted adult is learning how to listen.
In their research for the Youth Voice Project, researchers Stan Davis and Dr. Charisse Nixon share critical information about what really helps kids and what doesn't. The No. 1 most positive adult action is listening. It sounds easy, but there are real obstacles to being present. Daily tasks, stresses, and distractions can make it difficult to be in the moment.
String 2: Promote leadership.
Teaching leadership skills not only helps our own children but the classroom as a whole. When a child exhibits kindness, good judgment, and loyalty, for example, they are able to help create a positive school and home climate.
Whether a child is given responsibilities from young ages in the home, is expected to tell the truth, to be polite, show patience, or exhibit good character in any way—they will be a part of the solution at school, on the bus, on teams, and at after-school activities, and eventually online. Skills that are particularly helpful in raising respectful citizens, including future digital citizens, include empathy, embracing respect for one's self and others, understanding how to be assertive versus aggressive, understanding feelings, and learning how to communicate effectively.
Modeling these behaviors as the close adult in their lives is the most effective teaching tool. Leadership is the anti-bully.
String 3: Applaud resilience.
Recognize their ability to handle small situations on their own. A bad situation can have a silver lining when they feel powerful and proud. But be there to be their safety net and mentor—and cheering section. Although researchers believe that resilience can be learned at any age, it's best to start young. Children thrive when they have an interested adult in their corner who helps by offering perspective, positivity, and a reminder that "This too shall pass."
Suspect your child is being bullied? Here's what you should know about how that could affect their body image.