Dreaming Of Quitting Life & Moving To A Farm? 6 Things You Should Know First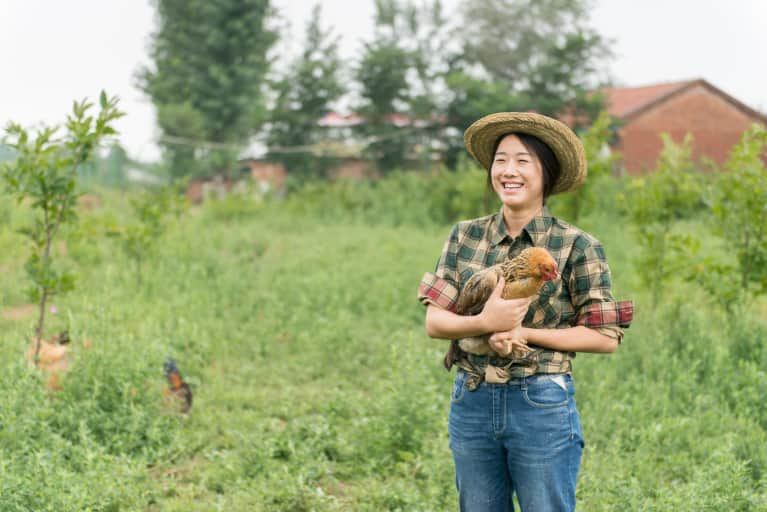 Our editors have independently chosen the products listed on this page. If you purchase something mentioned in this article, we may
earn a small commission
.
Have you ever found yourself sitting in your cubicle, staring off into space, dreaming of a simpler life? Annoying bosses, long commutes, and the frenetic pace of urban life can prompt all kinds of escape fantasies, but one of the most common these days is moving to a farm. If you're one of the increasing number of city dwellers who think farm life might be the ticket to a happier, more meaningful life, take heart: Ditching the rat race and moving to the country is not easy, but it can be done.
Fifteen years ago, my wife and I were just like you. We were relatively normal urban professionals, with good jobs and lots of friends. We enjoyed city life, but we felt trapped in careers that forced us to sit in front of a computer screen for 10 hours a day. Then we had two kids in two years, and suddenly our two-bedroom apartment felt like a cage. So we sold our house, quit our jobs, and bolted. We ended up on a rundown 100-acre farm an hour and a half outside the city, an experience I detail more in my book, The New Farm: Our Ten Years on the Front Lines of the Good Food Revolution.
Flash-forward to today, and we run a profitable business selling organic vegetables to high-end restaurants and specialty retailers. Looking back, I have zero regrets. But we had no idea what we were doing in the early years, and making a life for ourselves in the country was exceptionally hard at times. If you think you're ready to make the leap and leave the city, here are some things you should know:
1. Get used to going the wrong way.
Humanity has been migrating from the country to the city since the start of the Industrial Revolution—for a reason. If you decide to buck this 250-year trend, be prepared for some challenges. Farming is a tough business, and most rural areas simply don't have the same economic opportunities as big cities. The odds really are stacked against you, so if you're going to make it on the farm, you'll need to be creative.
2. Farming is a business.
If your moving-to-a-farm dream is to have a happy ending, you'll need to master two separate but equally important skills—growing and selling food. Too many aspiring farmers put all of their effort into learning how to grow food. But if you grow lots of beautiful produce and then don't have a way to sell it and make money, you'll fail. Sales, marketing, accounting, financial planning—running a farm requires all the same skills as any entrepreneurial business.
Large-scale, conventional farming is a lose-lose proposition. It requires huge machinery, boatloads of capital, and massive scale while causing terrible damage to our environment and climate. No one in their right mind would leave the city to follow that path. So think small. Consumers are increasingly looking for food that is local, organic, and sustainable, and they're often willing to pay more for it. It took us a few years to figure out what grew best in our farm's microclimate and what sold best in the local market, but once we found our niche, we realized we could actually make money.
4. Don't forget to pack your cash.
Farming is a capital-intensive business, even if you're doing it at a small scale. You'll need money to buy a farm, invest in training and equipment, and, most importantly, to live for several years while your business loses money. It took us five full years to become truly profitable—during that time my wife and I had to work off-farm jobs to make ends meet, like virtually every other new farmer. Before you up and leave the city, make a plan and figure out if you have enough cash to make the leap. If you don't, wait until you do.
5. Country folk are different.
There's a big difference between rural and urban culture almost everywhere in North America. City and country folk have different ways of speaking, follow different sports, and (maybe most significantly) have different politics. Be prepared for some culture shock. It took us a while to slow down and settle in, but once we did, we discovered a community that was incredibly generous, caring, and welcoming. In a rural community like ours, you'll always find someone ready to lend a hand or simply stop for a chat. Another bonus of country culture: You'll never again have to worry about having the latest iPhone, because nobody gives a shit.
6. Making money is not the only goal.
If your farm is to be truly sustainable, it must make money, but simply making money is not enough—profitability is necessary but not sufficient. My wife and I left the city to escape the rat race, but we focused so narrowly on the financial side of our farm business that we ended up creating our own private rat race on the farm. The long hours and relentless hard work of farming can make it easy to forget the reason you left the city in the first place—to create a happier and more meaningful life. You'll probably never make as much money on a farm as you do now at your city job, but remember that your life's balance sheet records a lot more than just cash. Time with your family, being part of a close-knit community, tangible physical work in the outdoors, access to really great food—the nonfinancial benefits of farm life are myriad.
The dream of leaving the city and moving to a farm has never been more popular or more achievable. When my wife and I made the move 15 years ago, the good food movement was just getting started. Today, the idea that we should care about how and where our food is produced is firmly in the mainstream. This trend has created real opportunities and has made farming on a small scale for the local market a viable business proposition. If you have a farm dream, take stock, make a plan, then do it. There has never been a better time.
Urban farming is always an option! Here are more details on the city-friendly practice.