What Your Zodiac Sign Says About Your Money: August 2017 Edition
Written by
Bess Matassa, PhD
Bess Matassa has a PhD in urban studies and is now a New York-based astrologer and tarot reader who has been featured in Teen Vogue, Apartment Therapy, and the Rubin Museum of Art.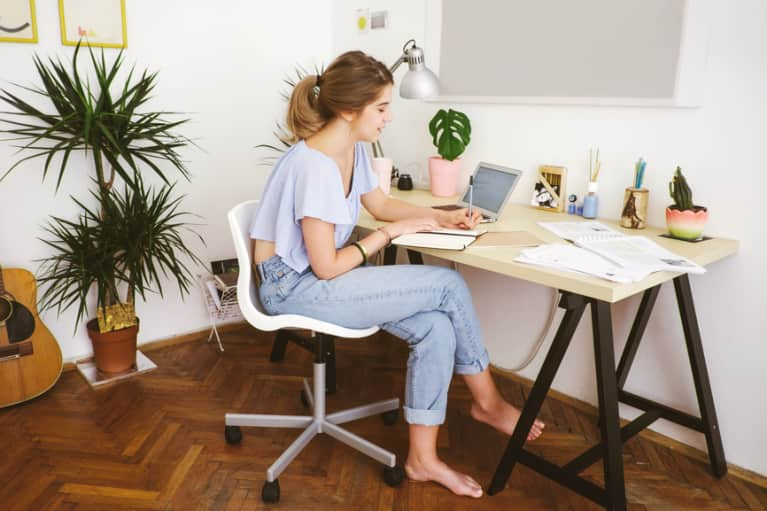 Money Mondays is a new series focused on the intersection of finances and well-being. We believe money is one of the last taboos in the wellness world: Why is it that we can talk about our sex lives and not our salaries? With an underlying drive to empower, we're aiming to address all your burning questions about making money (and making more), saving it, spending it, but most of all how to use it to power the life of your dreams.
Welcome to Leo season! The zodiac's sparkle-tastic cosmic kitten invites us to transform our workspaces into metaphorical disco dance floors, lacing up our sneaks for a trip directly into the center of our own hearts. With Mercury stationing retro on the 12th and a pair of super-potent eclipses coming up, it's a month for sparking our own heat sources from the inside out. When you warm yourself with your own glow, you can light up the whole world. Flame on, financial firebrands!
Money Mantra of the Month: "I've got diamonds on the soles of my shoes, and all bets are on."
With Uranus stationing retrograde in your sign this month, it's time to radicalize your approach to dreaming and scheming. What notions about your future are you ready to renovate? How you can you re-up your faith in unexpected streaks of luck?
Power Move: Take a gamble and renegotiate your relationship to existing structures by taking a new walk or run outdoors.
Your ruler, Venus, enters Cancer this month, and it's a tender time for letting yourself reach out for help. Contract out some projects, celebrate the security you can create when you ground into your network, and save time for a sumptuous breakfast (or dinner) in bed.
Power Move: Feel into those supports with partnered yoga or paired-up ballroom dancing.
Saturn stations direct and opposes your Sun this month, which means it's your chance to stick the landing, butterfly babe. Where do you shy away from financial commitment? Making some solid investments in your future will signal to the Universe that you truly know your worth.
Power Move: Try wall yoga with therapeutic straps where you can be stretched with support and return to Earth feeling open and receptive.
Cancer (Jun. 21–Jul. 22):
Venus is in your sign for the entire month, and it's a moment for mining the pleasure and power of your secret visions. What are your financial dreams? Figure out exactly how you want to live and then start dressing the part right now.
Power Move: Start a daily practice, even just for five minutes, for you and only you, like a simple daily sun salutation. The positive benefits it brings will build over time, and a little bit goes a long way.
It's your time to fluff, buff, sparkle, and shine, birthday friend! Follow whatever ignites your creative spirit this month, and let the emerald greenies follow you like a trail of glitter.
Power Move: Instead of attending a class, flow on your own, dance on your own, or do your own thing regardless of what everyone else is doing. Let your heart sing.
As Mercury stations retrograde in your sign this month, it's time to really listen in deeply to old stories you tell yourself about what you need to perfect in order to truly start earning.
Power Move: Try a class where you're totally out of your element but don't have to be the expert: perhaps an expansive, fast-paced dance class, yin yoga, or qigong.
Jupiter in your sign brushes up against Neptune this month, and it's a moment to really release notions of having to plan it all. Open yourself to unexpected earning opportunities that come from the strangest places, and let yourself be guided by more than just your mind.
Power Move: Feel into the unknown flow with yoga to live music or a sound bath.
Scorpio (Oct. 23–Nov. 21):
As the Leo sun squares your sign for most of the month, it's a moment for injecting your usual penchant for saving with a delicious celebration of what's on hand. Live the glamorous life, even if it just starts with some everyday decadence like a spritz of fragrance or a glass of full-bodied red wine.
Power Move: Enhance your daily movement rituals with essential oils or another favorite scented oil.
Sagittarius (Nov. 22–Dec. 21):
With Saturn stationing direct in your sign, it's a month for getting deliciously real about your financial goals and how to achieve them. Deck out your planner with gold star decals and let pragmatism become your greatest adventure.
Power Move: Build muscle with a weightlifting or CrossFit course, or simply get really sweaty with a good, long run.
Capricorn (Dec. 22–Jan. 19):
As Uranus faces off against your Sun, you're asked to electrify your approach to the financial status quo and notice where your old money habits need to die hard. Take a gamble on yourself and prove your self-sufficiency with some calculated risks.
Power Move: Leap into the unknown with a class that's outside of your comfort zone.
Aquarius (Jan. 20–Feb. 18):
With a lunar eclipse in your sign, it's a touchy-feely month for coming face to face with your darker financial fears, staring scarcity down, and getting to work on a real live passion project, no matter how out-there it might seem.
Power Move: Get down in a hip-hop dance class.
Pisces (Feb. 19–Mar. 20):
With Mercury opposing your Sun this month, it's time to get super-organized at the microscopic level. Create daily rituals that support the financial power you want to feel. Start with your body, and build out your empire from there.
Power Move: Revel in the structure and contained emotionalism of SoulCycle.
Check out our Money Monday stories to learn more about good money rituals, including how to get more of it.