I'm An Immunologist; Here's How I Tell My Patients To Eat During COVID-19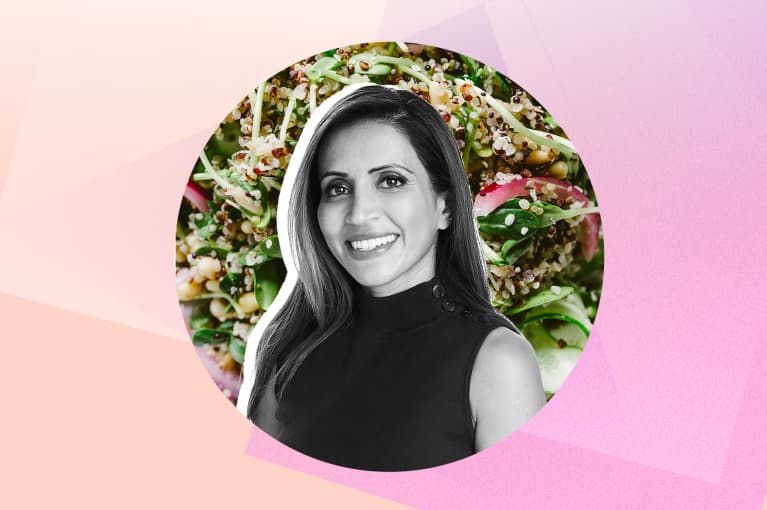 Last updated on May 27, 2020
COVID-19 has impacted many aspects of our world, including the restaurant industry, grocery stores, and consequently, many people's eating habits. If you're sheltering at home, you may be making complicated recipes you usually don't have time for, or simplifying mealtime with quick, six-ingredient dishes. Whichever your method, it's important to incorporate nourishing ingredients into your diet.
Not only are nutritious ingredients more satisfying, they also support our immune systems, hormone levels, and sleep patterns. It's important to stay healthy now more than ever, which is why I've put together my top four eating strategies to support your immune system and overall well-being. Plus, building these four healthy habits now can help you stick to them when other dining options eventually return.
Increase vegetable intake.
Including more vegetables into your diet is a great way to keep your immune system strong. One way to incorporate plenty of organic veggies into your diet when fresh produce is lacking is with mbg's organic veggies+ powder. The blend of sea veggies—kelp, spirulina, and chlorella—and dark leafy greens provides a healthy dose of antioxidants and vitamin C.*
Vitamin C is such an important nutrient for immune support. There are a number of foods that are naturally rich in this nutrient, including spinach, broccoli, sweet potatoes, and bell peppers. And don't shy away from frozen vegetables—vitamin C is retained exceptionally well in frozen vegetables—and can be easier to find when grocery shelves are picked over.
Add anti-inflammatory spices.
Anti-inflammatory spices are an excellent way to both reduce inflammation in your body, as well as enhance your meals. Turmeric, ginger, garlic, and pepper (traditional peppers like black pepper and cayenne, as well as chili peppers) all have high anti-inflammatory profiles. Other herbs and spices that kick a big anti-inflammatory punch are rosemary, cinnamon, sage, and cloves. You can season your foods with these, stir them into stews and soups, or even add them to drinks—I love to have a ginger tea with cinnamon in the morning.
Try making a simple anti-inflammatory blend by mixing olive oil, garlic, pepper, lemon juice or vinegar, and tons of fresh herbs. This can be used as a sauce, marinade, or a dressing for salads or grains. Or kick your smoothie up a notch with organic veggies+, which includes turmeric, ginger, and cinnamon bark.
Fiber is indispensable for your gut health—and your gut health, hormones, brain, and immune system are all connected. Food for the good gut bacteria that support our immune system, fiber can, of course, be found in vegetables, or boost your intake with fresh fruit. Berries (especially raspberries and blackberries), avocado, passion fruit, and kiwi are all high in fiber. Beyond the produce aisle, beans are high in both fiber and protein—and they're easy to stock up on and store. Organic veggies+ also incorporates a prebiotic fiber blend—which feeds the good bacteria in your gut—of inulin and flax seed fiber to promote gut health and support digestion.*
While there is absolutely nothing wrong with healthy snacking, mindless munching on overly processed junk food all day long is a surefire way to increase inflammation, fatigue, and anxiety—not to mention weight gain. Working at home or being stuck in the house and stressed or bored makes it easy to overeat. Try to have a few healthy options portioned (apples, nuts, crackers with clean ingredient lists, raw veggies with hummus) and ready ahead of time to eat during the day and cut the nighttime snacking. My practice of circadian fasting (where you don't eat anything after an early dinner) has been a great way to cut out mindless evening snacking while building up gut and immune health.
Times are tough and stressful right now, but the way we treat ourselves and what and how we eat will directly affect how we are feeling both physically and mentally. Be kind to yourself—and your body!