I Got A Personalized Medicine Reading & I Learned These 7 Things
mbg Health Contributor
By Gretchen Lidicker, M.S.
mbg Health Contributor
Gretchen Lidicker earned her master's degree in physiology with a focus on alternative medicine from Georgetown University. She is the author of "CBD Oil Everyday Secrets" and "Magnesium Everyday Secrets."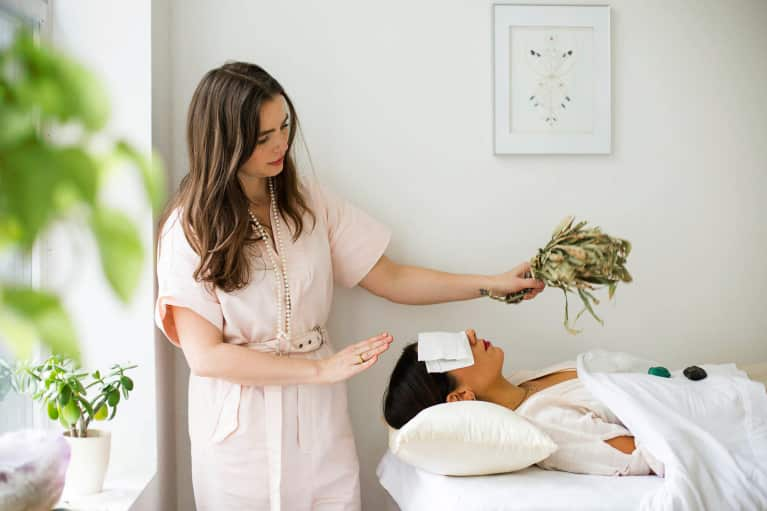 The world of energy healing is a big one. From Reiki masters to shamans to medical intuitives to aura readers, people have been flocking to different alternative modalities for as long as we've been on this earth. I've always been intrigued by the idea that someone could somehow intuitively know what was going on with my mind and my body, but as someone with a science background, I'm also skeptical. What do people find so wonderfully restorative about these practices? Why do they keep coming back for more?
To answer these questions (and more!), I went for a private medicine reading with mbg Collective member and healer Deborah Hanekamp. Also known as "Mama Medicine," Deborah operates out of a small space in SoHo, NYC, where she performs medicine readings, and she also hosts workshops, events, and even retreats to far-off places. I went to experience a session, and here are the lessons I walked away with:
1. Your surroundings matter—a lot.
The first thing I noticed when I walked into the space was that it was carefully designed to make everyone in it feel at ease. Each detail, from the natural light to the smells to the plants and wall art, created a sense of serenity. It was a true healing space and a great reminder that the way we take care of our surroundings is often a good indicator of how we're taking care of ourselves. And I plan to show my apartment a little more love from here on out.
2. It's OK to prioritize self-care.
We all know that self-care is important, but that doesn't mean we actually prioritize it. At the end of the day, are you checking your emails or turning your phone to silent to wind down with a cup of tea or a meditation? Are you continuously choosing helping others over taking care of yourself? If the answer is yes, it's time to change your ways—in honor of your health. It's easier said than done, but in many ways a session with Mama Medicine felt like a conscious choice to prioritize my own healing and self-care. It's a start!
3. Your old wounds might not be as old as you think.
We're all busy living our lives; we're running from one thing to the next, moving to new cities and towns, starting new jobs, and forging new friendships. Sometimes we forget that the things we've left behind are still with us and they have made their mark. The first half of the session with Mama Medicine is basically therapy (with a quick aura reading on the side). Taking time to reflect on where I am in life and how I got there suddenly brought up a lot of feelings from the past, ones that I thought were, well, in the past. It's a good reminder that it's OK to slow down and let those things come to the surface so you can fully move on.
4. Moving your body doesn't have to mean going to the gym.
We all need to be reminded of this at some point in our lives; it's so easy to get stuck on the treadmill for the third time in one week, loathing every minute of it. So what kind of exercise should you do? For me, Deborah suggested long walks and yoga for alignment. It was a good reminder that I can still move my body and it doesn't have to leave me depleted, exhausted, or sore.
5. Sometimes you just need someone to hold space for you.
Sometimes going to the doctor can feel like a rushed, impersonal experience. And many times it is! Most doctors have only about 15 minutes to spend with their patients face-to-face. This is one of the many reasons people are starting to seek more alternative approaches. Holistic health practitioners operate outside insurance, which means they can spend more time with their clients and patients. And while I'd never say a session with Mama Medicine could replace a visit to the doctor's office if you have health issues to resolve, it was nice to feel like that 90 minutes was mine, we weren't rushed, and she was there to hold space for me to have a healing experience.
6. It's OK to get a little esoteric.
Deborah has been working in the healing arts for over 17 years and blends various traditions. And what happens in that room is a little "out there." (There's some chanting, a lot of different smells, and a bit of looking into the future.) This is a bit outside most people's comfort zones, but I have to admit that I left feeling worlds better than when I walked in. I was more balanced, energized, and had a sense of calm that followed me for days. So while her work may be about connecting people with their power—or their own inner shaman—it's also about helping them to relax and reset. It's about helping them achieve their happiest, most fulfilled life. And that's not "woo-woo" at all.