What Wellness Looks Like In Silicon Valley
Former mbg Deputy Editor
By Elizabeth Inglese
Former mbg Deputy Editor
Elizabeth Inglese is a writer living in San Fransisco, California. She earned her bachelor's in english literature and cultures from Brown University and her master's in writing from The University of Southern California. She's the former Deputy Editor of mbg, and has also worked for Vogue, Architectural Digest, Bon Appetit, and Good Magazine covering food, health, and culture.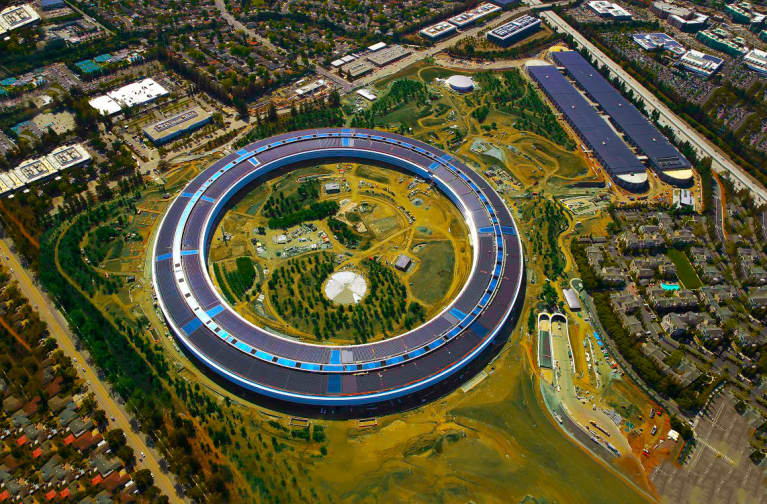 Tech's relationship to wellness runs hot and cold. One minute our Fitbit is spurring us to sprint up a staircase; the next our iPhone is baiting our anxiety with insecurity-provoking social feeds. While tech products both enable and hinder wellness in our lives, the powerful companies behind them know that when it comes to attracting top-talent employees, supporting wellness is essential. Silicon Valley's unicorns (and centaurs and ponies) outdo one another in quests to offer competitive perks that promise to undo the stress of startup life. Those investments in employee well-being may contribute to Bain & Company's finding that companies including Apple, Netflix, and Google are 40 percent more productive than the average company. But since the splashy early days of Silicon Valley startup perks (the mythic rock walls, laundry services, and foosball tables), the current incentives are looking less like the fantasies of tween gamers and more like the desires of health-minded adults.
So what does wellness look like for the people behind our screens?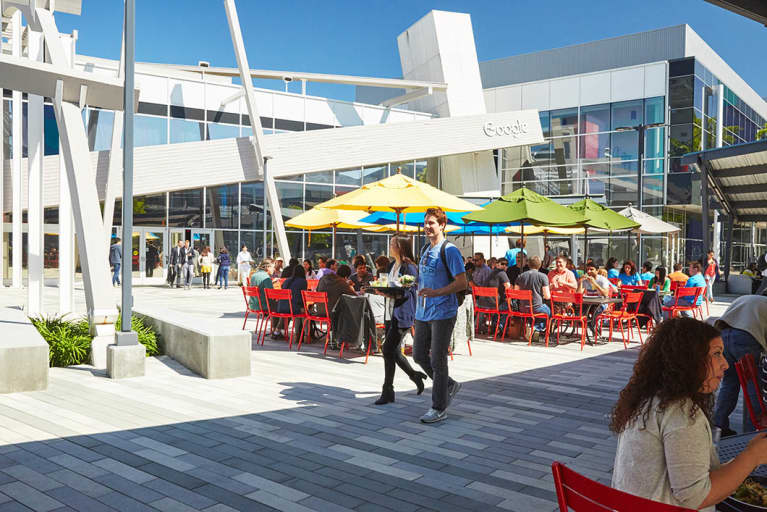 The Mountain View-based Googleplex features over 30 eateries serving local, seasonal cuisine, as well as copious fresh fruit and healthy juices. On-campus gyms offering all-day fitness classes and intramural sports games get Googlers' blood pumping when those midday slumps set it. If they're in need of a restorative reprieve, Googlers can slip into nap pods equipped to play soothing sounds, or scratch the ears of their favorite furry friend, as pets are welcome on campus.
Without leaving the grounds, Googlers can access health care with on-site physicians. For hands-on healing, masseuses, chiropractors, and physical therapists are within arm's reach. Google's approach to wellness goes beyond the self (a You. We. All. sentiment), matching Googlers' charitable donations and encouraging them to spend time outside the office working in their community. The company nurtures families, providing an industry-leading life insurance policy to protect dependents in the case of loss.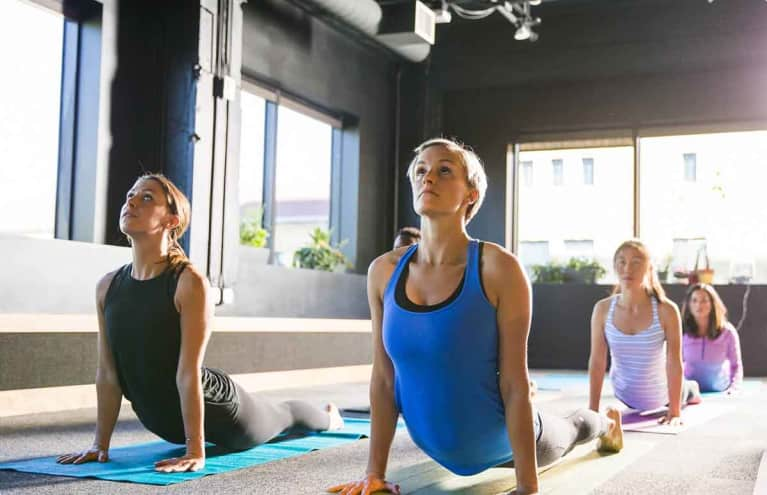 Perhaps it's no coincidence that the startup dedicated to improving workflow takes the well-being (and therefore productivity) of its employees seriously. Founders Dustin Moskovitz and Justin Rosenstein approach office culture as an Asana product, one to be as rigorously designed and refined as the rest of their digital products. To keep staffers happy, Asana makes available one-on-one life coaching, commuting credit, organic meals, treadmills overlooking the valley, and midday yoga classes. What else could an employee want? A $10,000 allowance lets them customize their workspace however they see fit, be that with high-powered equipment, towering live trees, or hand-painted wallpaper.
To foster interpersonal wellness and holistic company well-being, Asana hired a head of diversity and inclusion to spearhead a campaign to recruit real diversity to the company. Before new hires start work, they're led through a mindfulness course that teaches them self-healing tools and facilitates conversations around gender, race, and privilege.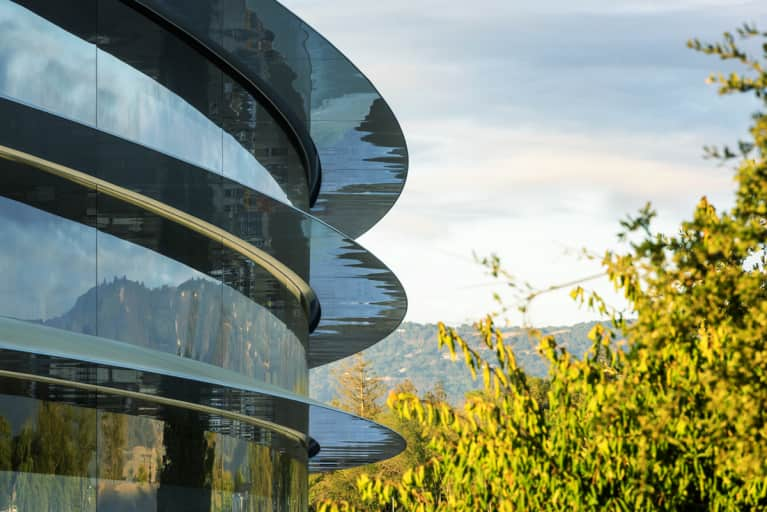 Apple's bright and shiny new 1,600-foot-diameter loop-shaped office provides high-doses of sunlight and views of the campus's 15 acres of grassy meadow dotted with 6,000 trees and swirled with jogging trails. Crowned with miles of solar panels, Apple Park runs on sustainable, renewable energy. To get to their green, oxygen-drenched oasis, Apple employees take advantage of commuting shuttles and reimbursement.
Their in-house wellness center offers consultations with dietitians and chiropractors to keep employees physically fit and tuition assistance to keep their minds nimble. Donation matching supports the causes important to employees.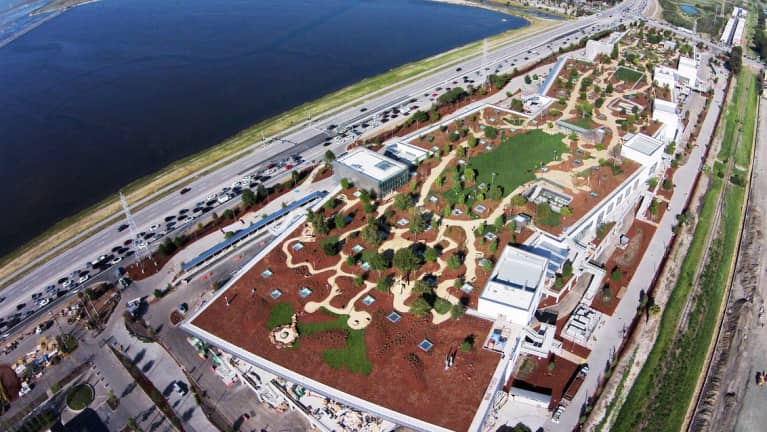 New parents fare well at Facebook. In addition to on-site health care, new moms and dads are granted four months of parental leave and a $4,000 bonus to prep for their new addition. All employees have access to healthy meals available all day long.
For a breath of fresh air, Facebookers can ascend to the rooftop park above the open-plan Menlo Park office. There, hiking paths snake through over 400 trees, leading to a cafe and San Francisco Bay views.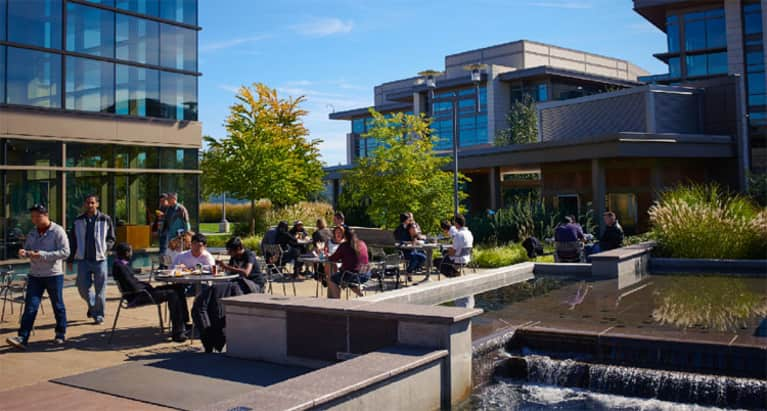 Of the valley's many corporate wellness centers, Microsoft's may be the most comprehensive. There, employees take advantage of health care screenings, acupuncture, chiropracty, diet counseling, physical therapy, ocular care, massage, and wellness coaching. The on-campus sports field hosts Frisbee, basketball, soccer, football, volleyball, dodgeball, and even bocce-ball games. For those more inspired by the arts, social clubs abound, nurturing employees' passions for photography, theater, or more.
But do employees utilize the perks?
A robust wellness package sounds great on an HR landing page and may push a potential hire to sign on the dotted line, but once their business cards are printed, are Silicon Valley's workers taking advantage? Yes and no, says one IDEO alumn. "I know a guy who would host a book club once a week at the Facebook cafeteria. There would be nine guys up there, eating for free." A Facebook employee for over six years, those free meals translated into years of company loyalty. What about those complimentary Google massages? One employee didn't even know where to find them. While she wasn't taking every perk off the table, she did say that "most people here feel comfortable stepping away from their computers, taking a walk, maybe grabbing a quick meditation," which indicates the presence of the most important corporate wellness perk of all—a culture that encourages employees to engage in self-care. A walk and a five-minute meditation? You don't need a fancy Silicon Valley job to do that.