Thrifting 101: What To Get Secondhand Vs. What To Buy New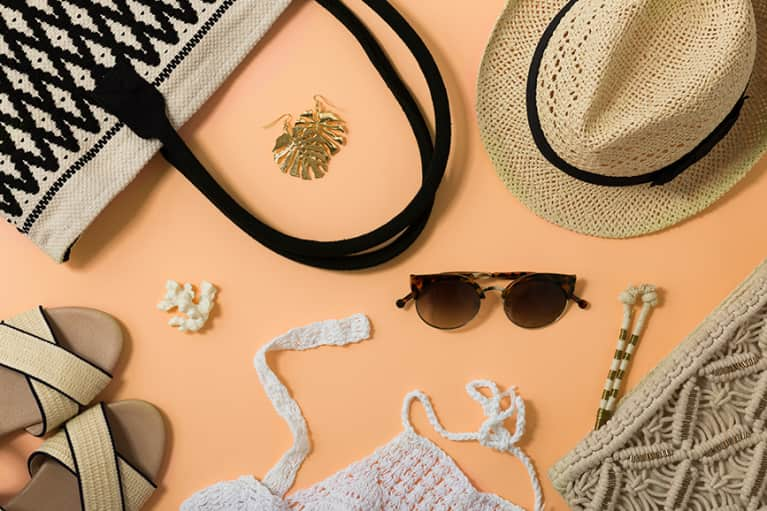 Our editors have independently chosen the products listed on this page. If you purchase something mentioned in this article, we may
earn a small commission
.
These days, we have more clothing options than ever before. And while this variety certainly makes it easier to explore personal style, it comes with a serious dark side. Fast fashion is flooding the world with practically disposable clothing options, which in turn wreak havoc on the environment and leave garment workers struggling to keep up.
The enormity of it all makes me long for all things unique, craftsman-made, and imbued with story. So, as a colorful ethical fashion lover on a budget, I've chosen to simplify my shopping habits and make secondhand stores a first priority.
If you, too, are looking to lessen your toll on the environment but find thrift shopping overwhelming, this guide can help you take the plunge. Here's a breakdown of clothing items you should look to buy secondhand versus the ones that are better purchased new, plus a few top thrifting tips sprinkled throughout. Happy shopping!
Even though it can seem like fashion editors are always trying to show us the next trendy style of denim, most "new" cuts are actually vintage or vintage-inspired. Whether you are experimental with fashion or someone who sticks to classics, there's definitely secondhand denim somewhere out there for you. Thrift stores usually keep a wide array of denim, organizing it by size for easy browsing.
Denim is one of those things that's created to last, so you don't have to worry about your purchase wearing down quickly. The traditional denim dyeing process is incredibly resource-intensive, so we should do our part to buy used whenever possible.
2. Special occasion dresses.
When you need to buy an outfit for a special occasion and don't know where to start, try vintage first! You can avoid crazy department stores and rest assured knowing that no one will walk in the same dress as you! When you're trying options on, remember that you can always get them altered too. Sometimes just a few minor changes can turn a thrifty find into absolute perfection—and you can use the money you saved buying secondhand on a good tailor.
3. Cotton summer dresses and skirts.
Learning about fabrics will really enrich your secondhand shopping experience. Always focus your hunt on natural, breathable fibers that you know will wear and wash well. I live in comfy cotton sundresses and skirts through the hot summer months, and most of them are thrift shop finds. Sometimes if I find striking vintage muumuu dresses and skirts that are very dated or falling apart, I'll buy them with plans to repurpose the beautiful fabric!
Silk is such a luxury fabric. (If you don't know how it's made, Google it right now!) Unfortunately, as polyester and other synthetics take over the clothing world, silk is being used less and less. I have found some of my favorite silk pieces at thrift stores, and they always feel special! I'm always sure to check for silk scarves in particular.
Vintage stores usually offer a wide range of accessories that are worth a look over. My go-to items are jewelry, clutches, and scarves.
I'll find a fun vintage tee every so often in a thrift store, but for the most part I buy all my basic solid tees new. Nowadays, there are some great ethical shopping brands for basics, such as Everlane and Reformation.
2. Fleece/knitwear/sweaters.
With the exception of a few vintage gems, I buy high-quality sweaters and knitwear new. Secondhand sweaters that are in good condition are hard to come by, and the ones that do exist need to be carefully hand-washed. I feel like dry cleaning is never enough with knits! However, I'll sometimes buy secondhand cashmere or vintage wool sweaters and salvage the cleaner parts of them to make winter beanies or hats.
If you're new to secondhand shopping, consider trying a smaller, highly curated store for your first few rounds. Keep in mind, though, that more curation usually means higher prices. Once you've honed your skills, move on to one of the bigger value chains, like Buffalo Exchange or Housing Works. No. 1 rule: Remember to have fun with it! After all, buying secondhand is like a treasure hunt on a budget.
Psst...bookmark these thrifting hacks before your next secondhand shop visit!