Sun Damage Happens In The Winter, Too: How To Protect Your Skin From The Sneaky Winter Sun
mbg Editorial Assistant
By Jamie Schneider
mbg Editorial Assistant
Jamie Schneider is the Editorial Assistant at mindbodygreen with a B.A. in Organizational Studies and English from the University of Michigan. She's previously written for Coveteur, The Chill Times, and Wyld Skincare.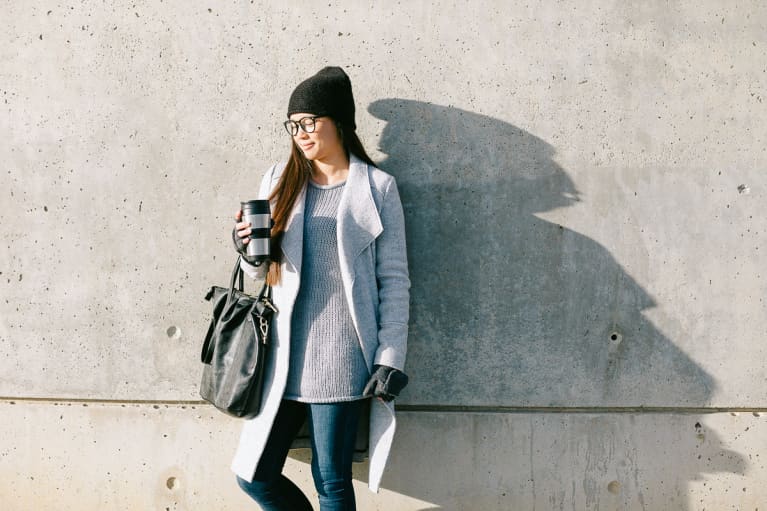 As the winter chill starts creeping up, you may unintentionally put sun protection on the back burner. Clad in sweaters and scarves, there's no way the sun's rays can damage your skin, right? Uh, not quite.
Winter sun isn't any less ravaging—just sneakier. The UV index isn't as high, and you may not experience the tender-to-the-touch sunburns of the summers, but make no mistake: The rays are wreaking havoc on your skin. The result? Fine lines, hyperpigmentation, and a sagging, leathery texture.
How to manage sun damage in the wintertime. 
The obvious to-do is to wear sunscreen—every day, rain or shine—and reapply on the two-hour mark. The sun still peeks through an overcast sky, so make sure your exposed skin is properly protected.
Aside from SPF, you may also want to up your antioxidant intake. While they don't physically block the sun's rays (thus, why sunscreens are paramount), antioxidants can help disarm free radical damage before it happens, which can manage oxidative stress and sun-induced skin aging.* That's why many market sunscreens include antioxidants in their formulas to provide an extra layer of protection. Applying them topically is important, no doubt, but you'll want to ingest them, too, in order to support your body's natural protection process.*
A supplement that can help.
Just because we're approaching winter doesn't mean you should skimp on your sun protection. In addition to wearing sunscreen, you'll want to manage sun damage at the internal level by supporting cellular function and upping your intake of antioxidants.*