The REAL Effects Of Family Separation Are Way Worse Than You Think. Here's What You Can Do
Clinical Psychologist
By Bobbi Wegner, Psy.D.
Clinical Psychologist
Bobbi Wegner, Psy.D., is a licensed clinical psychologist at Boston Behavioral Medicine and adjunct lecturer teaching human development and psychology at Harvard Graduate School of Education. She has over a decade of experience treating adults, children, and families.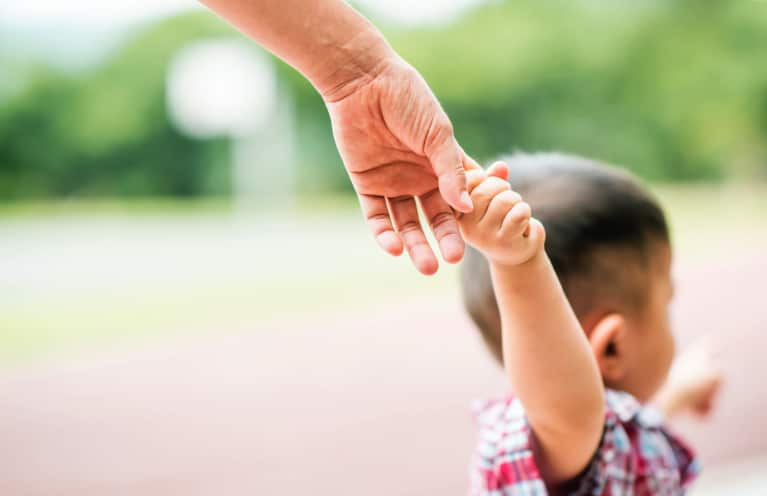 We just spent the weekend at revitalize talking about some of the biggest issues facing our world today and how wellness can be part of the solution. It's in that spirit that we bring you the post below, outlining an unbelievable human atrocity—and what you can do to help.
A 7-year-old boy from El Salvador sits before me in my psychotherapy office. He's sullen, quiet, and seemingly far away. His distraught parents sit pensively in the waiting room as I work to cajole words from this scared little boy who has an old soul, a long history, and deep wounds.
His parents are overwhelmed with his sadness and worry, pushing their own trauma further away. The school sees "an increase in behavioral outbursts and an inability to connect with peers or express himself effectively." The teachers are frustrated and impatient—he has a habit of suddenly leaving the classroom and disrupting other children. A written letter to a classmate was found in his worn-in backpack: "You think I do not understand and that I am stupid because I am not from here." Eventually, he draws a picture of a man dying in the street, which is the final straw that gets him to my office. During the day, he is alone in a world that doesn't understand him.
My patient is one with a more hopeful prognosis. He's a loved child whose parents have sought intervention in a community where most of his basic needs are met, and he has access to psychological care at an early age. He will face challenges, but he will be OK, largely because he has his parents. He has a shot at a decent life.
Although President Trump issued an executive order to end family separation yesterday, for the babies and children at the Mexican border, their short, difficult lives have already jumped into a major trauma category. They are now children who will very likely have attachment disorder and severe trauma, and this was consciously inflicted by the United States government. A short-sighted, ill-informed, callous decision on our government's part is actively creating a lifetime of psychological disruption for the most vulnerable children. Our government is stripping these babies of the one hope they have: parents who love and care for them, parents who are willing to risk everything for them. Aside from being just cruel and un-American, it is psychologically damaging and against the recommendation of any informed mental health provider.
I'm hardly the only professional who feels this way. The American Psychiatric Association (APA) made a public statement opposing the separation of these children at the border:
"As physician experts in mental health, the American Psychiatric Association opposes any policy that separates children from their parents at the United States border. Children depend on their parents for safety and support. Any forced separation is highly stressful for children and can cause lifelong trauma, as well as an increased risk of other mental illnesses, such as depression, anxiety, and post-traumatic stress disorder (PTSD). The evidence is clear that this level of trauma also results in serious medical and health consequences for these children and their caregivers. Many families crossing the United States border are fleeing war and violence in their home countries and are already coping with the effects of stress and trauma. These children deserve our protection and should remain with their families as they seek asylum. The APA recommends an immediate halt to the policy of separating children from their parents."
The American Academy of Pediatrics (AAP) said:
"The AAP urges the Department of Homeland Security and Department of Justice to immediately end the policy of family separation. Separating children from their parents contradicts everything we stand for as pediatricians—protecting and promoting children's health. We know that family separation causes irreparable harm to children. This type of highly stressful experience can disrupt the building of children's brain architecture. Prolonged exposure to serious stress—known as toxic stress—can lead to lifelong health consequences."
As a mother, I've barely bring myself to look at photos of these children over the past in recent days. My eyes automatically well as I see the pain and fear on their faces. I look at the peace of my own sleeping four-year-old daughter and quickly jump to the young children in chain-link cages in Texas. The audio of wailing children is heartbreaking and almost intolerable to me. It is so much easier to not look at the pictures of tear-soaked children beside their shackled parents' legs and not click on the audio of their pleas and cries through the walls of the encampments where they are held—alone. It took me two days to finally listen.
It is so much easier to go on with my privileged, safe life and hope that the government fixes this fast. Hoping that someone else gets on this. While yesterday's events offer hope, thousands of families may still remain apart. So no, backing down and waiting for it all to end is still not an option.
Any one of us born outside the United States could be feeling this right now. Those mothers and fathers love their child like you love yours. That is why they are there. And they need your help. See your children's eyes in those beautiful eyes looking back through the camera. Those cries are cries of your children. Do what you would want done if it were you.
Over the course of history, there have been too many moments when the general public privately watched aghast and publicly did nothing. Now is the time. We need to act. We are bystanders, and if we don't take a stand, we are complacent in the moral crimes our government is committing, we are committing. If you have a shred of empathy, take a stand by taking just a few minutes to email, call, or tweet your representatives. Donate any amount. The impact of trauma is lifelong, and we are guilty as a country.
Here is what you can do now:
Call, email, or tweet Congress.
Tell your representatives in Washington that you want to make sure children are reunited with their parents after days of traumatic separation, and ask what they are doing to make sure this doesn't happen again. Support the Senate's HELP Separated Children Act and Keep Families Together Act.
Talk, talk, talk. Share your outrage and come up with a plan that makes the most sense for you. Start a local protest or vigil.
Donate to legal and humanitarian efforts.
Money matters. Put even just a little of yours to use. Here are some amazing organizations to consider donating to, who will work to reunite kids with their parents and prevent this from happening again.
The best way to effect change is to vote. Your voice matters—a lot.
Thanks to Asma Alkusayer, Psy.D., an expert in refugee children, for contributing to this piece.