I'm An Actress On 'Scandal'; Here's What I Eat In A Day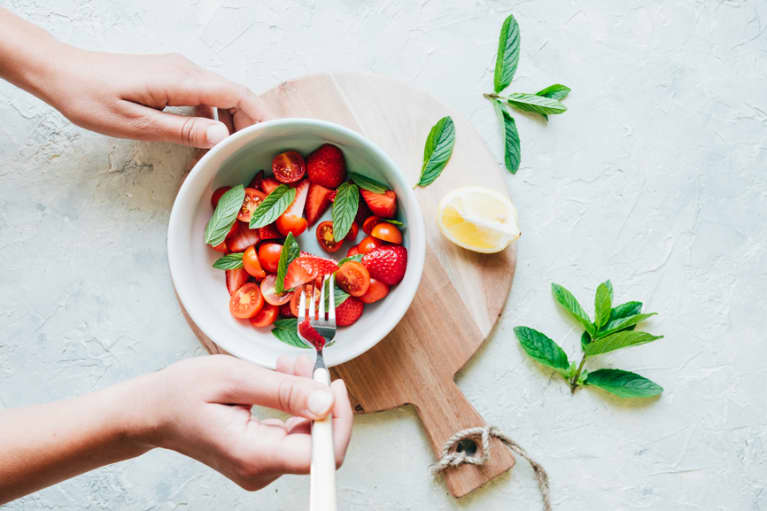 Our editors have independently chosen the products listed on this page. If you purchase something mentioned in this article, we may
earn a small commission
.
Over the past six seasons of "Scandal," we typically have a two-month hiatus between seasons. During my hiatus I'll spend most of my time acting in films or documentaries or traveling. When I'm not, I love to be home to garden, cook, and do home- or self-improvement projects. Today is one of those rare and special days. I get to cook and do my newest home project, which is wash all the windows, doors, screen doors, shutters and awnings—inside and out! I am not so much a three-meals-a-day person. I prefer to graze all day on smaller meals, and then have a nice dinner. The same goes while I'm on set shooting: I prefer lighter, smaller meals more often throughout the day while working.
8:00 a.m.: Yogurt with Toppings
I start the day with European-style plain, unsweetened yogurt with 1 tablespoon each of goji berries, hemp seeds, and pumpkin seeds—finished with a dash of cinnamon and sea salt. Then I go off to water the veggie and herb garden and feed, weed, harvest, or stake anything that needs help. After that, I move on to washing windows. It's actually a three-day project, so I pace myself.
11:30 a.m.: Avocado Toast, Upgraded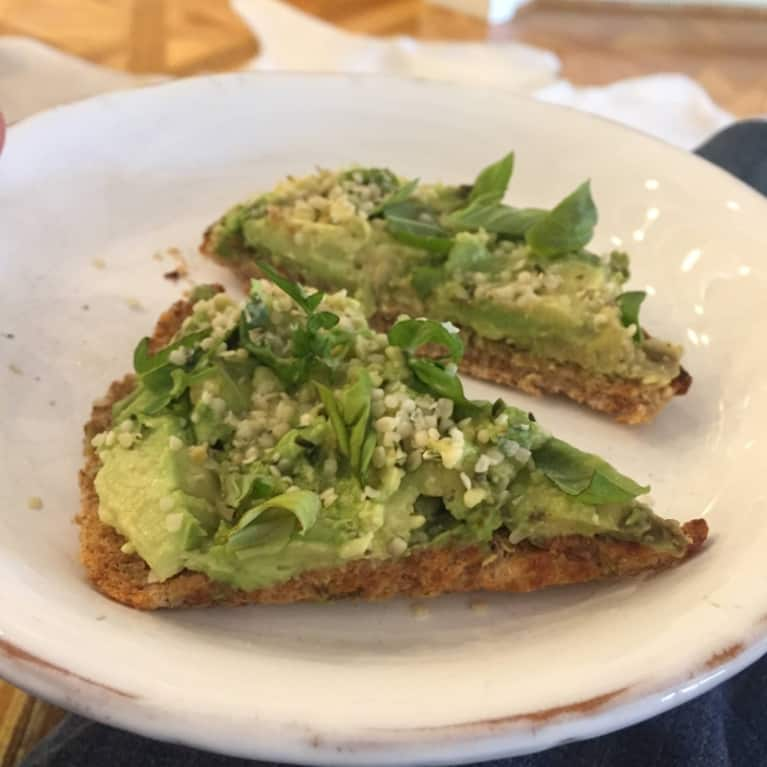 Around mid-morning, I take a break for some avocado toast garnished with hemp seeds, lemon juice (from my Meyer lemon tree), basil (from the garden), and sea salt. Then I do more window washing—which leads to cleaning out a closet or two, and I'm lost in that fabulous space of cleaning out the house as well as the mind. Inevitably, I call my mom, sister, or both; the three of us are really close, so we try to talk most days. I continue the work while making other calls.
2:30 p.m.: Quinoa Salad with Garden Veggies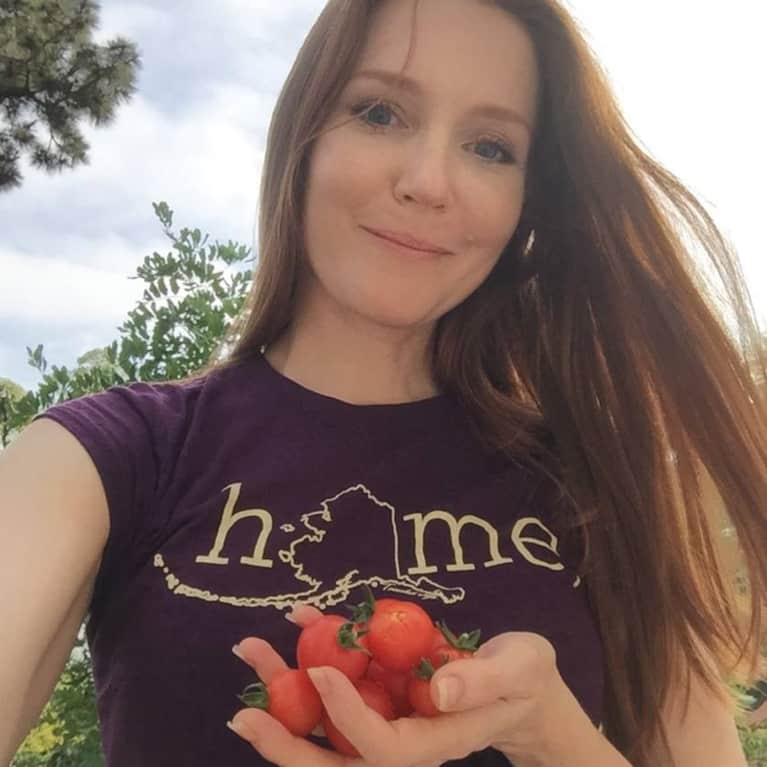 I usually go with a different salad every day—depending on what's growing in the garden, what's fresh from the farmers market, and especially what's left over in my fridge that needs eating up! Today I toss some lettuce (garden-grown—the last of it because it's starting to bolt due to the heat) with leftover quinoa, cherry tomatoes (garden), cucumbers, mint (garden), lemon thyme (garden), goji berries, canned artichoke quarters, a hard-boiled egg, and radishes. I toss it with a lemon herb pepita dressing that's from an assortment of homemade dressings and sauces that I make once or twice a week and keep stocked in the fridge. Also, a handful of Mary's crackers on the side.
5:00 p.m.: Apple and Peanut Butter
I eat a large scoop of Laura Scudder's peanut butter in one of four ways: directly from the spoon, with a square of chocolate, on a rice cake, or on half of an apple. Today it goes on half a Granny Smith apple. (I think of peanut butter as its own food group—I love it that much.) After some emails comes a workout. I do 30 minutes on the elliptical, and then a Pilates session after. I try to work out every day during my hiatus because when shooting, my workout schedule becomes inconsistent. I enjoy the challenge of making the extra commitment of consistency during my hiatus to get strong and increase my flexibility.
7:00 p.m.: Indonesian Nasi Goreng
This winter, I had the wonderful opportunity to travel to Indonesia to film a documentary at a remote tea estate. I got to see firsthand how green tea was grown, harvested, and crafted. I was so inspired by this experience and by the Indonesian cuisine that I came up with a fresh modern twist on the traditional Indonesian dish of nasi goreng by incorporating Pure Leaf Unsweetened Green Tea into the rice (you can find the recipe and documentary here). This nasi goreng dish is delicious and nourishing, so it's perfect on such an active day. I love making it because I'll have leftovers, and it's one of those dishes that tastes better the next day, after all the ingredients have had time to meld together. YUM!
The day winds down with a cup of tea at night. I love tea, so almost every night I choose a different kind to drink. Tonight I choose home brewed chai. I watch a little TV (I'm bingeing the latest seasons of "House of Cards" and "Baskets") or a movie, answer some emails, catch up on the news and finally curl up with a book before I nod off to sleep.
Here's what a French It-Girl eats in a day, plus Daphne Oz's croissant-heavy food diary.