What Journaling Actually Does To Your Brain, According To Science
mbg Contributor
By Leigh Weingus
mbg Contributor
Leigh Weingus is a New York City based freelance journalist writing about health, wellness, feminism, entertainment, personal finance, and more. She received her bachelor's in English and Communication from the University of California, Davis.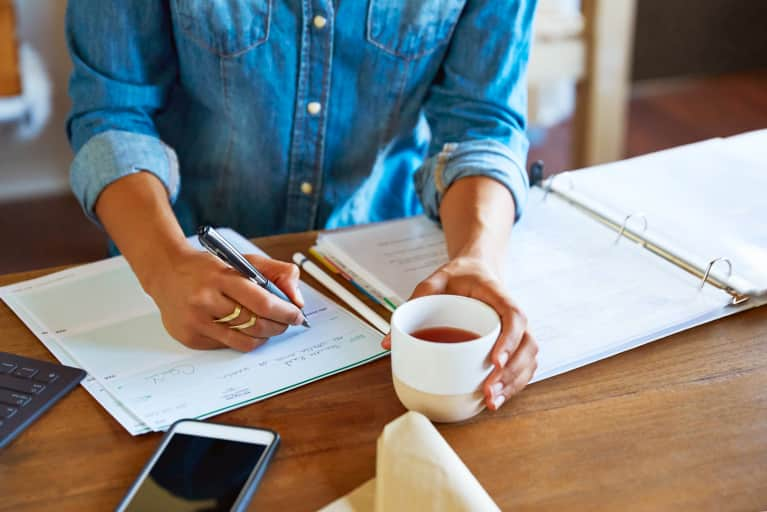 December 15, 2017 — 10:15 AM
Ever feel like health news is too overwhelming, fast-paced, or hard to decipher? Us too. Here, we filter through the latest in integrative health, wellness trends, and nutrition advice, reporting on the most exciting and meaningful breakthroughs. We'll tell you exactly what you need to know—and how it might help you become a healthier and happier human.
We've long known that cultivating a gratitude practice can lead to a happiness boost, better sleep, and deeper creativity. But new research published in Frontiers and Human Neuroscience recently found that keeping a gratitude journal can lead to increased feelings of altruism.
The study, which was conducted out of the University of Oregon, had 33 women between the ages of 18 and 27 look at transactions in which money was donated to either a local food bank or routed to themselves. "We found that across the whole group at the first session, people who reported more altruistic and grateful traits showed a reward-related brain response when the charity received money that was larger than when they received the money themselves," explained director of the UO's Emotions and Neuroplasticity Project in the Department of Psychology Christina M. Karns.
For the second part of the study, researchers took it a step further by dividing the same group of participants into two groups. The first was given gratitude-related journal prompts while the second received neutral journal prompts.
The researchers found that the group that was given gratitude-related journal prompts were more likely to come out of the process more altruistic. "We found that activity recorded in the ventromedial prefrontal cortex shifted in the people in the gratitude-journaling group," explained Karns. "This group, as a whole, increased that value signal toward the charity getting the money over watching themselves get the money as if they were more generous toward others than themselves."
So if you're having a tough time getting in the spirit of giving this holiday season, consider starting a gratitude journal. It will benefit you in more ways than one.
Need some journaling prompts to get started? Here are seven for those days when you just don't feel like writing.