I'm A Body-Positive Yogi. Here's What I Eat In A Day
Our editors have independently chosen the products listed on this page. If you purchase something mentioned in this article, we may
earn a small commission
.
I'm Jessamyn Stanley, international yoga teacher, author of Every Body Yoga: Let Go of Fear, Get on the Mat, Love Your Body and U by Kotex FITNESS spokesperson. As a writer and a yoga teacher with a prominent social media presence, I spend as much time working at my computer as I do bending and breathing on my yoga mat. When I'm traveling and teaching around the globe, there's no pattern to my days—I could be teaching a class one minute, on a video shoot the next, and finishing up a freelance writing project during the intervening car ride. However, when I'm at home and able to work from my local office, my day probably looks very similar to anyone else's with a desk job. I wake up, practice yoga, shower, go to my office, come home (practice yoga again if I'm lucky), eat dinner, and go to sleep. Here's a pretty accurate representation of what I eat on a given day.
Upon Waking: Water, Lemon, and Apple Cider Vinegar.
I usually start the day with 32 ounces of water with a squeeze of lemon and an additional 8 to 10 ounces of water with a splash of Bragg's Apple Cider Vinegar and raw honey (sometimes-—I'm not that into the honey, honestly). This is a great way to flush out my system right after waking up, especially before practicing yoga.
Breakfast: Veggie Scramble.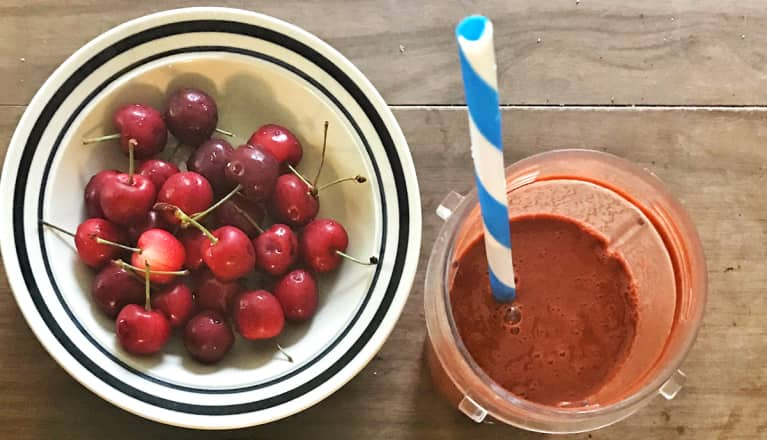 After practicing yoga and taking a shower, I like to eat a pretty hearty breakfast. I am a notorious skipper of lunch, as my work life is very chaotic and busy, and sometimes I don't even get up from my desk until the workday is nearly over. As a result, it's important for me to eat a breakfast that will keep me going throughout the day. I love eggs (they're probably one of my favorite foods), and I like to make scrambles with a mix of egg whites and one whole egg. The heart of the scramble is veggies, and I add as many as possible. Today, my scramble included an entire zucchini, riced cauliflower, spinach, and mushrooms. I usually crisp the top of my scrambles in the broiler, and I use lots of Frank's hot sauce. I also eat a lot of fruit. These cherries were a little too tart for my personal taste, but that's the price I paid for buying nonlocal fruit outside of our local growing season (insert eye-rolling emoji here). Also, breakfast is the time for my second 32-ounce jar of water—staying hydrated also helps control my hunger pangs during the day. Usually I make a protein smoothie to accompany my breakfast, but I rarely actually drink it during breakfast, instead taking it to my office and sipping throughout the morning. This is yet another hunger craving tactic, and the smoothie ingredients vary by the day. I'm a big fan of frozen fruit, beet juice, acai berry puree, Sunwarrior protein powder, and Olly mango protein powder.
Midmorning Snack: Cherries & Mochi Rice Nuggets.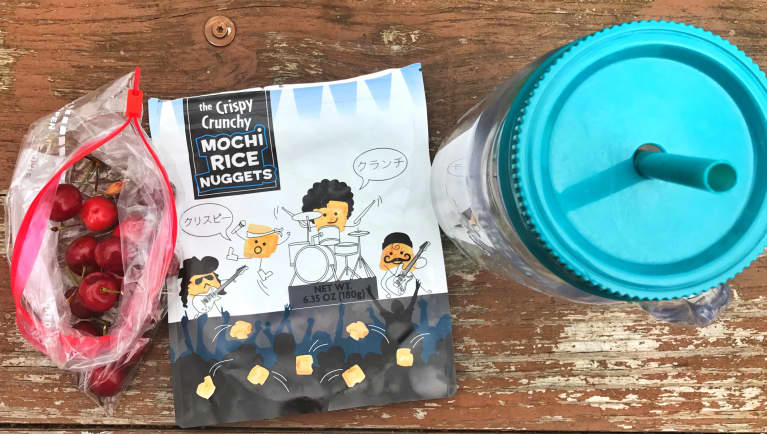 Well, those too tart/out-of-season cherries were thrown in a bag and turned into a workday snack. I keep sipping on water throughout the day from my trusty bottle. Proper hydration has helped me understand my hunger cravings in a really powerful way—when I think I'm hungry, I'm usually just thirsty. But I'm no angel, and am definitely a sucker for a good snack while I'm chained to my computer. Currently, I'm obsessed with Trader Joe's mochi rice nuggets. They taste like salty, bite-size rice cakes and I can't help but love them.
Midafternoon Snack: Coffee & Dried Pineapple.
By early afternoon, I need to stretch my legs. I usually at least like to walk around the block of my office. On this particular day, I had to pick up some mail from Durham Yoga Company, where I'm a staff teacher, so I grabbed coffee from my favorite Durham coffee shop (Cocoa Cinnamon) and walked to the yoga studio. If I get home at a reasonable hour (which is not always the case, considering that my job requires that I do the work of three to four people at one time), I usually like to practice yoga again. Nothing like a good hard sweat and some deep breathing after a long day at work. After evening yoga, I like to make myself a snack so I don't eat act like the Tasmanian devil when it's time for dinner. I love dried fruit, and Trader Joe's dried baby pineapple is my go-to item. I also love tahini sauce (sometimes I make my own), and any kind of veggie will do for dipping. Right now, baby carrots are where it's at.
Dinner: Pasta with Vegetables.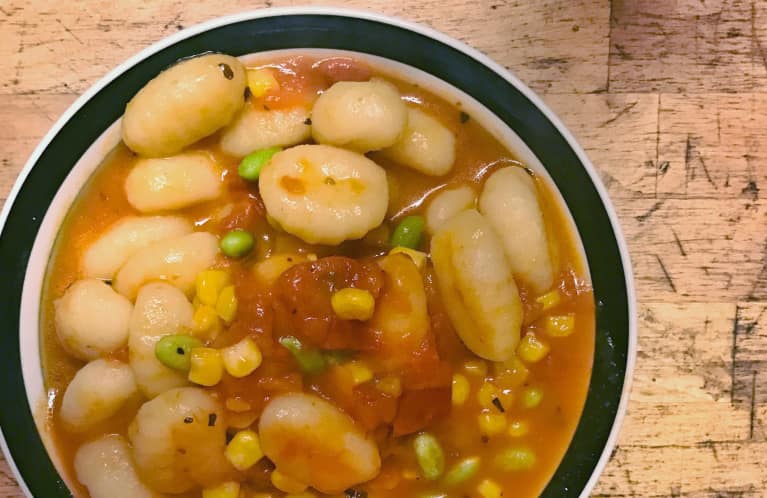 Dinner is usually just whatever's on hand and easily prepared—by the end of the day, I'm extremely tired and just want to get in bed. Even though I'm trying to control my gluten intake, I'm a big fan of pasta, and gnocchi cooks up very quickly. Add a few diced tomatoes, some frozen edamame and corn, and whatever spices my heart desires, and BAM! Instant dinner. OK, so not really instant. Then it's off to bed, before starting over the next day!