I'm A Mom Raising Vegan Kids. Here's What That's Really Like
Registered Dietitian
By Lauren Panoff, R.D., MPH
Registered Dietitian
Lauren Panoff, R.D., MPH is a plant-based lifestyle strategist and founder of Chronic Planet, where she helps people raise vegan families. She received her bachelor's in dietetics from Colorado State University and a master's in public health from Michigan State University's College of Human Medicine.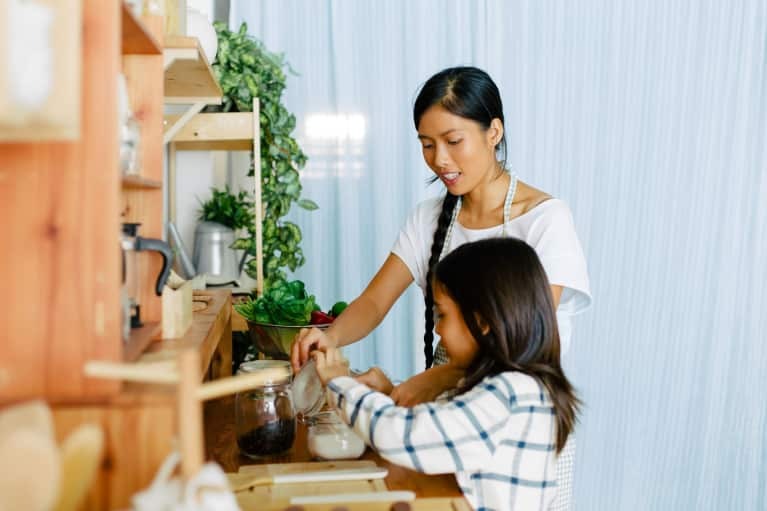 When my husband and I decided to expand our family, we had been vegan for only a few years. All we had really mastered up until that point was how to swap out animal products for simple plant-based ones in our regular meals and knew that—with kids in the mix—it would be a whole new ballgame. Now with two little boys who are thriving on plants, I can attest that the decision to raise a vegan family has, indeed, been a more enlightening journey than we ever could have imagined.
Here's a peek into what it's like raising a family on a vegan diet:
1. You will wonder if you're doing it right.
When you choose to raise your children in an atypical way, people naturally ask questions. You will encounter some criticism and misunderstanding, but most people are just curious. Inquiries may come from your pediatrician, your kid's teachers, and your own family members. Your kids will get questions from their friends and classmates. The media will run with shocking anomalies and make veganism sound dangerous.
Fortunately, there are a growing number of resources becoming available to vegan families today including books, podcasts, and online communities with thousands of other supportive parents who made the same decision. Be conscientious, but rest assured that it is absolutely possible to raise vegan kids in a healthy and safe way.
2. Your entire lifestyle will evolve.
The impact of raising a vegan family goes far beyond the weeknight dinner plate. Your household will collectively become more intentional about the foods that go on the grocery list each week, what stores you shop at, where you spend the weekends, what books and television shows you watch, and the habits and values you are cultivating at home. Don't be surprised if your life looks entirely different in a matter of just a few months—and for the better! For many families, going vegan together means simultaneously becoming more environmentally conscious, ethically aware, and compassionate toward others.
3. You will become a family of experts.
With all of the unknowns that arise, you will be compelled to seek out answers to things you may not have considered before. As a result, you will become a library of information about everything from what plant foods provide iron to how to make an awesome birthday cake without eggs, milk, or butter (and people won't even realize it's vegan!). Your children will be able to explain to their peers why they don't wear leather or eat the mini pizzas from the school cafeteria. Most importantly, garnering this knowledge will help your family to feel more confident in the decision to lead a plant-centric lifestyle and to answer the questions that come with it.
4. Your family will influence other families.
Even though your original goal of raising a vegan family was probably centered on helping animals, saving the planet, or setting your kids up for optimal long-term health, your impact will expand much further. Whether you're made aware of it or not, people around you will begin to reflect on their own lifestyle choices, many of whom will decide to make changes in a similar direction. Take every opportunity to help others who may ask for your guidance.
5. You will feel lost, but you will eventually find your way.
The truth is that 94 percent of the population does not identify as vegan, meaning that by raising a plant-powered family you are choosing to stand out from the crowd. Because this is not the norm, there are fewer resources available to you, fewer options at restaurants and social events, and fewer people who can relate to you. It's not always easy. Though choosing to be different can feel isolating, this is a fantastic opportunity to teach your children how to be leaders, to help normalize veganism for the next generation, and to find your tribe of like-minded visionaries. After all, as Margaret Mead once said, "Never doubt that a small group of thoughtful, committed citizens can change the world; indeed, it's the only thing that ever has."
Although my perspective is based on raising a vegan family, I imagine families that follow other diets—either by choice or due to a medical need—have similar experiences. Whether you're living animal-free, gluten-free, or nut-free, your family will become more insightful, influential, and cohesive because of the journey you're on together. No matter what your lifestyle looks like, know that you're not alone, you're doing a great job, and you may just be paving the way for others.
Want to go vegan but not sure your exercise routine can handle it? Here's what you should know.