Inside The Modern Wellness Retreat (Where Wine Is As Vital As Yoga)
Contributing Food Editor
By Liz Moody
Contributing Food Editor
Liz Moody is a food editor, recipe developer and green smoothie enthusiast. She received her creative writing and psychology degree from The University of California, Berkeley. Moody is the author of two cookbooks: Healthier Together and Glow Pops and the host of the Healthier Together podcast.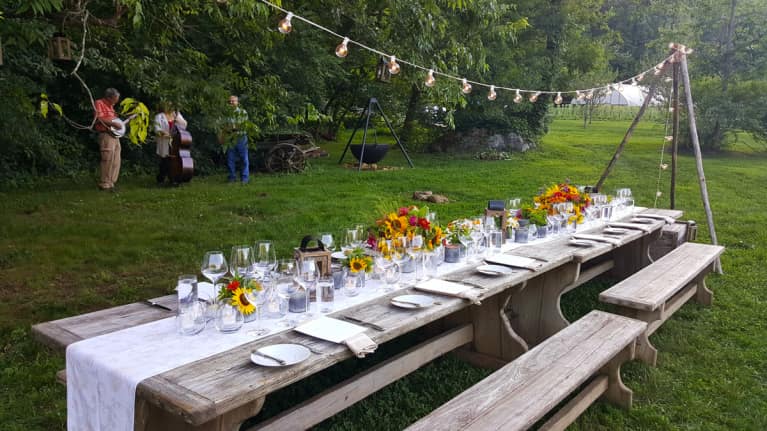 I'm sitting next to a garden, where earlier, a bearded man walked me through the raised rows, plucking leaves and flowers directly from the earth for me to sample. Above me, there are white fairy lights, strung between rustic, tented logs; above that, a wide expanse of star-studded Tennessee sky. I'm drinking a glass of Viognier and listening to a master biodynamic winemaker explain the thought process behind the cultivation of the grape. There's a fiddle player, but she's momentarily paused, as enamored with the winemaker's sensual description of soil as the rest of us. A lavender-scented breeze tickles my neck as I pluck another grape-sweet heirloom cherry tomato from my plate. If this is what a wellness retreat is like, I'm all in.
I've long pictured wellness retreats as somewhat grueling exercises, designed to isolate you from the world to focus on your health in a way that seemed moderately effective and less than sustainable. You'd hear about movie stars slipping away to desert havens where they'd drink juice for every meal, go on vigorous 5 a.m. hikes, and partake in colonics to whip their intestines into pristine shape. They reinforced the notion that wellness was a full-time job (a hard assertion to stomach, given that many of us have—and need—other full-time jobs).
In recent years, though, wellness has shifted. Instead of restrictive diets, more and more industry leaders are coming forward and applauding the basic and revolutionary notion of listening to your own, personal body. Self-care as the root of wellness is experiencing an unprecedented moment in the spotlight, with Instagram stars showcasing their flower-filled baths to the likes and lauds of thousands looking for permission to exhale in an increasingly chaotic world.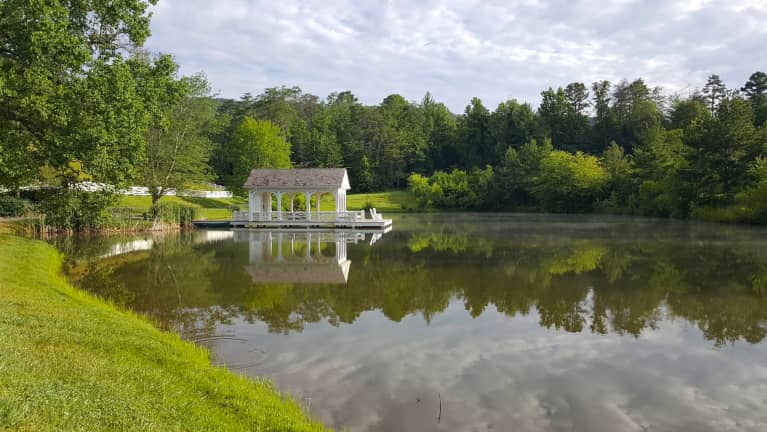 Blackberry Farm, tucked into rolling pastures and shady woods on the edge of the Smoky Mountains, has long been a celebrity favorite (Kelly Clarkson even got married there), but the feel is anything but pretentious. The property is family-run, and the owner, Mary Celeste, will often join guests for dinner (on our retreat, she did so twice, as well as tagging along on a bike ride/hike/stand-up paddleboard yoga challenge that was the closest thing to a triathlon I'll ever do); her children can often be seen scampering across the grassy knolls. The celebration of connection—to the land, to each other—seems to be the guiding principle of the farm, and the Summer Splash event, held annually in June, elevates this concept even further.
There were 10 of us in my group: a few couples, a few singles, guided by a yoga and meditation instructor and general camp counselor extraordinaire named Hope. Along for the journey were the aforementioned biodynamic winemaker Annie Favia, a woman whose world-class wines highlight the amazing results of working in symbiosis with the nuances of the earth, and Wendy Bazilian, a registered dietitian and best-selling author, there to answer any food questions we had (how does she stay healthy when she travels? Can dessert be part of a healthy diet?) and lead a nutrition workshop.
We began the first day with a team-building activity that took us around the different parts of the farm to canoe across a lake, slack-line over a river, and more. It was more challenging than I'd expected (the slack-line, particularly, was a palm-sweat-inducing activity), but it reawakened my sense of adventure, reminding me of the benefits to shaking up my daily routine. At dinner after, over pastured chicken and Jerusalem artichokes grown 50 feet away, we discussed the place of wine in wellness—which broadened into a conversation about the place of pleasure in wellness in general. This became the theme of the three days: doing things that were healthy (bike riding, stand-up paddleboarding, partaking in a healthy cooking class) but definitively pleasurable at the same time.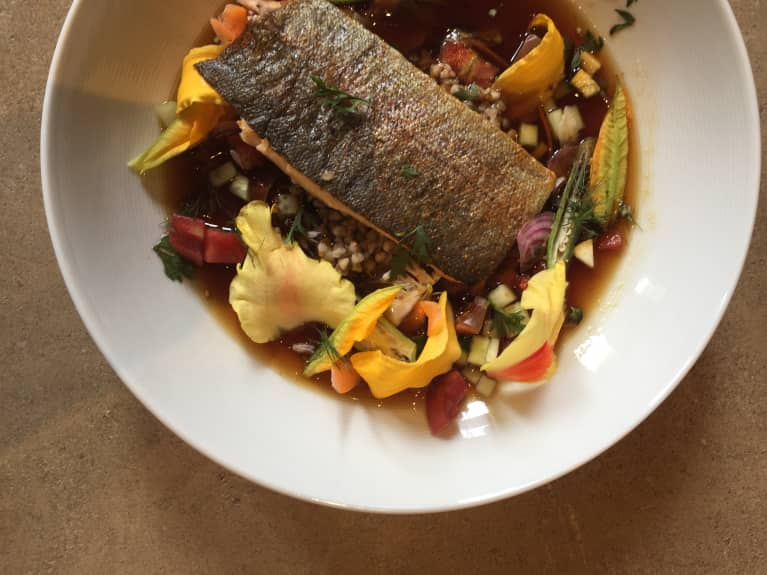 The food especially exemplified this philosophy: The dinner rolls were free of gluten but bursting with the flavors of caramelized onions and fresh herbs; vegetables dominated the plate but were prepared to mouthwatering perfection; the wine was complex and rich and warranted a moment of quiet reflection on the ability of the earth to produce. The farm itself, with its lack of cellular service, encouraged truly disconnecting. Instead of checking my phone constantly, I'd sit on the lawn, listening to symphonic birds and cicadas, feeling the sunshine on my skin. Without the constant distraction of a computer in my pocket, I was free to fully, mindfully engage in every part of the day's activities, from eating to conversations. My antsiness rose like a wave during the first day (Was I missing out on important emails? Why was sitting still so boring?), but by the middle of the second, it had gently crested, sweeping in a new feeling of preternatural calm. That I was in an environment designed with utmost intentionality—from the original farmhouse décor to the winding paths through the property to the fire pits that were always lit, as if by magic, at the first approach of dusk—only offered that much more stimuli to savor.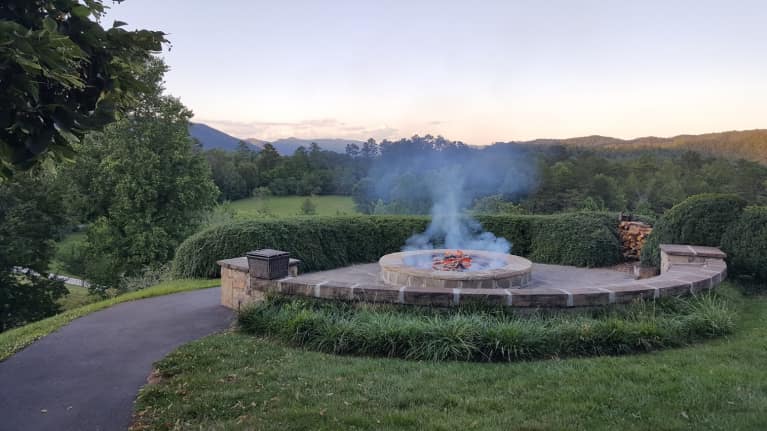 The best part? While the retreat was a concentrated reminder of what wellness can look like, and, while I'd love to stay at the farm forever, my three days there imbued me with the confidence and desire to take a more intentional approach to self-care at home—an experience that's easily replicable. When you make your daily green smoothie, instead of shoving your same five staples in the blender, think about what flavors you could add to make drinking it an awakening, exciting experience for your taste buds (some fresh basil maybe? A new in-season fruit from the farmers market?). Swap your soul-sucking workout for one you look forward to going to. Set your phone aside for an hour and go for a casual stroll around your neighborhood (no pounding the pavement allowed!), letting yourself soak in the sounds and smells of the season. And don't forget to indulge in a delicious glass of wine—preferably with friends, outside, on a perfect end-of-summer day.
Want more travel inspo? These are the best vacation spots in the world, according to wellness influencers.