Lessons In Simple, Off-The-Grid Living From Japan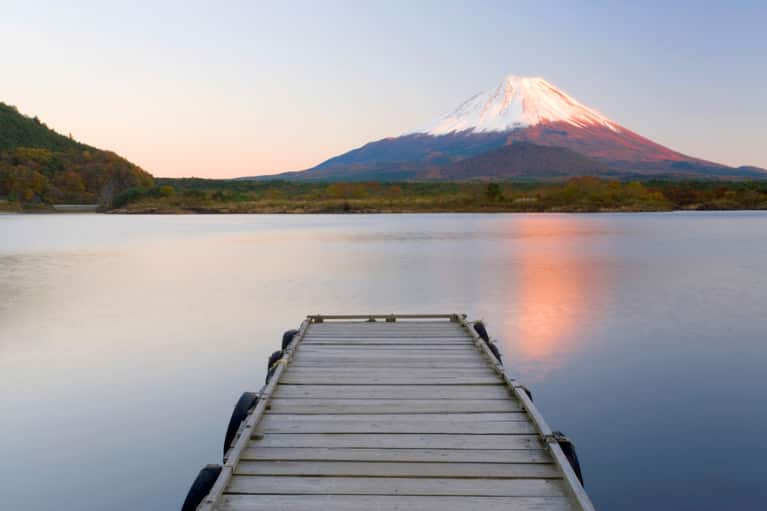 Our editors have independently chosen the products listed on this page. If you purchase something mentioned in this article, we may
earn a small commission
.
Twenty-seven years ago, when I stumbled upon some remarkable people in the Japanese countryside who were living rich, slow lives, I was astonished at their fortitude. They lived "off the grid" in many ways.
Inhabiting beautiful old farmhouses that had been left empty with the rush to the cities decades before, the men and women I met chose to provide for their own needs by growing most of their food, mending their own clothes, not using cash to entertain themselves, and reading books from the library instead of watching television. Each of them had left the mainstream way of life by choice. They wanted to pursue their creativity, work with their own hands, and have "time to simply stop and think," as the mother and anti-nuclear activist Atsuko Watanabe put it.
When I first came to Japan, I had no idea that I would meet such wonderful people living in such a satisfying, ethical way. I met them first on the island of Shikoku, where I was teaching, but eventually found people like them all over the archipelago.
They were living the good life, with a deep connection to nature and lots of time for contemplation and long conversations with their friends. And they were living in a way that required very little money. If they could do it, so could I, I thought. And I wanted to share this message of possibility with others.
I went on to write a book about them and their inspiring example, called The Abundance of Less. Through the long, gradual, and satisfying process of writing, I learned about the true meaning of sustainability and the importance of taking time—a long time—to make something of quality. Living "off the grid" is not just a buzz phrase. It's an entire approach to life. Here are some of the features of this rewarding mindset:
1. A training of the spirit to live well with less.
Being off the grid means you're not connected to the electrical infrastructure of the whole economy. When the electricity supply isn't endless, and you generate it yourself, there's a kind of training of the spirit that happens. When one's tendency to profligacy and waste are held in check, appreciation naturally grows. Now, at my homestead in the mountains of Northern California, there are no power lines bringing fossil-fuel-generated electricity from some other (often war-torn) land. With just a few 1970s-era solar panels and a tiny hydroelectric turbine, we have powered the few lights in our cabin and charged my laptop, on which I have written parts of four different books.
2. A mindset based in simplicity.
When I first began writing the book, I didn't know that I was carrying around a lot of ways of thinking that were the product of "the grid"—that is to say an unsustainable mindset. When I thought about the project, I imagined my book becoming a best-seller instead of just being grateful that I had the time and ability to write and the extraordinary chance to be published.
The people that I visited throughout the mountains of rural Japan demonstrated the concepts of true humility, radical slowness, gentleness, and simplicity in a number of different ways. They spoke to me of their off-the-grid mentality using mind-opening phrases like, "Don't be greedy with the soil," "Don't do unnecessary work," and "Convenience just speeds you up." For myself, I find that there's something enlivening in saying to yourself, "I'm not going to buy that expensive thing." I try to remember that there's a kind of slackness that can come over me if I buy whatever I want (even if I could afford it).
3. A humble approach to life.
Kogan Murata, one of the men I met on my journey, plays only seven songs on his baritone bamboo flute as part of his Zen practice, and all of them hundreds of years old. He is searching for "the true sound," he says, and that, he told me, takes 30 years. He was practicing a level of humility that I couldn't have imagined when I was younger, no matter how full of radical ideas I thought I was. Listening to him, I was called to examine what it means to be truly humble. How receptive can we be to the earth, to nature, to a single insect, to the sound of the rain?
When I worked with Murata in his rice paddy, helping him plant seedlings, I thought I had to rush to get as much done as quickly as possible. But he kept saying to me, "Go slower. Be slothful!" He was saying that the well-made thing takes time. That mentality, I think, is also being off the grid—the grid of overwork, efficiency, and the requirement to relentlessly increase productivity.
I don't live—yet—like the people I've written about, but every step I take in their direction has made me happier, more fulfilled, and more full of appreciation.