Is This The Best Way To Learn How To Eat Healthy?
mbg Health Contributor
By Gretchen Lidicker, M.S.
mbg Health Contributor
Gretchen Lidicker earned her master's degree in physiology with a focus on alternative medicine from Georgetown University. She is the author of "CBD Oil Everyday Secrets" and "Magnesium Everyday Secrets."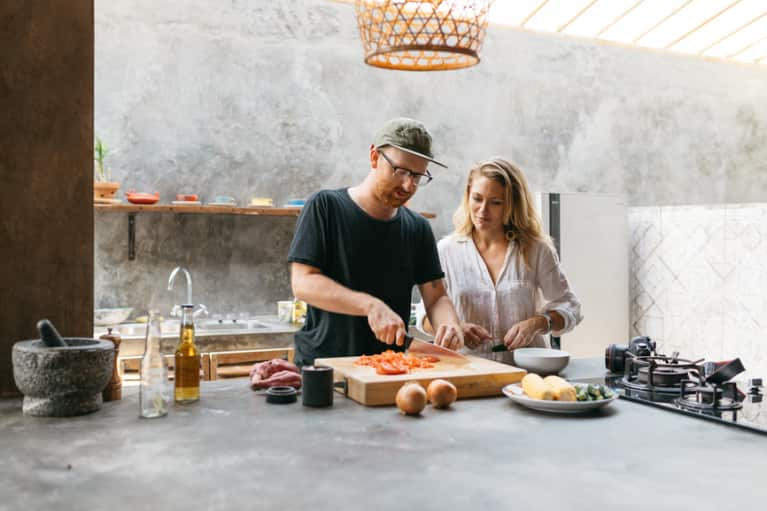 Ever feel like health news is too overwhelming, fast-paced, or hard to decipher? Us too. Here, we filter through the latest in integrative health, wellness trends, and nutrition advice, reporting on the most exciting and meaningful breakthroughs. We'll tell you exactly what you need to know—and how it might help you become a healthier and happier human.
Chronic disease is on the rise in a big way. And it's up to all of us to do something about it. A healthy diet is a great place to start, but as we know, it's not that simple. Many people already know they should eat more vegetables, less meat, healthy fats, etc....but what comes next? Where do they buy them? How do they cook them? It there anywhere to learn the logistics of healthy eating, or is it something we just have to figure out for ourselves?
This is where teaching kitchens come in; a concept developed by Dr. David Eisenberg, the director of culinary nutrition at Harvard Chan's School of Public Health, as a strategy to increase cooking confidence, improve diet, fight chronic disease, and encourage mindful eating practices. But the real question is: Do they actually work?
Can teaching kitchens help fight chronic disease?
A new study published in the American Journal of Lifestyle Medicine tested these teaching kitchens out on a group of 40 office workers. For 14 to 16 weeks they participated in hands-on culinary lessons, lectures, and talked about nutrition, exercise, and mindfulness. They were given access to a local gym, had a 30-minute phone call with a health coach each week, and no restrictions were placed on the amount of food they could eat.
Results showed that after the program, the participants cooked more meals from scratch, read nutrition labels more often, and felt more confident in the kitchen. There were also statistically significant decreases in body weight, BMI, blood pressure, and cholesterol—which all persisted for at least a year after the end of the program. And so the answer seems to be yes, teaching kitchens do have the potential to fight chronic disease and get people invested in their own well-being.
Are these programs the future of nutrition education?
One of the coolest parts of the study was that 100 percent of the participants completed the program and the feedback was positive. Many felt that they had learned valuable skills and gained a lot of confidence when it comes to taking control of their own health. So what's next? Teaching kitchens are being proposed in a bunch of different settings like offices, hospitals, and schools. The organization Healthy Kitchens Healthy Lives hopes to create more of these programs and develop multiple curriculums to meet the participants exactly where they're at—in terms of nutrition knowledge, socioeconomic status, and risk status for chronic disease. We don't know about you, but we'll be watching closely for a teaching kitchen near us.