What Is Suberin? Diving Into The New Ingredient Found In Birkenstock's Skin Care Line
mbg Editorial Assistant
By Jamie Schneider
mbg Editorial Assistant
Jamie Schneider is the Editorial Assistant at mindbodygreen with a B.A. in Organizational Studies and English from the University of Michigan. She's previously written for Coveteur, The Chill Times, and Wyld Skincare.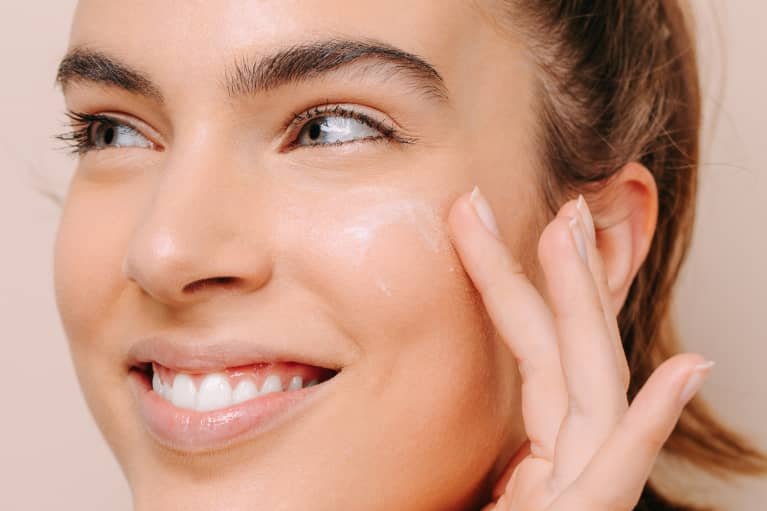 The newest ingredient in clean beauty? It might have been sitting on your shoe rack all this time. Birkenstock has a natural skin care line, and the sustainable formula they've been using has cult-favorite potential.
The brand has previously talked about their foray into skin care, and it's been out in Europe for about a year now, but the buzz is back now that it's officially dropped on their website. The reason for this long-lasting craze? Perhaps it's due to their exclusive ingredient, one that's extracted from a material that's been used since the sandal brand's inception: Cork.
Here, we dive into all things suberin: What it is, how it's harvested, and how on Earth Birkenstock made this sole-skin connection.
Suberin is a main compound found in cork, characterized by a waxy film that creates a barrier on the plant. Notably, it's the substance that gives cork its distinct elasticity. That bouncy, comfortable footbed we've come to know and love in our chunky Birkenstock sandals? That's suberin's doing.
So, it comes from cork. What makes it so special for skin? 
According to the footwear brand, suberin extract from cork reduces skin redness, stimulates collagen formation, and can protect against free radicals.
"Suberin actually has a regenerative effect on our skin by helping to stimulate and repair the moisture barrier of our skin," Birkenstock brand president, Louise Caldwell, told Today this week. That said, suberin can have a hydrating and lifting effect on the skin, benefits that most anti-aging formulas boast on their labels.
While Birkenstock might be the first natural skin care line to utilize suberin, past studies have revealed the substance's smoothing, anti-wrinkle effects for the skin. For example, in a small clinical trial, 15 volunteers aged 22 to 52 applied a suberin-gel formula to their skin, all reporting smoother skin after just 1 hour.
It makes perfect sense that the bouncy footwear material would yield just as vibrant and bouncy skin—it's just a surprise the company hadn't realized they were (quite literally) stepping on a gold mine until relatively recently.
What does this mean for the future of suberin? 
While the ingredient remains exclusive to the German footwear brand, perhaps Birkenstock's skin care line will pave the way for other beauty labels to start formulating with cork.
It's especially interesting that while the science is robust, there hasn't been much commercialization of the material—until Birkenstock Natural Skin Care came along. As we continue to swap our harmful ingredients for more organic options, I expect more beauty brands (both natural-leaning and traditional) to hop on the suberin bandwagon.
So the next time you're find yourself purchasing those famous chunky, suede sandals, you might want to pair them with a new moisturizer from the brand.
Birkenstock sources their suberin from the bark layer of the cork oak, a tree that primarily grows in the western Mediterranean, specifically in Portugal. While the company is able to safely extract the cork when the tree is 25 years old, they typically wait to harvest the suberin until the tree is 43. A more mature cork oak has a richer nutritional value, perfect for making high quality cosmetic applications.
They develop the ingredient using this outer bark layer and ensure the process is entirely sustainable—all of the products have earned a COSMOS quality seal, which is the international mark that certifies ingredients are from renewable resources and manufactured in an environmentally friendly manner.